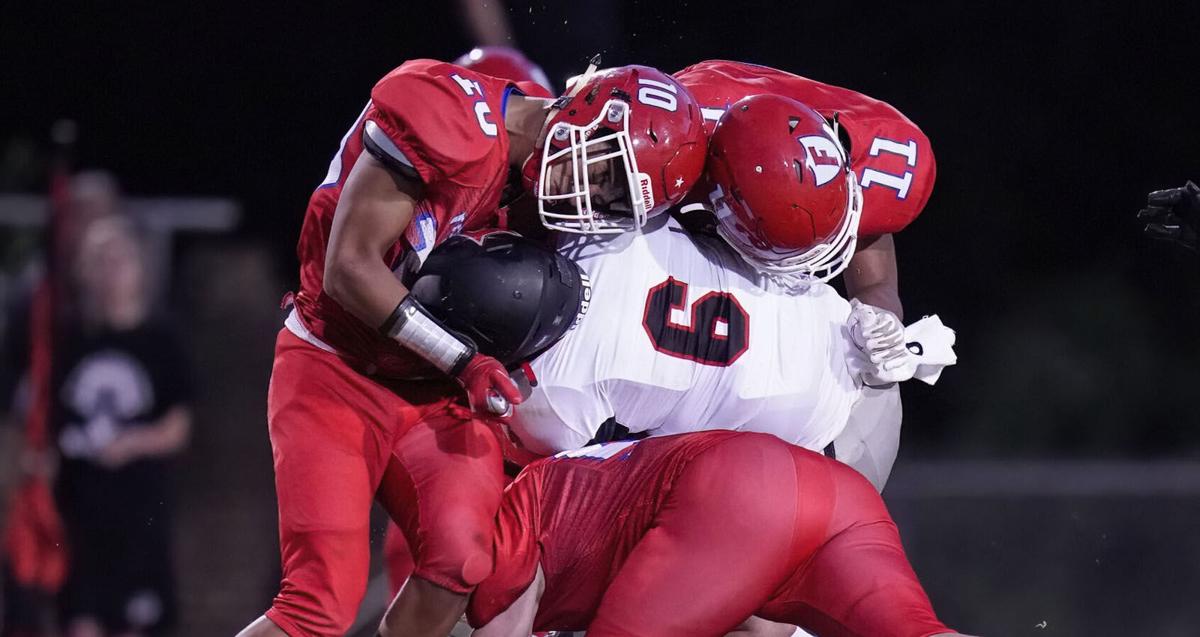 On its first play of the season, Freedom football's defense allowed a 50-yard touchdown run.
On 133 snaps since then, the Patriots' D has given up just three scores — only one per game.
That's what second-year head coach Justin Hawn likes to see.
Hawn is a veteran of that side of the ball, serving as the defensive coordinator for Shelby for four seasons from 2016-19, and, obviously, the Golden Lions know a thing or two about good ball.
The FHS defense — led by B.G. Hampton and Chris Hensley on the line, Demarcus Lowrance at linebacker and Sacred Baylor in the secondary — has been especially valuable through three weeks for a young offense trying to find its footing, and the two things merged together in a 42-6 win over Patton on Friday. The unit has kept the Patriots in contention in each of their three games so far this fall en route to the county's only above-.500 record.
Its last two opponents have been held to 84 and 150 offensive yards and 88 combined rushing.
"We can get even better on defense," Hawn said after the Motown Throwdown XII win over PHS. "There's still a lot of things we need to fix with some of our coverage responsibilities, just being assignment-sound and not letting fatigue bother us. I have no complaints about (Friday), but we have a high ceiling with this defense, and I'm really excited to see where we can get to."
And undoubtedly, that's territory Freedom (2-1) will have to explore in its last nonconference game this Friday at home versus Central Cabarrus, as well as for the start of Northwestern 3A/4A Conference play two weeks later against Hibriten, another home game for FHS.
The Vikings are 0-2 entering this week's contest in Morganton, with those two defeats having come against Mount Pleasant and Robinson squads that are a combined 7-1. CCHS scored 17 in an 11-point loss to Robinson and was blanked 24-0 versus Mount Pleasant, but Central Cabarrus has more often than not scored a lot of points the last few seasons.
Hibriten, likewise, seemingly is down from seasons in the recent past — starting with a 39-7 loss to East Lincoln in the season-opener — but rebounded with a 39-25 win over West Caldwell two weeks ago, proving the Panthers still are capable of putting points on the scoreboard.
But the Freedom defense looks prepared to potentially put a stop to that in just a couple weeks.
The defense also is a far cry from this past spring's COVID-19-altered and -shortened season, when FHS gave up north of 30 points per game and surrendered 48 or more twice in six games.
And while it's early and with likely tougher competition yet to come, Freedom's early-season defensive strength has it in the same neighborhood as its 2014 and 2015 conference-champion teams, which surrendered just 13.3 and 11.9 points per game, respectively.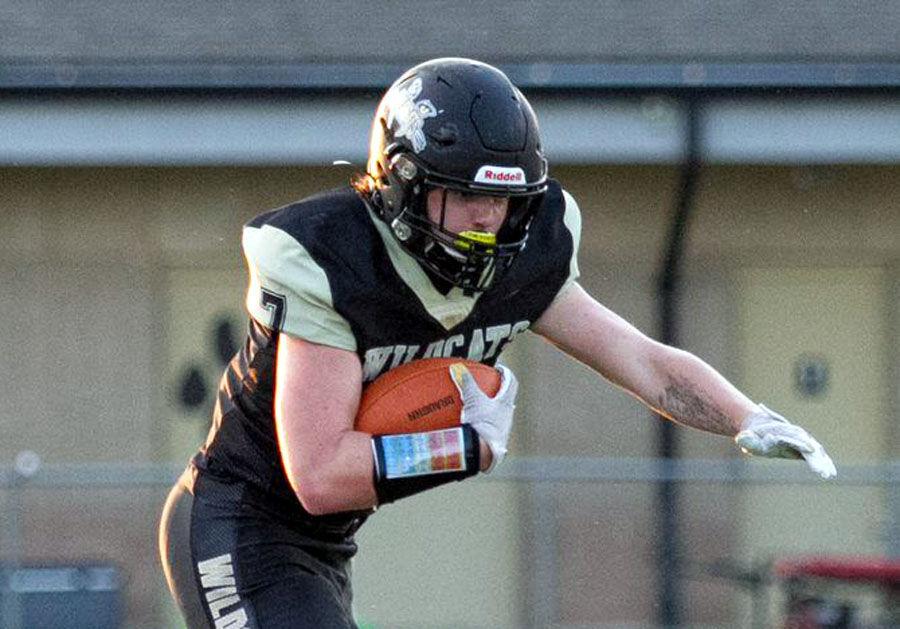 Draughn, Freedom offenses emerge
Not only did the Patriots' offense find a spark last Friday night, but so did Draughn's attack.
A 69-34 thrashing of host Highland Tech washed away — at least in the moment — the residue of blowout losses to Mount Airy, 56-6, and Hickory, 37-13, to start the season for the Wildcats.
The points versus Highland Tech were a school record, and they all came in the first half as Draughn (1-2) scored on its first nine possessions. The effort was highlighted by sophomore running back Nigel Dula, who had the county's best individual performance of the season so far, tallying 185 yards and four scores on 13 carries and adding a 92-yard kickoff return touchdown.
"Nigel's just a tough runner," DHS coach Chris Powell said. "Last week on a carry, he got hit (after one yard) and still got 60 or 70 yards. And he did that (Friday). He keeps his feet running."
Alongside Dula, classmate quarterback Eli Tillery also had his finest showing to date. Through the air, he finished 7 of 9 for 122 yards and three touchdowns on Draughn's first three drives, hitting Connor Pinkerton from 12 yards out and Daylin Pritchard from 66 and 15 yards away.
While that was going on in Gastonia, the Freedom offense was looking like its old self, piling up six touchdowns and topping the crosstown rival Panthers for the 13th time in 14 tries all-time.
It was a balanced rushing attack that especially shined for Freedom, led by Lowrance's 91 yards and three touchdowns on eight carries, Hampton's 67 yards and a TD on seven runs and Curt Young's 33 yards and a score on four attempts.
And — even if they've been a bit uneven — the performances by FHS sophomore quarterback Jaylen Barnett have shown a lot of promise, both through the air and using his feet. He set career-highs in passing in the previous week's 13-7 home loss to Forestview, finishing 17 of 30 for 178 yards and a touchdown pass and going interception-free. Last Friday's win produced Barnett's first two interceptions of the fall, but the QB still went 7 of 11 for 93 yards and a TD.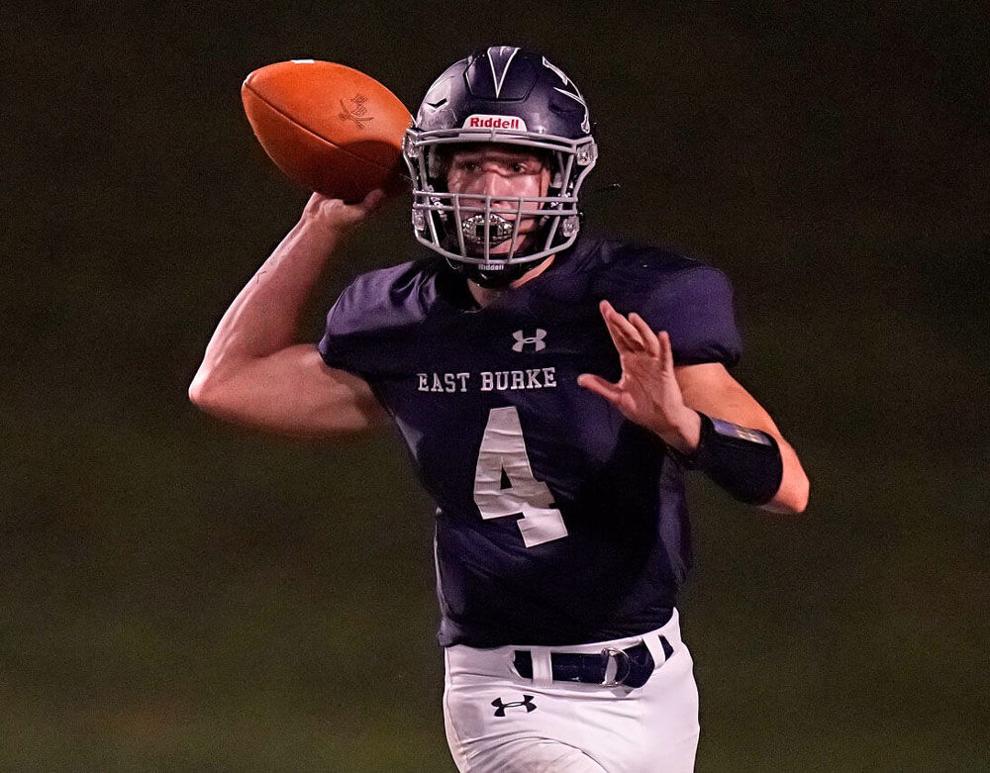 East Burke, Patton look to regroup
Both East Burke and Patton are working their way back from two-week layoffs from COVID-19 pauses, the Panthers taking the field for the first time since Week 1 last Friday versus Freedom and the Cavaliers making their first appearance since Week 2 this week in the Catawba Valley 2A Conference-opener at powerhouse Maiden.
The Panthers (0-2), who also open league play this week at home versus similarly strong Polk County in the Mountain Foothills 7 2A Conference, looked — as could easily be expected after some rust accumulated — a bit sluggish in the loss to Freedom, and it'll be difficult to finish shrugging that off against a 2-1 Wolverines squad that is among the MF7 favorites.
The Cavaliers (1-1) face a similar task this Friday while visiting the Blue Devils, not having seen the field since Aug. 27. And Maiden is the clear-cut CVAC frontrunner, running roughshod over Foard (56-0) and three-time defending NWC champion Watauga (47-0) before eking out an overtime victory over Christ School, 27-21.
The Wildcats also start conference play this week, hosting Western Highlands 1A/2A foe Owen.