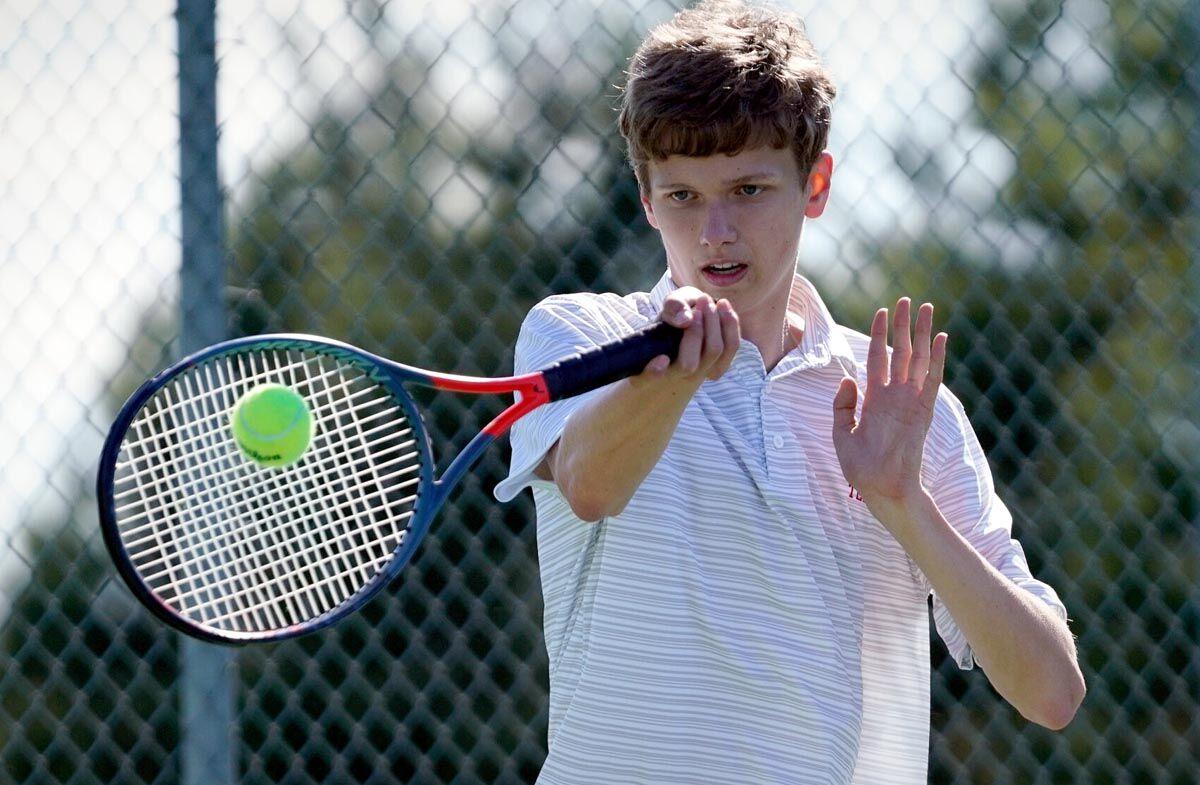 Patton senior Charlie Gessner had waited a long time for Wednesday to arrive.
Gessner had won the Northwestern Foothills 2A Conference boys tennis singles title as a sophomore in 2019, then didn't get a chance to repeat as the latter portion of last season was canceled amid the pandemic.
He finally got the chance and successfully defended his title two years later at PHS on Tuesday and Wednesday in the NWFAC tournament.
The top-seeded Gessner started his title run by defeating Foard's Jonathan Druel in the quarterfinals on day one after receiving a first-round bye. Then on day two, Gessner dominated to the tune of a 6-1, 6-0 semifinal triumph over Hibriten's Evan Van Horne and a 6-0, 6-2 championship match win against Hibriten's Jacob Norwood.
In the process, he became one of six Burke County qualifiers for the NCHSAA 2A West Regional on May 7-8 at Gardner-Webb, joined in singles by East Burke's Thomas Wentz as well as by the doubles teams of Patton's Braxton Mull and Ransom Vance and Draughn's Corey Powell and Ryan Williams.
Wentz got a bye, then topped Aiden Ollis of Foard, 6-3, 2-6, 10-4, to reach the semis and earn the regional berth. He was edged by Norwood 6-4, 7-6 in the semis. Draughn's Jonathan Mercer and EB's Davy Stamey won first-round matches but finished a win shy of regionals.
In doubles, Mull/Vance got a bye, then beat EB's Robbie Stringfield/Dalton Parker 10-1 in the quarters before falling 10-3 versus Hibriten's JT Spears and Nathaniel Wright in the semis.
Powell/Williams were seeded 12th but upset PHS' fifth-seeded Om Shah/Coley Welch before slipping past EB's Chimoua Yang/Justin Jones 10-7 in the quarters. They then lost to eventual champions Luke Fountain and Graham Wright of Foard in the semis.
Yang/Jones and Stringfield/Parker claimed 10-2 and 10-6 opening-round wins, respectively.
McDowell 7, Freedom 2
The Patriots (0-8, 0-6 Northwestern 3A/4A Conf.) fell Wednesday in their regular-season finale at Freedom Park despite wins from No. 1 singles player Adam Xiong plus the No. 1 doubles squad of Xiong/ Jacob Crawford.
Freedom entered the one-day NWC tournament at Hickory High late Thursday. The top four 3A singles and doubles finishers advance to the NCHSAA West Regional on May 7-8 at Jackson Park in Hendersonville.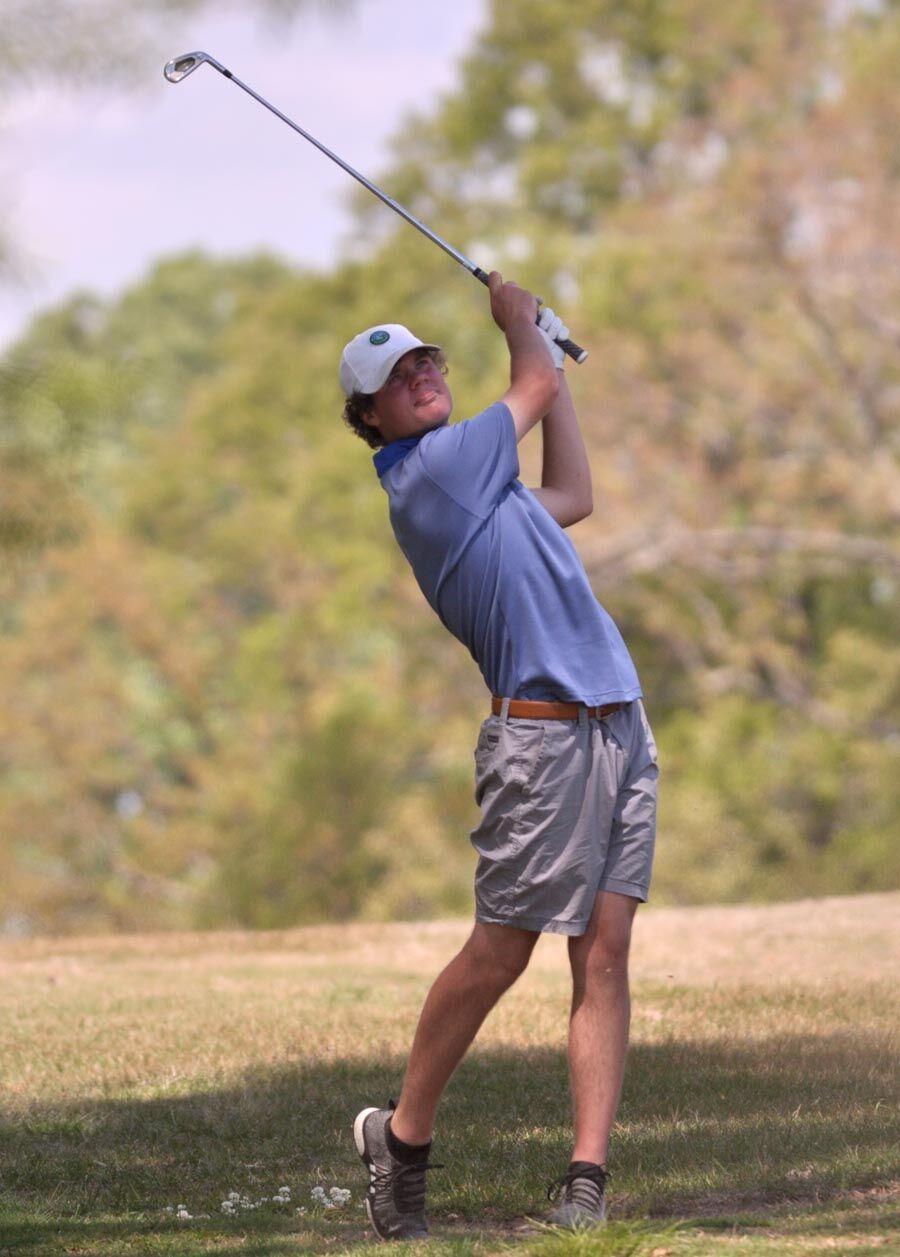 EB finishes 3rd in NWFAC
The East Burke boys (338) finished second behind West Caldwell (322) in Wednesday's NWFAC finale at Mimosa Hills Golf Club, edging out Foard (341), though it wasn't enough to catch the Tigers for the season as WC and Foard took the league's two team berths for the NCHSAA 2A West Regional at Lincoln Country Club on May 3.
However, EB players did earn two of the NWFAC's four individual regional berths. Sam Mace shot a 2-over 74, highlighted by a back-nine 35, to place behind only Hibriten's Maddox Whittington (70), and he will be joined in Lincolnton next week by teammate Peyton Smith, who carded 84. EB's Aiden Good shot 83.
Patton's Brady Chamberlain shot 88 and was one spot away from qualifying for regionals, while Hayden Stoer shot 93 as the Panthers placed fourth on the day and fifth for the year. Seventh-place Draughn was led by Cole St. Louis' 99.
The league also recently announced final girls standings after a lone makeup match was finished. Patton repeated as champions, and as such, qualified Allie Witherspoon, Katie Riebel and Kailey Buchanan as a team for regionals at Lincoln CC on May 4. Witherspoon and Riebel took the league's top two spots individually.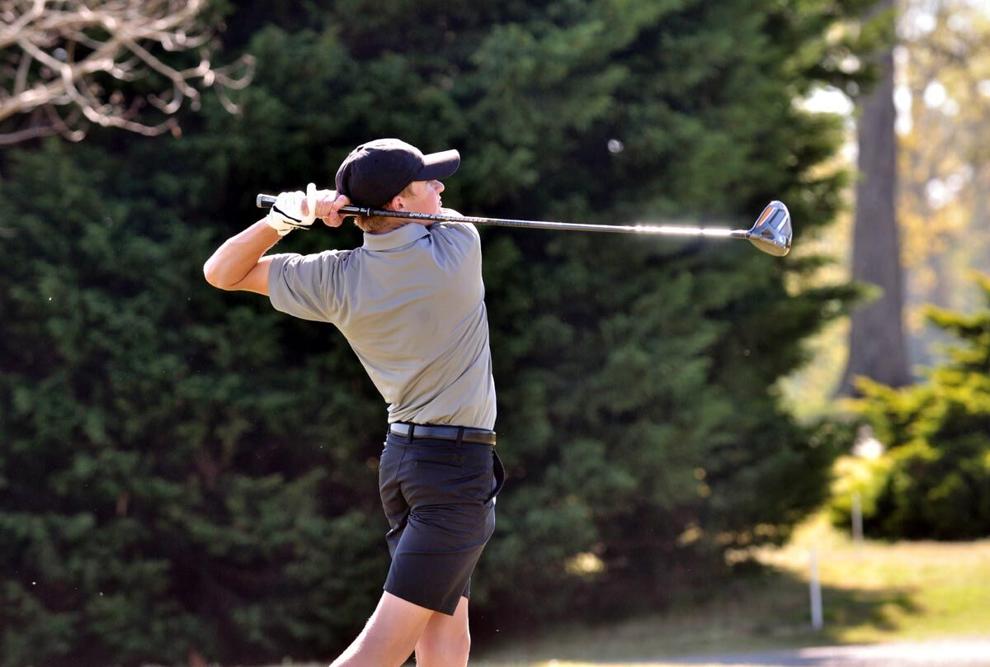 Chase 10, Freedom 7
The Patriots (0-1) dropped their season opener at home Wednesday in nonconference play as the Trojans plated nine runs in a sixth-inning rally.
Freedom's Jagger Bailey homered and drove in three runs, Mason Mozeley tripled, scored a run and drove in two and Bret Bedard doubled as part of a two-hit day, scoring twice and driving in a pair. Daniel Stevenson (5 IP, 3 H, ER, 4 K) and Tristan Esquivel (2 IP, 3 H, ER, 2 K) both pitched for the Patriots.
Hickory 15, Freedom 12 (9 inn.'s)
The Lady Patriots (0-14, 0-12 NWC) rallied from an early 6-0 deficit and took a 12-8 lead into the top of the seventh at home Wednesday, but the Red Tornadoes plated four runs to force extras and scored three more times two innings later to end the marathon.
FHS' Mikhayla Lingafelt pitched all nine innings, yielding six earned runs and striking out 13. She also had four hits including two home runs at the plate, scoring three runs and driving in five.
Other Patriot offensive leaders were Kelbony Clark (4 for 5, three runs, SB) and Mallory Evitt (3 for 5, double, run, RBI), while Kaitlyn Puett (run, RBI, walk), Sarah Armentrout (two runs, RBI), Jasmine Webb (run, walk) and Izzy Edmonson (RBI) each added two hits. Haley Powell added a single, walked twice and had two RBIs.
With the game, each of the four Burke County teams played in at least one contest this season in which both teams scored double-digit runs.
Hickory 6, Freedom 1
The Lady Patriots (6-6 NWC) fell Wednesday at home to end the year with a second straight loss in a contest that was 4-1 at the half. Madeline Mosteller had four Lady Tornado goals. No more details were available.
EB opens with 10 wins
The Cavaliers claimed five girls events and five boys events Wednesday in a four-team opening NWFAC meet at Bunker Hill. The EB girls finished second as a team and the boys third, while both Draughn teams placed fourth.
The Lady Cavs got wins via Taylor Bostain (shot put, 28'5½"; discus, 70'8"), Haylie Evans (400 meters, 1:23.4) and Hannah Parker (300-meter hurdles, 57.6) plus the 4x200 relay (2:09.9). EB's boys victories all came from KJ Byrd (high jump, 5'10"; triple jump, 39'3"; pole vault, 14') and Noah Rooks (shot put, 42'9"; discus, 112'7"). Byrd's height in the pole vault was 3¼ inches off a county record, and he won the event by 6½ feet.
Draughn's lone win came from Bella Williams (girls high jump, 4'8"), while the Wildcat boys were paced by runner-up finishes from Andrew Albright (800 meters) and Dustin Riffle (400) plus a third-place from Reed Farrar (1600).
Also Wednesday, Patton was scheduled to open in a four-team NWFAC meet at Hibriten. Results were not available.