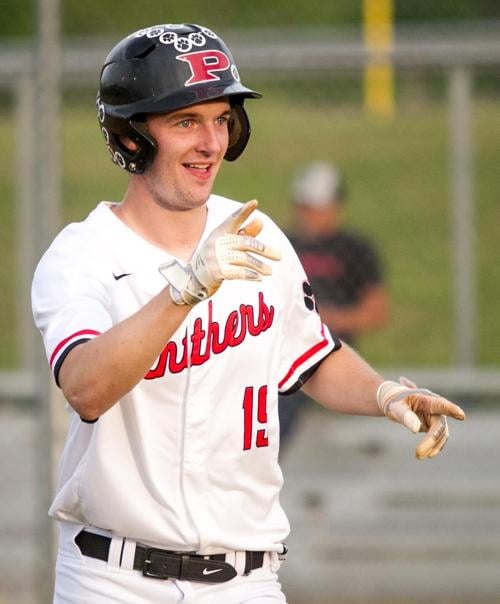 Patton senior Peyton Smith posted a solid day on the mound as well as at the plate and had plenty of help Thursday in a 10-0, six-inning home victory over Northwestern Foothills 2A Conference foe West Iredell as the Panthers opened the season with a two-game sweep of the Warriors.
Smith pitched all six innings and struck out 10 in a one-hitter in which he also walked just one. At the plate, he homered and drove in two, accounting for one of PHS' 12 hits including four extra-base hits.
Patton (2-0 NWFAC) scored once in the bottom of the second and once again in the third, then blew the game open with seven runs in the fourth.
Waylon Rutherford (two runs, RBI) and Christian White (run, two RBIs) each had three hits including a double. Other offensive leaders included Kalen Byrd (2 for 3, run, RBI, SB), Easton McCoy (single, HBP, two runs, RBI, SB), Noah Morgan (single, walk, two runs, RBI) and Brayden Pearson (triple, run, RBI).
Draughn 6, Hibriten 4
The Wildcats (1-1 NWFAC) rebounded from a run-rule loss Tuesday to avoid the sweep Thursday in Lenoir.
Nick Rhoney (5 2/3 IP, 5 H, 5 BB, ER, 2 K) gave Draughn a strong start from the mound before John Robert Abernathy (1 1/3 IP, H, 3 BB, 2 K) closed things out for the save, which he ended by stranding the potential tying run on first base with a strikeout looking.
Rhoney also singled and drove in a pair, and Trey Jensen homered and had two RBIs as well. Hollan Cline (single, two walks, RBI, SB) reached base in all three plate appearances, Gabe Strickland had two hits and scored a run, Abernathy walked twice and had an RBI and Marshall Byrd singled, walked and stole a base. Logan McGee singled and walked, Will Price was hit by a pitch and scored a run and Brayden Schutt hit into a fielder's choice and scored once.
S. Caldwell 18, Freedom 7
The Patriots (0-2, 0-1 Northwestern 3A/4A Conf.) led 2-0 through an inning and 5-3 through three innings in their league opener at home Friday but couldn't survive a South six-spot in the fourth and allowed eight more runs in the seventh.
Freedom was led at the plate by Bret Bedard (2 for 4, double, run, two RBIs), Jagger Bailey (2 for 3, two runs, two RBIs) and Garren Bryant (2 for 4, two RBIs), while Mason Mozeley scored two runs, Damien Dula scored one run and Tristan Esquivel had an RBI.
On the mound, Mozeley (4 IP, 4 K), Bryant (2 IP, K) and Esquivel (IP, 2 K) all saw work.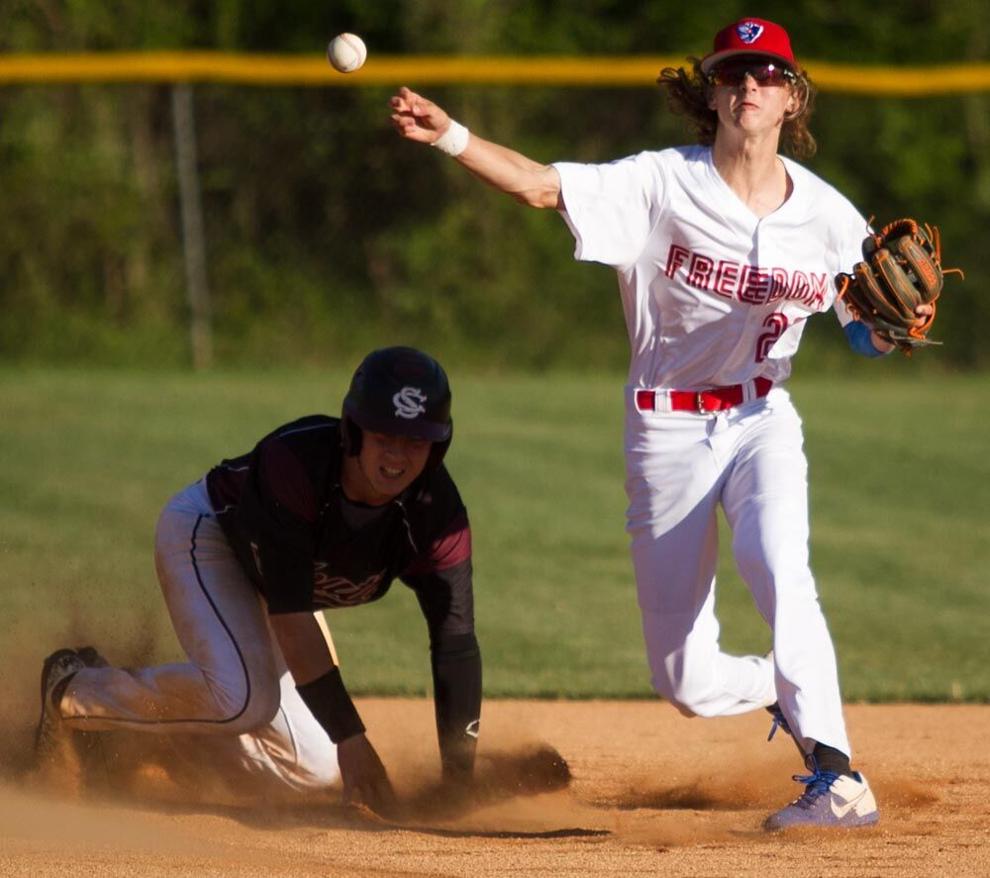 Bunker Hill 10, EB 0 (5 inn.'s)
The Cavaliers (0-2 NWFAC) shut down the Bears for four innings in a scoreless battle in Claremont on Thursday before the hosts struck for all 10 of their runs in the bottom of the fifth to end the contest early. No more details were available.
Draughn 13, W. Caldwell 2
Chloe Gary, Draughn's lone senior, had two hits including a home run and drove in two runs in her final home contest Thursday as the Lady Wildcats (9-5 NWFAC) won going away to end the regular season.
Maddie Crouch (HR, two RBIs) and Katie Cozort (double, HR, four RBIs) shared the Lady 'Cats team lead with three hits apiece. Regan Winkler added two hits and an RBI, Katie Lail doubled and had an RBI and Dakota Melancon (CG, 6 H, 2 ER, 0 BB, 4 K) earned the win from the circle.
Draughn finished one game out of a two-way tie between Foard and Bunker Hill for the league's second and final automatic state playoff berth.
Foard 6, EB 1
The Lady Cavaliers (4-10 NWFAC) fell Thursday despite holding the Tigers scoreless over the final four innings. Kaylee Paige (5 1/3 IP, 4 H, BB, 2 R, 5 K) relieved Kayleigh Icard (1 2/3 IP, 5 H, 4 BB, 4 R, K) in the circle.
Paige reached on an error and also scored the team's only run via an RBI from Danielle Foxx (2 for 3, triple). Katherine Greene also reached base for EB via a single, and Ambria White drew a walk.
Bunker Hill 11, Patton 1 (5 inn.'s)
Cierra Lail drove in Bridget Patrick with a third-inning single to account for the lone run Thursday for the visiting Lady Panthers (2-12 NWFAC).
Lail, Patrick and Jayla Gregg each had a hit, Hailey Snodgrass and Meredith Kearson drew a walk apiece and Patrick struck out three and walked three, allowing four earned runs in pitching the whole way.
Patton 7, Bunker Hill 1
The Lady Panthers (8-6 NWFAC) led 6-0 at the half and won big Thursday in Claremont to end the season two games above .500 and in outright third place in the league.
PHS' Faith Webb opened the scoring with her first career goal in the 3rd minute, and senior defender Shelby Pascual added her first career goal in the 78th minute to bookend the night.
In between, Patton also got a first prep goal from Emma Sacchetti, while Kiera Robinson added a goal plus three assists, Ellie Sacchetti had two goals and an assist, Maria Mateo had one goal and one assist and Danielle Wilson one assist.
"The second half was devoted to Shelby getting her first goal," Patton coach Keith Scott said. "The celebration afterwards was priceless. (This was a) special season with an amazing group of seniors that I will truly miss. … (I'm) so proud of all these ladies tonight."
Draughn 9, W. Caldwell 0
The Lady Wildcats' Haley Lowman also enjoyed a senior night to remember Thursday in Valdese, scoring six goals for her second double hat trick of the season and tacking on one assist.
Lowman scored four or more goals in five different games this season and set a new school record with 28 goals total in the abbreviated season as Draughn (7-6 NWFAC) tied a program record for overall wins, set a new record for league wins and enjoyed its first winning seasons both overall and in league play.
Lowman's signature goal in the victory came via a header off a ball sent in by Alexis Diaz, who scored twice. Ambria Blalock also scored a goal, and goalkeeper Ada Caballero had one save in the shutout.
Patton claims 9 wins to open
The Panthers boys and girls both finished third place in a four-team NWFAC meet hosted by Hibriten on Wednesday, claiming nine total events.
Patton winners included Nikita McClure (girls 100 hurdles, 20.28; 300 hurdles, 57.15), Caden Clontz (boys 1600 meters, 5:19.36), Madison Clay (girls 1600 meters, 5:36.85; 3200 meters, 11.59.9), Vance Jones (boys 800 meters, 2:13.80 – six-tenths of a second ahead of teammate Charlie Bennett), Destin Joseph (boys long jump, 17'9½") and both 4x400 relay squads.
Freedom wins 3 events in Boone
The Patriots won three total events in their three-team NWC opener, which also included Avery County, on Thursday in Boone. Freedom's Tay Lowdermilk claimed the boys 400 meters (56.09), Drew Costello won the boys long jump (20'10¾") and Lee Kania won the girls 100 hurdles (17.93).
Draughn nabs 1st win
The Wildcats opened the season with a tri match Wednesday at Hibriten, falling to the host Panthers 66-12 but defeating West Caldwell 48-24.
Draughn (1-1) got 2-0 nights from Skylar Hudson (113 pounds; two forfeits) and Cole Fink (126; first-period pin, forfeit). Adding a win apiece in the team triumph over the Warriors were Milymar Delgado (120; forfeit), Eric Gilleon (152; first-period pin), Hampton Blackwell (170; first-period pin), Cole Storie (182; first-period pin), Donnell Wilkins (195; first-period pin) and Luke Rector (285; first-period pin).
Patton starts off 0-3
The Panthers (0-3) fell 60-23 on Tuesday at home against South Caldwell before dropping both ends of Thursday's tri at Newton-Conover, 60-12 against the host Red Devils and 47-24 to Hibriten.
Dilan Patton (152/160; two second-period pins, tech fall) opened with a 3-0 week, while PHS teammates Kamden Stephens and Kaleb Spann, who split time at the 182 and 195 weights, opened 2-1 with a pair of first-period pins apiece.
Andrew Moseley (132; first-period pin), Kegan Burris (152; second-period pin) and Sheldon Jordan (220; forfeit) were other Patton opening-week winners.