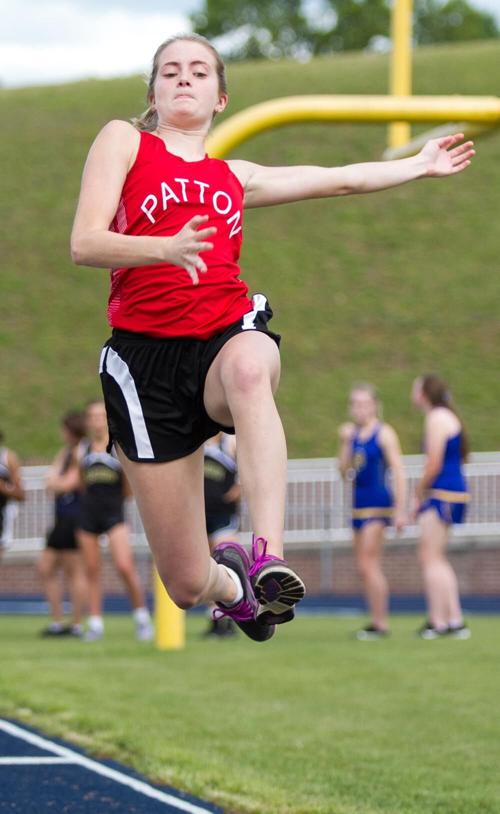 ICARD — East Burke hosted its first track & field meet since the spring 2014 season Wednesday in a four-team Northwestern Foothills 2A Conference meet with county foes Draughn and Patton plus West Caldwell.
The Lady Cavaliers were able to come out victorious on the new blue rubberized home track, beating out the runner-up Lady Panthers 63-52 behind four first-place event wins and six runner-up finishes. The Draughn girls (39) placed third.
In a closer overall team race on the boys side, West won with 71.5 points, followed in order by Patton (62.5), EB (57) and Draughn (40).
"There were many personal records recorded for our girls and boys. That is our goal, for each meet to get better," said EB head coach AJ Schwankert. "There were many who pretty gritty about being the first to compete on the new surface and having a home meet for the first time in many years."
Some of the key events for EB came in the shot put and discus throws as Ambria White (shot put, first; 28'3"), Taylor Bostain (discus, first; 86'10"), Sierra Pelham and Emily Burkeen placed in the top four in both events, with Bostain winning in the discus by over 20 feet.
Chloe Cook (800 meters, 2:56.87) and the 4x800 relay (13:02.23) were also victorious for the Lady Cavs, with Meah Walsh (800, 1600 meters), Hannah Parker (300 hurdles) and the 4x200 relay gaining runner-up finishes.
PHS' girls had three athletes combine for seven event wins, led by triple winner Bailey Tallent (300 hurdles, 55.70; 200 meters, 29.49; long jump, 13'10"). Madison Clay (1600 meters, 5:44.52; 3200 meters, 12:31.46) and Sara Griggs (400 meters, 1:06.26; triple jump, 27'9") won twice apiece. Griggs added a third-place finish in the 200.
The Draughn girls got wins from Bella Williams (high jump, 4'8") and the 4x200 relay (2:05.04), while Ambria Blalock (400 meters), Alexis Diaz (triple jump) and Georgia Goulding (high jump) earned runner-up finishes.
The Patton boys gained wins from Austin McGuire (400 meters, 56.88), Vance Jones (800 meters, 2:09.44) and the 4x800 relay (8:59.71).
The 4x200 relay finished runner-up, with Connor Rudisill (long jump, second; 400 meters, fourth), Destin Joseph (long jump, third; triple jump, fourth) and Alex Buckner (long jump, fourth; triple jump, fifth) being other key contributors.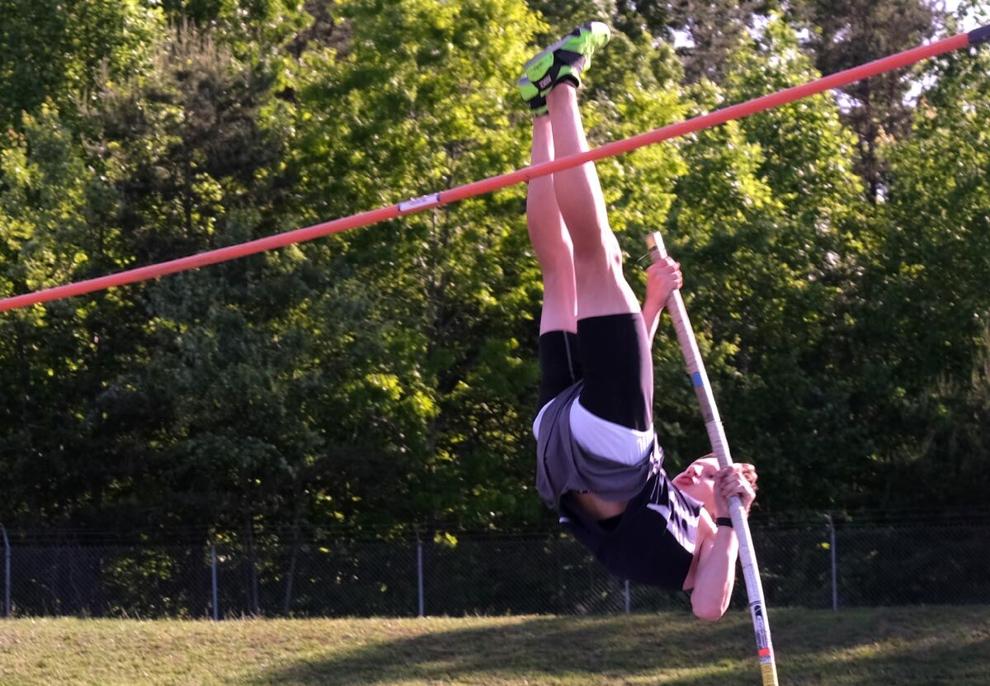 The EB boys gained wins from freshman KJ Byrd (high jump, 6'0"; pole vault, 14'; triple jump, 41'), senior Noah Rooks (shot put, 40'2"; discus, 143'3") and the 4x400 relay team (4:06.28).
Byrd set a new school record in the pole vault, previously held for 40 years (13'3") and served as the last leg on the winning 4x4 relay.
Luke Elliott (1600 meters, second), Hunter Mauldin (shot put, third; discus, fourth), and Caleb Johnson-White (800 meters, fourth; 1600 meters, fifth) were other key Cavalier athletes.
Junior Reed Farrar led the DHS boys with wins in both distance events: the 1600 (5:03.69) and 3200 meters (11:29.28).
Luke Rector (shot put, discus) and Ben Thao (400 meters) placed second for the Wildcats, with third-place finishes from Dustin Riffle (400 meters), Andrew Albright (800 meters) and Donnell Wilkins (discus).
Draughn and Patton travel to Hibriten while EB visits Foard for another set of four-team NWFAC meets next Wednesday.
Freedom girls win
The Lady Patriots won Wednesday at Hickory High in a four-team meet that also included Northwestern 3A/4A Conference foe St. Stephens as well as University Christian.
Freedom was led by Lee Kania's three wins, which came in the girls long jump, 100 hurdles and 300 hurdles. Kania also placed second in the 200 meters, and teammate Katie Deacon claimed both the girls 800 (2:38) and 1600 meters (5:44). FHS freshman Caroline McCracken won the 400 meters (1:08) in her first time running the event.
"She's a talent," Freedom coach Robert McGimpsey said. "I have some really good girls. They have great attitudes, and they work hard."
The FHS boys finished second and got event victories from Jalen Kee (100 meters, 11.4; 400 meters, 54.8), Dalton Brittain (800, 1600 meters) and Drew Costello (long jump, 19'5").
Full results, including team points and some events' times and distances, were not available at press time.