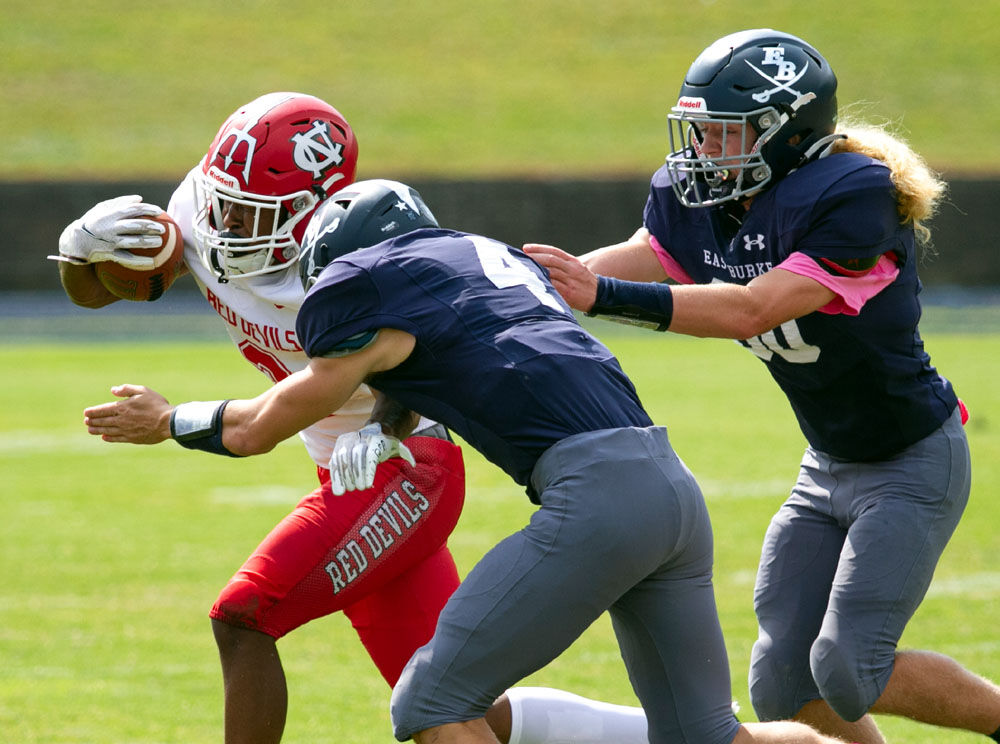 ICARD — The East Burke football team couldn't find the end zone on any of its first 40 plays from scrimmage Saturday afternoon on senior day against Catawba Valley 2A Conference rival Newton-Conover.
The good news was it took the Red Devils 56 offensive snaps to finally do so. The bad news was that Newton scoring play came in the form of a 32-yard Hail Mary that decided the game with 2 seconds left on the clock in an absolute heartbreaker for EB, 19-12.
Even more painful for the hosts, it appeared the play wouldn't have happened if not for an officiating error.
On second-and-10 from the EB 25-yard-line in a tied game without any timeouts left, Newton dropped back to pass and fumbled under pressure from the Cavs' pass rush. The Red Devils fell on the ball, and the game clock by rule should have continued to run.
However, while unscrambling the pile to make sure EB hadn't recovered, the officiating crew signaled for the clock to stop and didn't restart it immediately upon signaling that Newton had recovered, allowing Newton time to kill the clock with a spike.
On fourth down with 11 seconds left, Devils quarterback Aiden Luangkhot then heaved a deep shot to the corner of the end zone that Zane Redmond hauled in over two Cavs defenders for his first catch of the contest.
The loss dropped EB to 1-3 overall, 0-2 in CVAC play.
"You hate it for the kids that it comes down to just a few seconds," EB coach Derrick Minor said. "But we missed some opportunities in the first half where if we took advantage, it wouldn't have even been that close.
"You just try to tell the kids, you know, God has a plan in everything. And even though we don't understand it right now and it hurts a lot, we just have to keep working and trying to learn and get better. That's all you can do. With the schedule the way it is, we don't have time to dwell on it too long."
After EB struggled to move the ball for three periods, it suddenly found the end zone on back-to-back plays to take its first lead with 6:39 left.
Luke Wilson recovered a fumble near midfield, and the Cavs went to a heavy set and methodically churned out 48 yards on 11 plays capped by Blane Fulbright's 1-yard touchdown run to trim the gap to 9-6.
Following a short Newton punt, Fulbright got the carry again and ran to his right, found a cutback lane and burst through it back up the middle 60 yards right into the field-house end zone to make it 12-9.
"Our offense finally got going in the second half," Minor said. "We tried every formation, everything. They were doing a good job on our normal single wing, and we went to that heavy formation and found a little spark and that got us the lead."
Newton's sputtering offense found life immediately afterward, moving 67 yards down to EB's 6 before settling for a tying field goal at the 2:26 mark.
EB got as far out as its own 41 on the next drive but stalled. The Cavs went for it on fourth down but fired an incomplete pass, setting up Newton's winning drive.
Newton gained its 9-0 edge thanks to a safety and a Xavion Coulter 50-yard interception in the opening half.
Fulbright gained 183 rushing yards on 28 carries. Newton was led by Luangkhot's 120 passing yards and Ben Watson's 60 rushing yards.
EB's defense was led by Wilson (fumble recovery, pass breakup), Michael Magni (1½ tackles for loss), Shaheem Webb (sack), Logan Johnson (interception, ½ TFL), Spencer Goins (interception), Colton Boyette (TFL), Brady Bostain (sack) and Dawson Langley (TFL, pass breakup).
EB now has five days off before hosting unbeaten Bunker Hill for homecoming on Friday. After reworking the schedule due to a month-long COVID pause, it's EB's longest scheduled break between games until a whole week off as normal from Oct. 15 to Oct. 22.
"Everybody's going through the same situation with guys out sick and with quarantines," Minor said. "Hopefully we can get everybody back and have more than two or three days to get ready for the next opponent. It's hard on both the kids and coaches when you're put into that kind of situation for sure."