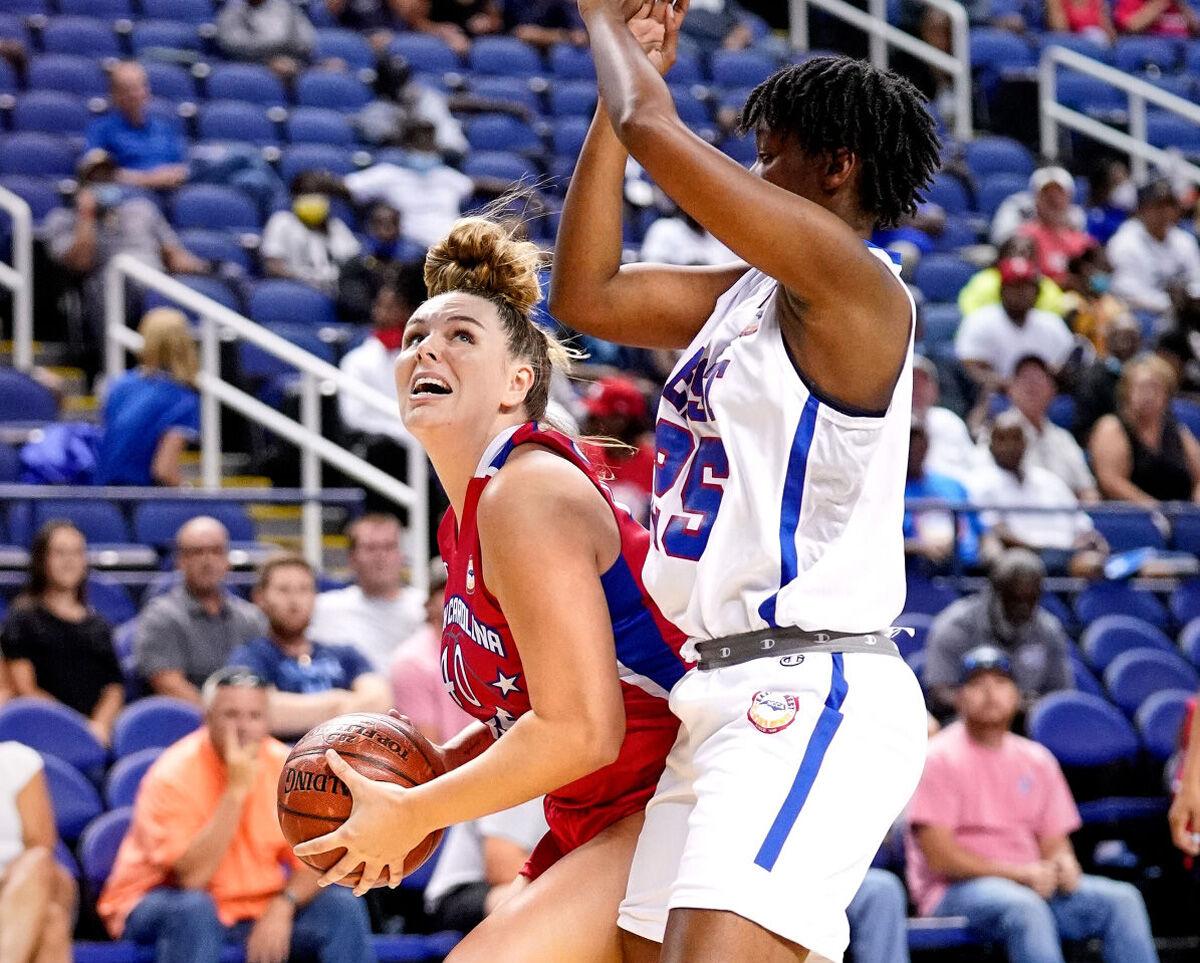 GREENSBORO — Teammates who started out together winning a middle school conference championship before plenty of prep success capped their run together with one more win.
Recent Freedom High graduate Danisha Hemphill scored seven points, classmate Adair Garrison posted six and their West team won the N.C. Coaches Association's 46th East-West All-Star Game in girls basketball late Monday at the Greensboro Coliseum, 87-66.
Hemphill drew first blood in the game after the East collected the opening tip. The Burke County girls player of the year grabbed a steal near the 3-point line, drove to the basket and was fouled before making 1 of 2 free throws to give the West the early lead.
"It felt really good to have the first point of the game, especially to know it came from my defense with a steal," Hemphill said.
After Enka's Emily Carver drained a 3 for the West, Garrison, an Appalachian State signee, earned her own trip to the foul line after grabbing a defensive rebound, making both attempts from the stripe for a 6-0 West lead.
Another West trey from Hickory's Finley LeFevers made it 9-3 before Hemphill struck again. She drove toward the baseline, spun around an East defender and laid it in to give the West an eight-point advantage less than three minutes into the game.
"Offensively, my shot was not falling, so I had to try something new with driving," Hemphill said. "That worked for me tonight. I got in there and battled."
Another Garrison trip to the foul line two minutes later made it 15-8.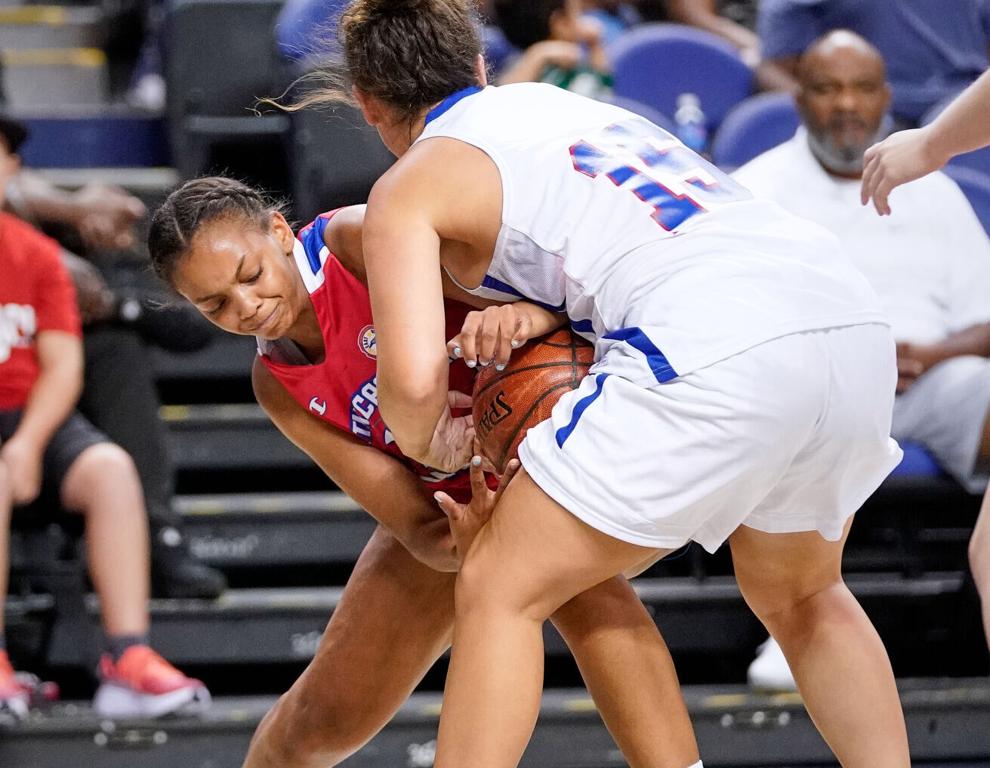 After the West built up a 47-31 halftime lead, Hemphill earned another trip to the free throw line with 4:12 left in the third quarter, hitting both for a 63-47 West lead. After the East responded with a basket, Hemphill scored again when Carver grabbed a steal and fired it up the court on a Hemphill fast break for another layup.
On the next trip down the floor, Garrison broke out of a bit of a cold shooting start. Carver brought the ball down the court and fired it inside to Cuthbertson's Maddie Dillinger, who kicked it back out to Garrison on the wing for a 3-pointer to make it 68-49 West late in the third quarter.
"I had to just keep shooting," Garrison said. "If you miss the first one, take the next. That's the mindset you've got to have. Just keep shooting and don't stop. Here, we're all good. So, you have to show aggression and be tough from the first play of the game. That's what you've got to do."
Garrison was a pre-game captain, a starter and an academic all-star for the West team.
"This weekend has been a really great experience playing with some great girls," Garrison said. "We all have known each other for years, so it's like a little reunion. It's been a great weekend, and I'm very grateful to be a part of it."
Hemphill, who said she plans to attend UNC-Charlotte this fall and may attempt to walk on to the 49ers' women's basketball team, also was a starter for the West despite being a late addition to the all-star roster.
"It was very fun and exciting," Hemphill said. "I had a very different start from everybody else when I first got here, but it was fun meeting new people. We're all great, so playing with some other great people was a fun experience."
Garrison and Hemphill were the 12th and 13th all-time selections to the all-star game for the Lady Patriots, but were the first FHS teammates to take the floor together in the girls contest. Former Freedom players Blaikley Crooks and Josie Hise would have accomplished that feat in the 2020 version of the game, but it was canceled due to COVID-19.
Carver, another App State signee, was named MVP of Monday night's game after scoring a game-high 20 points with a team-high nine rebounds, a contest-best five steals, four assists and a block.
Carver was a formidable foe during her prep career against the Lady Patriots, who first faced her in a second-round playoff game in 2019. Carver then scored a game-high 36 points for the Sugar Jets in a Freedom Christmas Invitational semifinal loss versus the hosts the next season, a round after she had scored 31 in a win over East Burke. FHS and Carver met again later in the 2019-20 season in the NCHSAA 3A West Regional semifinal.
Dillinger (13 points), a Lenoir-Rhyne commit, has a playoff history with Freedom, too. She was on the Cuthbertson squad that defeated the Lady Patriots in the 2018-19 3A West Regional final game.
And LeFevers (nine), who is headed to Queens University of Charlotte, also was a familiar player for her West teammates from FHS after her Lady Red Tornadoes split a pair of matchups with Freedom this past season, with the Lady Patriots winning a Northwestern 3A/4A Conference regular season game before Hickory took the teams' third-round playoff meeting.
West players Jadyn Murray of Northwest Guilford (11 points) and Mariah Frazier of Dudley (two) also are future Mountaineers teammates for Garrison. The West's Diamond Monroe of Dudley, who exited early with an injury, is headed to Elon and Shakira Baskerville of West Forsyth (16) will play at High Point.
In the boys game later in the evening, the East squad won, 116-92, with N.C. State signee Terquavion Smith of Farmville Central leading the effort with 30 points.