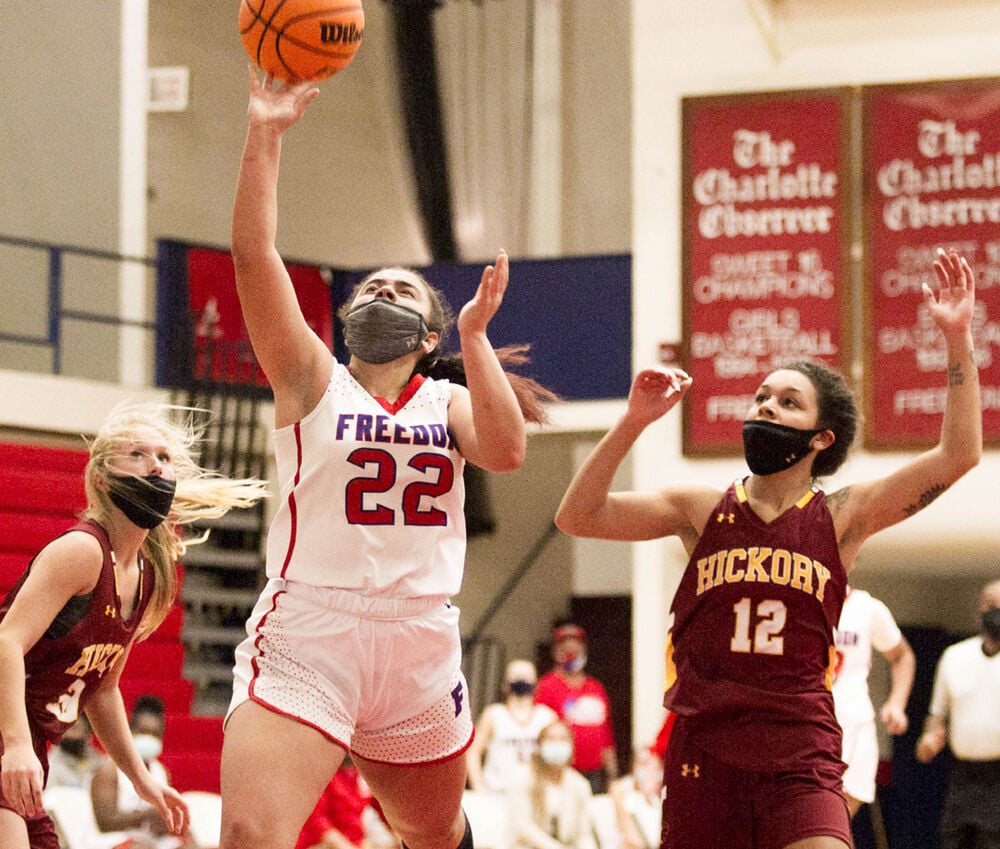 In a game filled with scoring runs, junior guard Stevee McGee made sure the Freedom girls basketball team would enjoy the last and most decisive one in a 62-56 win over Northwestern 3A/4A Conference rival Hickory.
The Lady Patriots stormed back from 12 points behind to start Monday's home makeup contest to go up by 16 early in the second half but needed another comeback when Hickory climbed back on top 51-47 with just over 4 minutes left.
After Freedom (2-0) cut the gap to 51-49, McGee took a pass from Danisha Hemphill under the basket and made the extra bounce pass for her team-best fifth assist to find an open Adair Garrison to knot the score.
Then when Red Tornadoes senior Finley Lefevers (game-high 25 points) nailed a 3-pointer from the wing on the ensuing possession, McGee took a pass from classmate Christena Rhone and re-tied the score with a trey with 2:30 left.
After Lady Pats junior guard Amighty Walker drew the first of her two late Hickory charges, Rhone found McGee in almost the same spot for a 3 that put Freedom ahead for good with 1:55 remaining.
"That was huge, Stevee's shots and Amighty on the other end," Freedom coach Amber Reddick said after her team's 44th consecutive victory vs. NWC 3A/4A opponents (and 87th in the last 88 such games) as well as their 13th straight over Hickory dating back to January 2016.
"I think we drew five charges tonight. Things might be a little helter skelter, but we'll step in and take a hit. I was super proud of that. And for Stevee to have the confidence to step up and take those shots and then make them both, just huge."
"I try to warm up game speed, and when we get to the game, my coaches always tell me just shoot like you do in practice and that's all I did," said McGee, one of four FHS players in double figures with 10 points plus six rebounds plus one of three players to draw a charge.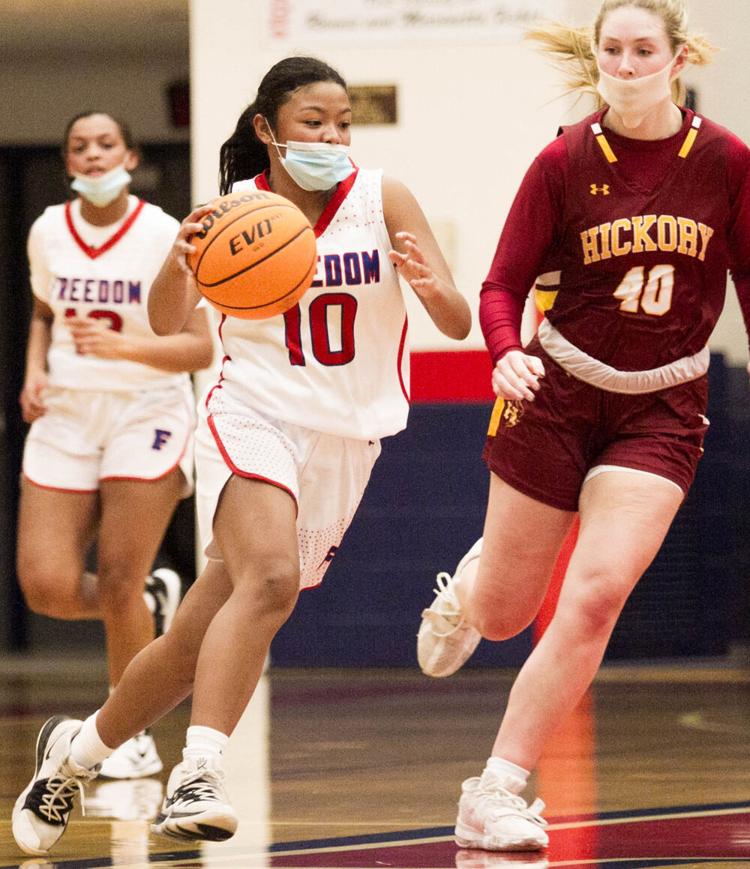 "Hickory's always one of the toughest teams we play because they're so aggressive. I think this win can give us a lot of confidence."
After some early fullcourt pressure defense rattled Freedom as it fell down 16-4, two Rhone 3s in the final 15 seconds of the opening period changed the complexion and made it 16-12 Hickory.
A 6-0 scoring run to end the first period swelled to 23-2 as Freedom took a 27-18 lead in the second period that grew to 42-26 with 5:30 left in the third. But Hickory responded with a 25-5 run at that point, setting up the late drama.
"I think we settled in. With Hickory, you've got to weather that storm initially," Reddick said. "We're putting some inexperience out there this year, and we definitely had to weather the storm. But I was super proud of how they collected their composure."
Added McGee: "We took time to calm down, and once we did that, we started hitting shots, playing better defense, boxing out and got back in the game."
Garrison paced Freedom with 19 points, 13 rebounds and three steals. Hemphill added 13 points, five rebounds, three assists, two steals and two drawn charges, and Rhone had four fouls by late in the third but never fouled out, finishing with 12 points, five rebounds and the two key late assists plus two steals.
Walker scored eight, all in FHS' big first-half run, and despite being FHS' shortest starter at 5-foot-6, hauled in seven rebounds to rank behind only Garrison among FHS players.
NOTE: The schools' varsity and JV boys games were rescheduled for Jan. 21.