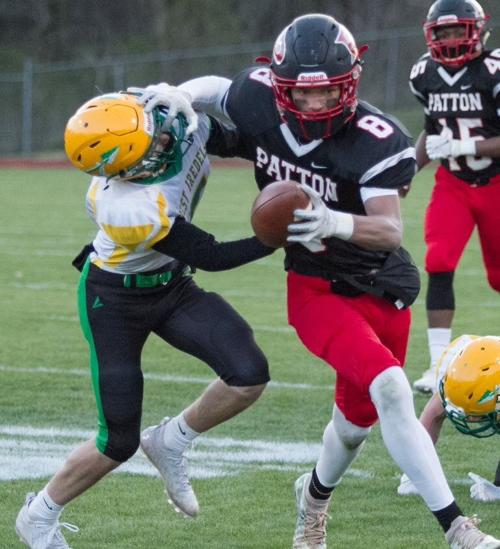 The Patton football team came into Saturday's game looking all around for some offense.
Boy, did they ever find it.
After scoring just 33 points across their first three games, the Panthers came to life with a 40-14 outburst over Northwestern Foothills 2A Conference opponent West Iredell in a game played at Freedom High School, also a contest that served as the Panthers' Senior Night.
Early on, it seemed as if PHS was headed down the same path as before when the Warriors marched 64 yards on 13 plays and took 6:40 off the clock on their opening drive for a touchdown, then holding that same 6-0 lead after a quarter. But it was all Patton after that.
The offensive explosion was highlighted by junior wideout Waylon Rutherford, who easily set a school record with 196 receiving yards to surpass Tyler Rector's 141 in a 38-12 loss versus Chase on Sept. 16, 2011. Rutherford caught six passes, two of which were touchdowns — a 32-yarder from Kalen Byrd in the third quarter to make it 27-6 and a second-effort, 28-yarder from Byrd in the fourth to go up 34-6. Rutherford also high-pointed and reeled in a 69-yard pass from backup QB Hunter Johnson to set up Patton's final TD, a four-yard run by Tay'Adrian Brawley.
"It's just having my quarterback trust me," said Rutherford. "I really wanted (the touchdowns) because I know it's the seniors' day. I knew me scoring would help out with that win."
One of those seniors, Byrd, was a weapon in his own right. He completed 7 of 15 passes for 139 yards and three TDs, the other one a five-yarder to Skyler Phillips in the second for Patton's 19-6 lead. But he was just as important as a runner, gobbling up a team-high 112 yards on 10 carries, highlighted by a 52-yard keeper around the right end which, with Eliseo Ramirez' extra point, gave the Panthers (1-3 NWFAC) their first lead at 7-6, an advantage they held for good.
"The coaches made a good game plan for us," Byrd said. "We watched a lot of film and really studied their defense. We honed in on some things on offense. We were making a lot of mistakes, so we made sure not to get any false starts and hold on to the ball.
"Everybody played hard. Our offensive line did a great job blocking and gave us a lot of gaps."
That perhaps was best seen on Byrd's long scoring run, when right tackle Ethan Duncan was some 15 yards down the field to make the final key block and send Byrd on his way to the TD. Along with his line-mates, Duncan helped paved the way for a 303-yard rushing effort for PHS.
"We had been practicing and planning for this certain alignment (by West Iredell)," Duncan said. "They kind of pulled some switches on us and pulled in some extra outside linebackers. So, we had to keep adjusting, but we did that pretty well with what they brought up. It was mostly because we were communicating the entire time, trying to keep each person up-to-date on what we were going to change. We just kept our heads down and focused."
Brawley added 55 yards on 18 carries for PHS, Jerry Sarath had 71 on six late attempts and fullback DeShawn Cantrell-Vazquez tallied 38 on four attempts, including his first of the night when he ran in from 14 yards out for a 13-6 lead. Noah Morgan had 34 yards from scrimmage.
"Our offensive line did a really good job, our receivers, all of them were really selfless tonight," said first-year PHS coach Mark Duncan, who picked up his inaugural career win in his fourth try. "That was the big thing. They were doing the things they were supposed to. Whoever's number was up to catch a pass or carry the football, everybody was in it together."
On the defensive side of the ball, Patton buckled down after that game-opening drive when WI had five first downs, limiting the visitors to just six more first downs from there on out. The Warriors had fewer than 150 yards of offense when Patton's starters were pulled mid-fourth.
"All this week at practice, the coaches told us to finish," said Colton Dale, who led Patton with nine tackles., including one for loss. "That was one problem we had been having. Tonight, we fixed that. We finished. We did what we were supposed to do. We filled our gaps and we won."
Sarath, Randan Clarke (TFL), Reid Pons and Trevor Smith (pass breakup) added five stops apiece for PHS. Rutherford had an interception, Braden Vance registered a sack and Cantrell-Vazquez notched a stop behind the line.
Patton hits the road this coming Friday for an NWFAC matchup with West Caldwell.