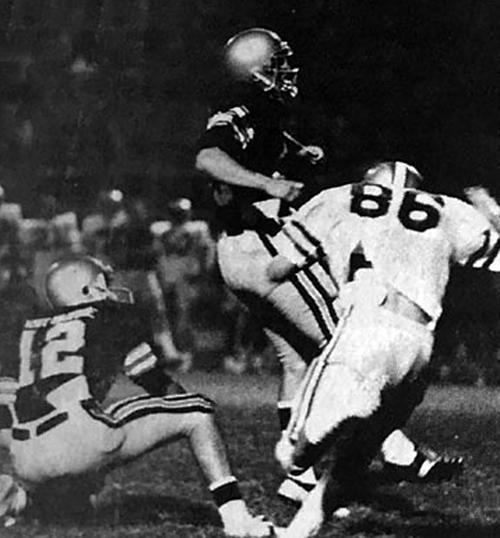 A look back at some of the top Burke County high school football games from October 1980, 1990 and 2000 … 40, 30 and 20 years ago at this time:
(EDITOR'S NOTE: In 1980, Danny Williams and the Wild Bunch were rolling. East Burke was in the midst of a nine-year run of consecutive winning seasons that's been unparalleled for the program since. In that span, the Cavaliers claimed three Western or Northwestern 4A Conference titles and made five state playoff appearances, including reaching the third round in '79 to cap a string of three straight nine-win seasons. Freedom, meanwhile, would later forfeit every game from the '80 season as part of a stretch from 1978-86 with just one winning record: 6-5 in '85. But North Carolina School for the Deaf carried the Morganton mantle in fine fashion in '80, contending for a league title in one of its best seasons ever on the gridiron.)
ICARD — The East Burke football team got back on the winning side of the track Friday, but just barely.
It took the last-second kicking heroics of Marty Fulbright to give the Cavaliers a 17-16 escape from the much-improved McDowell Titans on homecoming night at Cavalier Stadium.
Fulbright booted a 33-yard field goal with 20 seconds left as EB (3-3, 1-2) broke a three-game losing streak.
"We made Fulbright kick an extra hour Tuesday because he was late for practice," Williams said. "So maybe that helped."
It certainly didn't help the Titans, who were looking for their second conference win in two weeks and had broken a 14-14 deadlock with a safety less than 5 minutes earlier.
EB's defense dug in after the free kick after the safety and stopped McDowell on three plays. McDowell punted, and EB was set to take over at its own 13-yard line before a facemask pushed the ball to the 25.
Quarterback Tommy Blanton took over from there. Running back Chris Johnson set up the field goal when he took a screen pass from the scrambling Blanton on second and 10 and turned upfield for 43 yards to the McDowell 32.
The Cavs got as close as the Titans' 12 before being backed up to the 17 via a penalty. Fulbright came in to do the scoring honors after two incomplete passes left EB at the 16.
Jerry Young and Allen Shuping each ran for 9-yard TDs for the Cavs earlier in the game.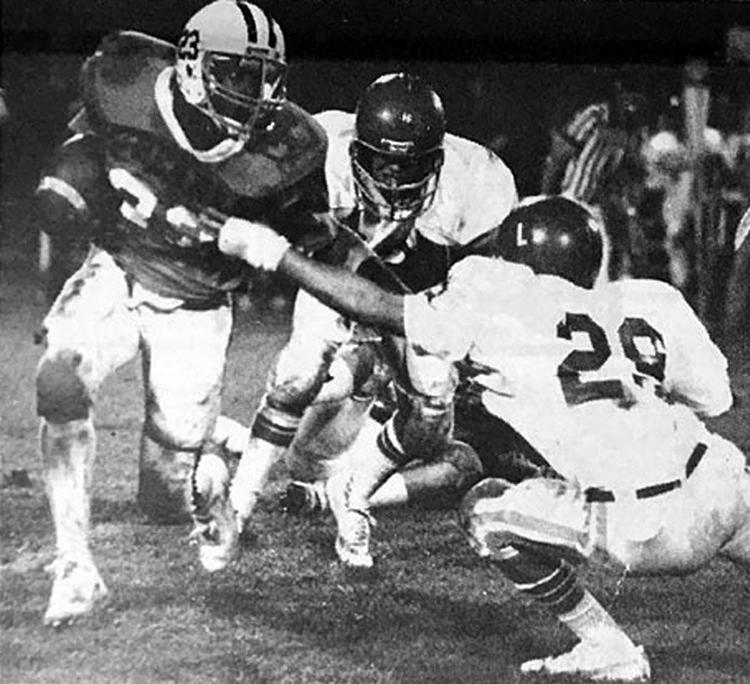 The NCSD bench was stunned, the crowd was stunned, the coaching staff was stunned. Most of all, Edneyville was stunned.
Stacey Rogers, NCSD's all-everything offensive and defensive threat, stepped in front of Edneyville quarterback Don Justice's pass with 24 seconds remaining and raced 70 yards untouched for a touchdown, giving the Bears the win Thursday night at Alumni Field.
The score prevented the Yellow Jackets from retaking the lead after Bears running back Bobby Robbins pulled NCSD ahead for the first time with 6:48 left on a 13-yard sweep.
The win keeps NCSD (7-1, 4-1) in contention for the Appalachian 1A Conference crown. The crucial league showdown comes this week against Cherokee (7-1, 4-0), with only the winner moving on to the state playoffs.
"I wouldn't have minded if (Rogers) ran 2 yards and fell down," said an ecstatic NCSD coach Bob Ledford. "I said earlier this week that this game will show if we have character, and I liked what I saw tonight. … I'm super proud of these kids."
Steve Mosser's 1-yard run started the Bears' scoring.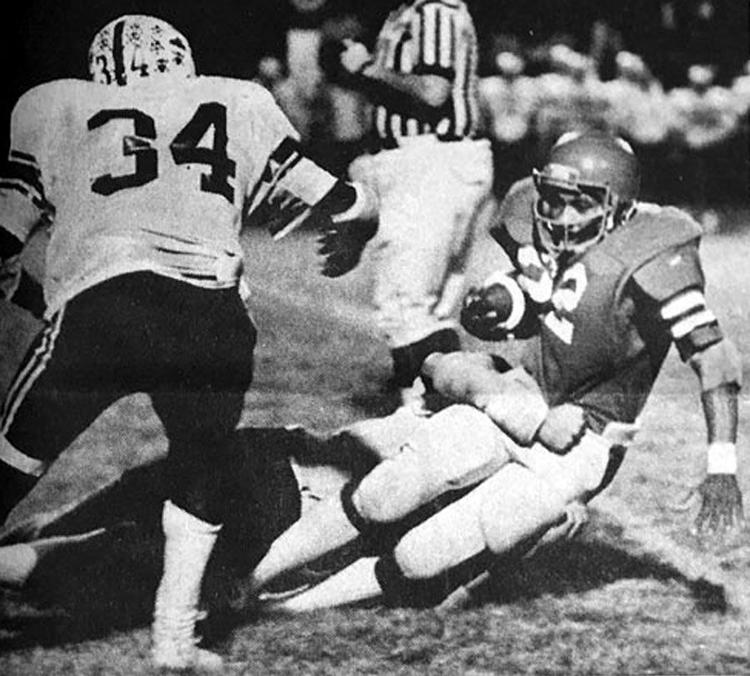 Freedom 18, Hunter Huss 15
You've got to hand it to Freedom High School … the Hunter Huss Huskies did.
The visiting Patriots, playing without injured star Tracey Corpening, narrowly defeated Huss 18-15 in a Friday homecoming contest in Gastonia. Huss turned the ball over seven times, handing Freedom numerous scoring opportunities inside the Huskies' 30.
"We had a chance to put it out of reach," said Freedom coach Jug Wilson. "We had plenty of opportunities, but we must have fumbled the ball six times inside their 40."
Freedom had almost as many problems holding onto the football, fumbling five times and surrendering an interception.
"The game was a crowd pleaser but not a coach pleaser," Wilson said. "I was about to have a heart attack near the end."
Freedom (4-2, 2-1) got all its points on three second-period TDs and had to hang on from there. The first score came after Rodney Causby recovered a fumble on the 12. Quarterback Jeff Moorefield finished the short drive on a sneak from 3 yards out. Moorfield also found Wally Caraway from 32 and 7 yards out on TD tosses.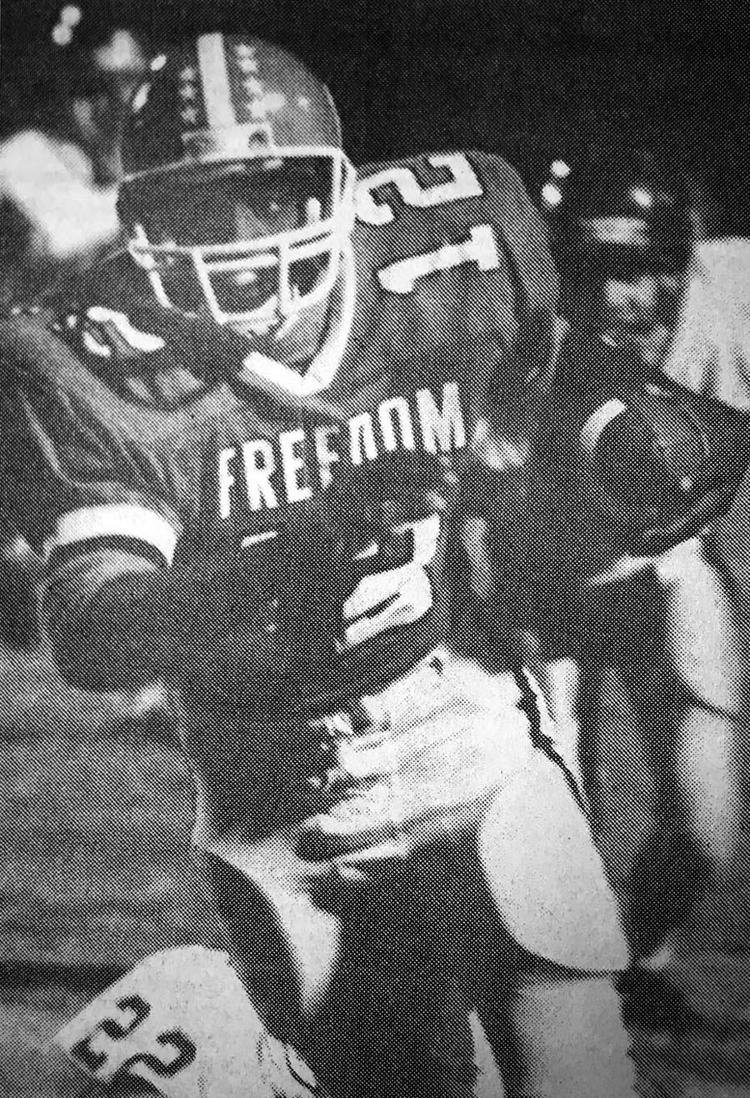 Freedom 28, Alexander Central 0
(EDITOR'S NOTE: The Patriots had turned things around under coach Pete Stout by the late '80s — with three NWC titles in five years and a third-round 4A playoff appearance of their own in that span — and kept that going into the '90s with a future Tar Heel great running the show at QB. In Icard, Wayne Fletcher took over for Williams as coach and the beat went on to the tune of four straight outright or shared league titles from 1988-91.)
Quarterback Leon Johnson rushed for 78 yards and four touchdowns to lead the No. 8 Patriots to a 7-0 start with a shutout win over visiting Alexander Central in a makeup conference game Saturday night.
Johnson gave the boisterous FHS homecoming crowd plenty to cheer about as he scored on two long touchdown runs of 39 and 42 yards on the Patriots' first two possessions for a quick 14-0 lead.
The field was still somewhat wet from three days of rain which forced the postponement Friday. However, the Freedom junior had no trouble finding either footing or traction. He would have gone over 100 yards had the Cougars defense not sacked him twice for 24 yards.
"He's a good option quarterback on a wet or dry field," Stout said. "He has you at a disadvantage going 1-on-1 with him."
Johnson also impressed Alexander coach Glenn Wilson.
"We knew he was quick," Wilson said. "He runs the option as good as any quarterback I've seen in a long time. … He caught us on the perimeter so fast, our defensive back couldn't get there to cover."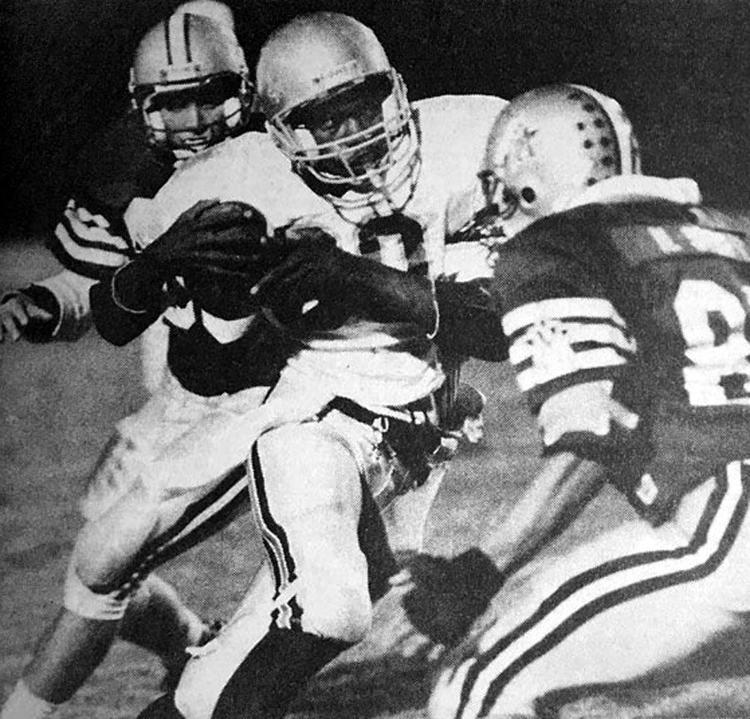 The Cavaliers scored early and often, rolling up 434 yards of total offense in a road win at McDowell on Friday. East Burke assured itself one of three playoff spots from the Northwestern 4A Conference with the victory.
EB gained most of its yardage on the ground. Shannon Johnson and Shawn Dillingham both had good nights as the Cavs picked up 359 yards on 54 carries.
The Cavs scored on their first possession, and the rout was on. Quarterback Edward Connelly found Brian Moore for a 39-yard completion before Connelly sliced through the middle himself from 33 yards out to cap the drive. Dillingham had a 64-yard TD run, with Johnson adding two rushing TDs in the opening half.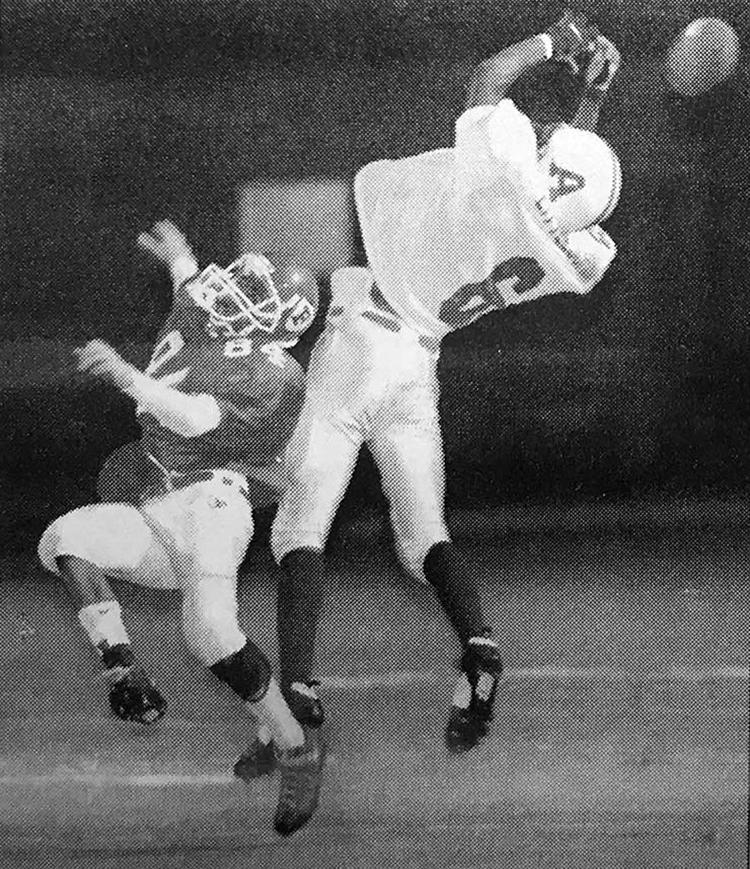 Freedom 27, Watauga 21 (OT)
(EDITOR'S NOTE: The 2000 Patriots couldn't follow up two straight NWC titles, seeing their 25-game regular-season win streak end earlier in this month. That was the state's third-longest active streak at the time. Still, Freedom won eight times in '00 in part of an impressive streak under coach Tim McMahon, whose last 10 FHS squads all won seven or more games.)
It may have been Friday the 13th, but the Patriots found it to be a lucky one as they claimed an overtime win in Boone to snap a two-game losing skid.
Freedom's 19th straight win over Watauga moved them a half-game behind the Pioneers for second place in the league standings. It could also serve as a key tiebreaker as the NWC gets just two automatic state playoff berths.
Down 13-0, Freedom's Chris Chapman ran for an 8-yard TD to cap a 68-yard scoring drive. Chapman finished with a career-high 203 yards. Robert Smith (1 yard) and Patrick Henson (7 yards) then added third-quarter rushing scores for a Freedom lead before Watauga tied the game in the fourth and forced OT.
After Bradley Chapman blocked a Watauga field-goal attempt to start the extra period, Smith's 9-yard TD run walked Freedom off a winner.
Get in the game with our Prep Sports Newsletter
Sent weekly directly to your inbox!