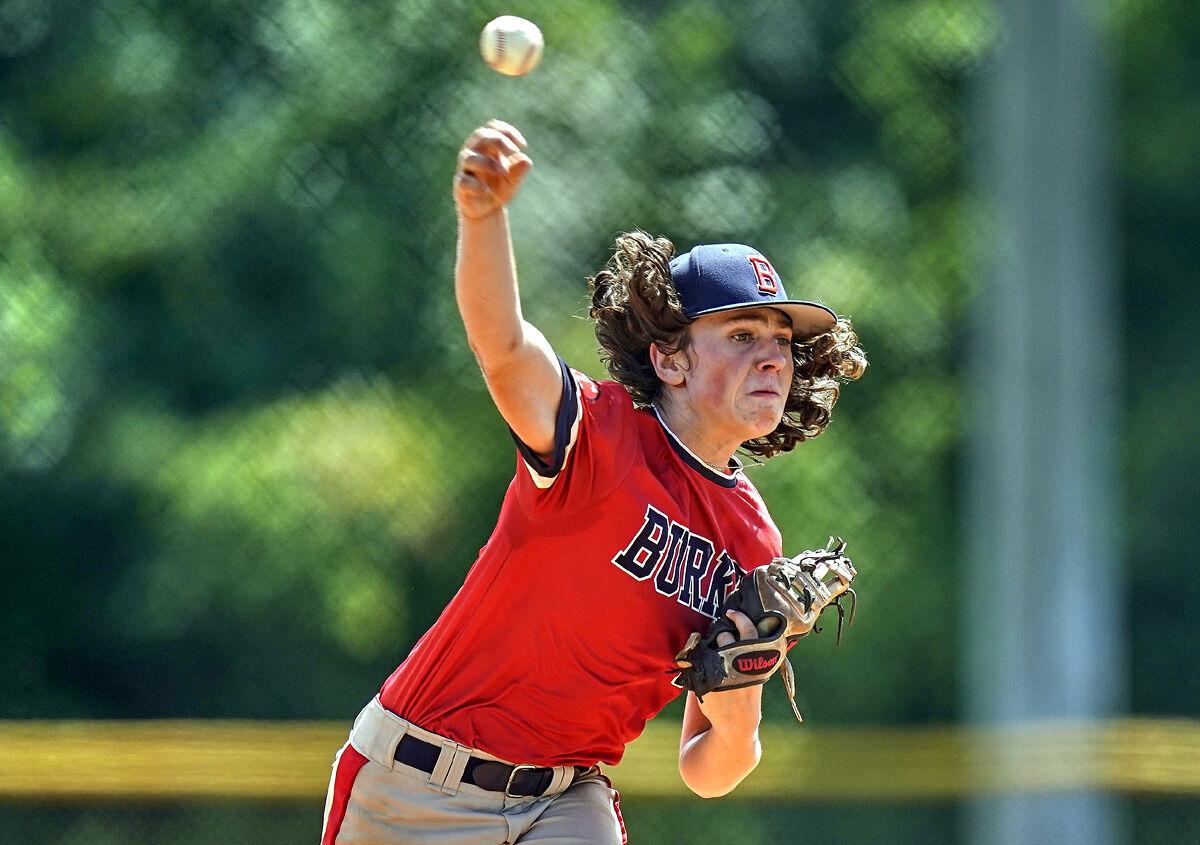 Two perhaps unlikely heroes delivered Thursday to lift the Burke County Post 21 American Legion baseball team to just its second Area IV playoff series victory in the last 11 years.
Wes Smith started his first game all season on the mound and allowed just two earned runs over 4 1/3 innings, and Hunter Byerly came off the bench to go 3 for 3 at the plate, highlighted by his two-out, two-run, go-ahead single in the fifth inning as Post 21 downed visiting Pineville Post 337 by a 9-4 score in Game 4 of the best-of-five series at Shuey Field.
Post 21 (10-8) — the Western Division No. 4 seed who officially served as the guest after Wednesday's game set for Charlotte was rained out — never trailed after back-to-back sacrifice flies by Ethan Hensley and Mason Mozeley in the top of the first.
But East No. 5 seed Pineville (5-8) battled back for a run apiece in the bottom of the first and second, and the contest remained tied until the fifth.
Tristan Esquivel was hit by a pitch and Dusty Revis reached on an error to open the half-inning before both moved up 90 feet on a Chapel Matson sacrifice bunt. An ensuing strikeout meant Byerly was Post 21's last hope in the frame, and he ripped a pitch down the left-field line to put Post 21 ahead to stay at 4-2.
Byerly entered in the bottom of the first when Hensley injured his knee while drifting back toward the fence on a long fly ball.
"Runners on, two outs, you've just got to put it in play hard. I was looking fastball," Byerly said. "You have to be ready every time you step on the field. It just sucks that one of our best hitters had to come out of the game because of that injury. But it still worked out. Wes is normally a non-starter, but him doing so well gave us a chance."
It wasn't only Hensley's offensive replacement who came through in a big way. Mozeley started at catcher but shifted to right field as Byerly caught after the injury. With a runner on third and one out, the next batter lifted a fly ball right to Mozeley, who gunned down the runner trying to tag and score to end the inning and keep Post 21 in front.
Smith also worked out of a jam in the third to preserve the early tie, notching a strikeout and groundout after Pineville had the bases loaded with one out. He allowed four hits and three walks and struck out two.
"At times I felt like I lost control, but we always got out of it no problem," Smith said. "I did feel like I had some good innings where everything went right, had my pitches under control. … It was hot today, and we were ready for the series to be over. Four games is a lot to play the same team."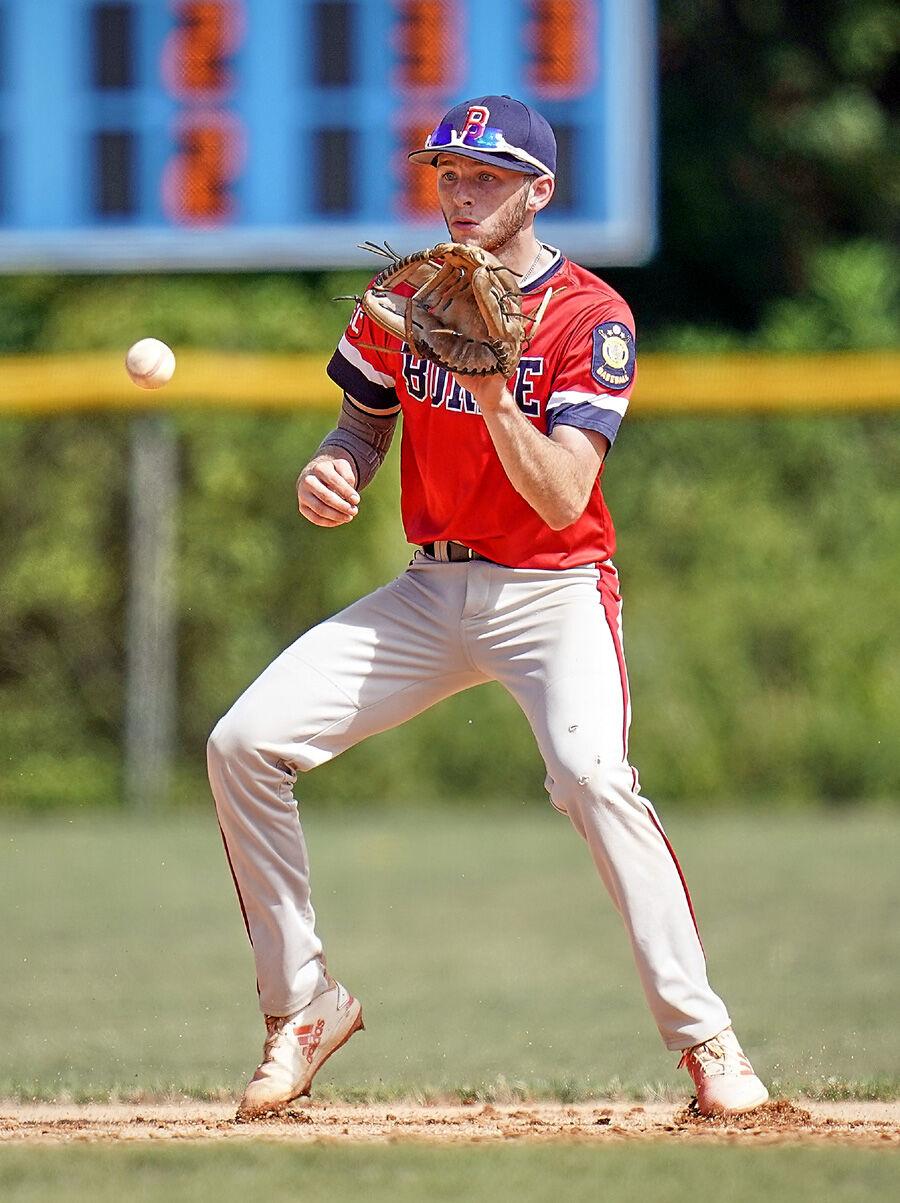 Pineville got a run back and trailed only 4-3 through five innings, but Post 21 tacked on three insurance runs in the sixth and two in the seventh. Michael Lewis' double to deep left field was the big hit in the penultimate inning, then Brayson Buff's two-out single to left plated both of Post 21's final two runs of the game.
The win meant Post 21 — which has already played 18 games in 19 days — could avoid playing twice on a steamy day while the rest of Area IV's first-round victors were resting up for round two, which starts Friday.
"Coming into the day, that was what we wanted to conserve arms and stress and everything else. That was our priority," said Brent Rowe, who tallied his second playoff series win in the last three seasons as Post 21 head coach. (Rowe became Post 21's fifth coach all-time to lead the club to two or more playoff series wins and is the first aside from current assistant coach Ron Swink, whose teams claimed 21 playoff series, to do so since Wilton Daves nearly 50 years ago.)
"The start Wes gave was good enough. I didn't really know what we'd get out of him, and for him to go 4 1/3 (innings), that was big. It was a good team win. Best wishes go out to Ethan. I hope there's nothing bad there, but it didn't sound good.
"But props to Hunter. He gets thrown in the cleanup role and has three hits and one big win with two guys in scoring position and two outs. I'm proud of the guys. Getting to the second round isn't something this club has done a lot lately, and it's something to be proud of. But we're not done yet."
Post 21 averaged 4.9 runs per game in the regular season and doubled that figure to 9.8 in taking three of the four games over the series. Revis walked twice and scored twice, Matson singled, scored once and drove in one, Three Young singled and walked, Mozeley scored twice and Byerly once, and Buff also singled, walked and scored a run, reaching base three times in four plate appearances.
Revis (2 2/3 IP, 5 H, ER, K) closed the game for the save.
Next up for Western Division No. 4 seed Post 21 (10-8) is a second-round, best-of-five matchup against East No. 1 Mint Hill (11-2), which swept Hickory Post 48 in round one.
Post 21 and Mint Hill have only matched up once before, in the first round of the 2013 playoffs, with Mint Hill winning by sweep in three games. Post 21 has not advanced past the second round since 2009 and is one win shy of tying the 2019 club for its best single-season total since 2010.