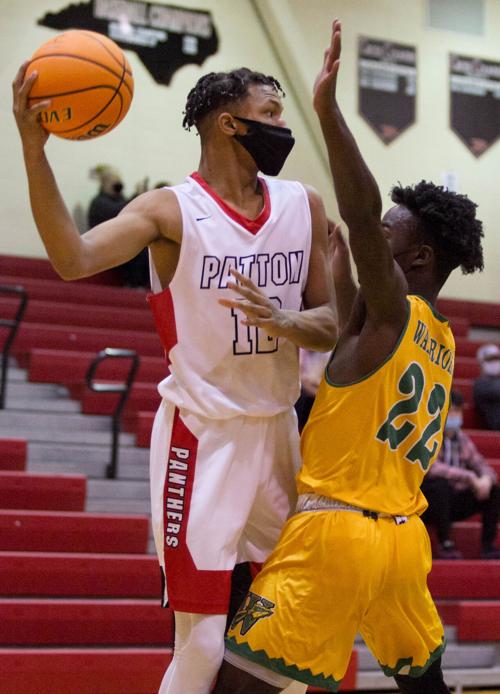 GAMEWELL — Last year, it took double overtime.
This go-around, the Patton boys basketball team sealed its dramatic win in regulation.
For the second straight season, the Panthers pulled off a last-moment Northwestern Foothills 2A Conference sensation at West Caldwell, following up last winter's buzzer-beating 3 with a winning layup at the horn on Thursday.
After the host Warriors hit 1 of 2 free throws with 10 seconds left to pull ahead by one, Patton raced the ball across midcourt and called a timeout with 6.4 seconds to go. Out of the huddle, sophomore Jayden Powell handled the inbound pass to Caleb Castle to set off 6 seconds of magic.
Powell loitered at the 3-point line momentarily before he cut sharply toward the basket with his defender caught hesitating momentarily, then handled a bullet inside from Castle which he laid in gently for the win as time expired.
Officials ruled that Powell was fouled on his way to the basket, and then put 0.4 seconds back on the clock. Powell (game- and career-high 30 points, eight rebounds) bricked the free throw as instructed so the Warriors could do nothing with that scant amount of time.
And just like that, Patton (2-0 NWFAC) had its second consecutive Gamewell thriller — both of which rank as top 10 all-time for the PHS program, in head coach Dennis Brittain's assessment.
"That's a play that I came up with last year," Brittain said of the winner. "We've run it five times in a game, now, and we've scored four times on it. The fifth time would have been a score, but we dribbled it off our foot when we spun, and the guy was wide open. It's a play they know. They like it. Give credit to our guys, because they executed it to perfection."
A good portion of that credit went to Castle (13 points, seven assists, three steals), who Brittain praised for making a difficult pass.
"Coach drew it up just like that," Castle said. "We've got it in our playbook. We knew we were going to J.P., and I knew if (the defender) was trying to deny it, J.P. would have the back door. He read it right, and I just put it in the pocket."
Added Powell: "We knew they were going to be a tough team. We came over, we fought and got the win."
The exciting victory belied the doldrums of the odd-numbered quarters for the visitors. On the heels of a slew of turnovers and a few missed layups, the Panthers fell into a 15-4 hole immediately. But a Waylon Rutherford basket and five straight points from Powell to end the first quarter started a rally which led to Patton outscoring West 21-15 into the break for a 32-30 halftime lead.
The third quarter was again more bad than good, however, as the Warriors scored 12 of the first 15 points out of the intermission, and another hosts' run toward the end of the quarter culminated with a 3 to make it 52-38, and it looked like PHS was in serious trouble.
But once again, Rutherford (17 points, five steals, three blocks) got Patton off the schneid with a basket, and Powell once again followed that up with some big plays, scoring eight straight for Patton this time.
A Rutherford 3 on a Castle assist brought the Panthers within five, and they later took a 63-62 lead on a Castle rebound basket, which became 65-62 when Powell collected a putback bucket of his own.
After the teams traded free throws, a West Caldwell 3 tied it at 67-all with 46 seconds to play, setting up the closing theatrics.
It was a game that teetered on chaos at times with massive momentum swings, foul trouble and a pile of hotly contested calls. But Patton withstood all the craziness — the slow start, the wild finish and everything in between.
"We're lucky, because we missed quite a few easy points," Brittain said. "We missed a ton of free throws. We had way too many turnovers. Those things are all going to have to be cleaned up. We were fortunate to escape tonight with all that going on."
Anthony Feaster-Hicks added six points, six rebounds and two blocks for the visitors and Connor Rudisill (two points) and Randon Clarke (one) completed the scoring.
Patton 33, West Caldwell 29
The JV Panthers (2-0 NWFAC) watched the majority of their double-digit lead evaporate on Thursday, but held on at the end of the second 20-minute, running-clock half. Jake Perry led the PHS effort with 12 points and Bryson Handley supplied five more, all in the second half.