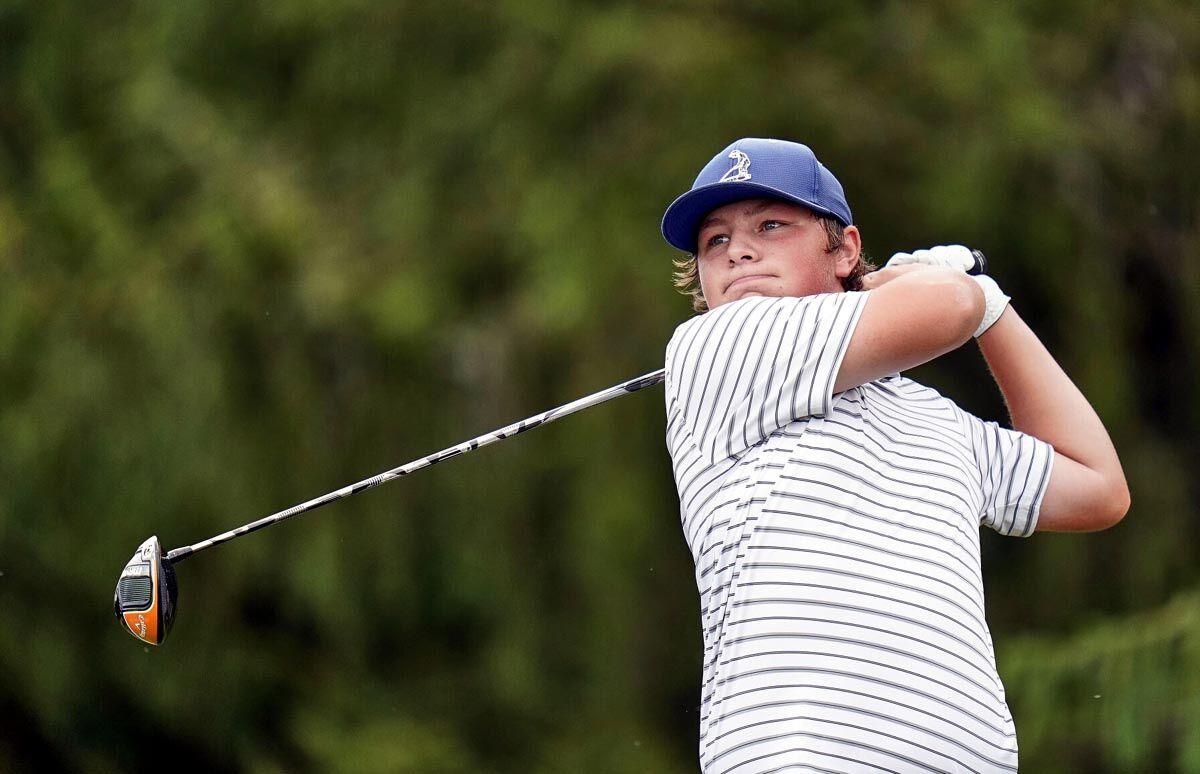 SOUTHERN PINES — Freedom's Alex Bock says he didn't hit the ball great on Monday at the NCHSAA 3A state championships hosted by Longleaf Golf & Family Club.
That makes one wonder what the ceiling might be if he did.
Bock, a freshman who is the son of PGA Tour caddie Duane Bock, was 3-over par through 15 holes Monday on the 6,425-yard, par-72 state layout near Pinehurst, then finished with a flurry. He birdied the par 5 16th hole for his first red figure on the scorecard, then followed with additional birdies at the par 4 17th and 18th holes to shoot an even-par 72.
That performance was good enough for a tie for sixth place, the county's best performance individually in the sport at the state level in at least a dozen years (topping his older sister, Albany Bock, who tied for 10th in the fall of 2019) as well as FHS' best-ever at the 3A classification.
Bock's hot finishing stretch began with a drive into a fairway waste bunker at No. 16. From there, his 7-iron layup left him only around 70 yards from the pin, but he came up short and left himself nearly 30 feet for the birdie putt, which he holed.
On the 310-yard 17th, Bock came up just short and left of the green and left his eagle chip inches away for a tap-in birdie. A 3-wood off the 18th tee put him 100 yards out, from where a sand wedge left him a 12-foot birdie he would drain to end the round in style.
"I'd give myself an A," Bock said. "I didn't hit it great, but I managed it well. Making that long putt on 16 really gave me confidence to finish the day."
T.C. Roberson's Lucas Benjamin Ward shot 3-under 69 to win, finishing a shot ahead of four golfers tied for second place. In the team standings, Charlotte Catholic (11-over 299) edged Marvin Ridge by three strokes for the title.
The county's first regional champion in five years who has enjoyed a stellar junior golf career outside high school competition as well, Bock has his sights set even higher for next spring.
"My goal is to win state next year," Bock said. "Next year, it should be back to a two-day event like normal. This year if it was two days, I would've been in good position through one round there at even par and three back."
Patton sophomore Allie Witherspoon shot 103 on Tuesday in the 1A/2A girls state championships at Pinehurst No. 8. Witherspoon, who won a playoff at last week's West Regional to nab the event's final state berth, made pars at the par 3 eighth hole Tuesday as well as at the par 3 16th. She shot nines of 54 and 49.
Witherspoon is a two-time Northwestern Foothills 2A Conference individual champion, having led her Lady Panthers to back-to-back NWFAC team titles as well.
TENNIS
The host Lady Patriots (1-1) rolled to their first win of the young season Monday in nonconference play. Freedom took two singles matches and one doubles match by forfeit.
On the court, FHS singles winners were No. 1 Sara Byrd Succop (8-0), No. 2 Hannah Throneburg (8-1), No. 3 Katie Brockland (8-2) and No. 6 Christena Rhone (8-0). In doubles, Freedom's No. 1 squad of Throneburg/Calissa Stubbs won 8-3, while No. 2 Morgan Cargil/Lucy Yelton were edged in a 9-7 loss.