Seniors fueled the offense as the Patton softball team started its season with a nonconference win over rival Freedom at home late Wednesday, 7-3.
Veteran centerfielder Cierra Lail put the finishing touches on the win for the Lady Panthers (1-0) with a two-run home run in the bottom of the sixth inning after the Lady Patriots (1-1) had closed the gap a little bit.
"I saw the pitch I liked — I like to be picky — and I went for it," said Lail, who also scored in the third inning on an Emma Grindstaff RBI single. "It's a big one for the team. It really helps us to start the season. I hope it carries through."
Classmate Meredith Kearson, hitting ninth in the order, got things going for the hosts with an RBI double in the bottom of the second, then later came around to score on an RBI single by senior Bridget Patrick. After being hit by a pitch in the bottom of the fourth, Kearson scored again on Patrick's RBI double and Katie Lail scored later in the frame on an error.
"I did think it was really important (to get the early hit) because it started us off," Kearson said. "I knew I had two strikes already, so I just needed to keep my head in it and make contact with the ball."
Patrick, Cierra Lail and Katie Lail all finished 3 for 4 at the plate for the hosts and Hailey Snodgrass was 2 for 4. Marleigh Carswell went the distance in the pitcher's circle, allowing two earned runs and seven hits while striking out three.
For Freedom, Sarah Armentrout (2 for 2, two-run HR) and Mikhayla Lingafelt (2 for 3) led offensively. Lingafelt scored two runs, one off of Armentrout's blast in the fourth and the other on a passed ball in the top of the sixth. She also pitched the entirety for FHS, allowing five earned runs and 13 hits with six strikeouts.
Draughn 11, Lincolnton 4: The Lady Wildcats (1-0) built a 7-0 lead through three innings and held serve with the host Lady Wolves from there late Wednesday in Lincolnton.
Maddie Crouch hit a home run and tallied three RBIs to lead the way offensively. Maddison Powell (3 hits, 2 RBIs, double), Katie Cozort (3 doubles, 2 RBIs), Regan Winkler (RBI), Katie Hamm (2 hits, double), Brianna Nations (2 hits) and Laney Winebarger (2 hits, 2 RBIs) also added to a big night at the plate for DHS.
Hamm earned the win in the circle, pitching three innings and allowing two earned runs with three strikeouts and no walks. Winebarger pitched four innings with no earned runs allowed.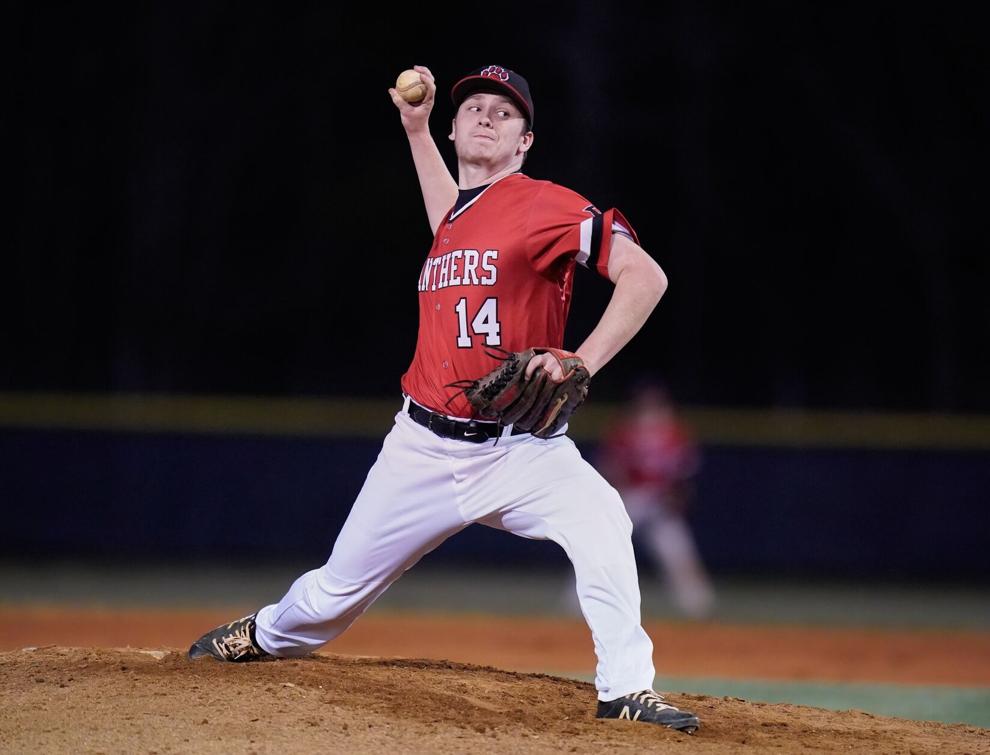 Patton 14, East Burke 2 (6 inn.'s): The Panthers (1-1) found their power in the sixth inning of play in Wednesday's nonconference game in Icard.
Patton held just a 3-2 lead after four innings and scored two runs in the fifth and nine in the sixth to finish off the Cavaliers for their first win of the season in run-rule fashion.
"East Burke has got a good team and they did a good job at keeping it close making plays in the field," said Patton baseball coach Jonathan Browning. "It's a whole different ballgame when a ball gets in the field."
Brayson Buff and Waylon Rutherford (bunt) got on base for Patton to lead off the sixth inning before Easton McCoy scored Buff with a one-out RBI single.
Christian White was issued a walk to load the bases, followed by Jack Powell earning a base on balls to score Rutherford.
The runs kept coming for PHS with Reid Pons recording a bases-clearing triple to bring McCoy, White and Powell across home plate.
That was followed by a Braxton Hensley single scoring Pons, a Brayden Pearson triple scoring Hensley, a Buff single scoring Pearson and a McCoy single scoring Buff.
In all, McCoy led the Panthers' batting order with three runs and two RBIs and Hensley, Buff and White each scored two runs.
The Cavaliers (0-1) scored single runs in the first and third innings as Hollan Cline came around on a Luke Bumgarner sacrifice fly and Blane Fulbright scored on a Will Weidner double.
Fulbright, Weidner, Colin Eckard, Cooper Greene, Ethan Keener and Eden Worley each recorded a hit for EB, which stranded five runners on base during the game.
Buff earned the win on the mound for Patton, pitching for five innings and tossing seven strikeouts. Hensley pitched the sixth inning in relief.
Weidner started on the mound for the Cavaliers and went four innings with Fulbright (K) and Keener pitching in relief.
Draughn 12, South Caldwell 8 (8 inn.'s)
The Wildcats (1-1) picked up a big early nonconference road win in extra innings, scoring four runs in the top of the eighth to take the game from the host Spartans on Wednesday in Sawmills.
With two outs, Logan McGee reached on a South error before Trey Jensen also reached on an error. Then, Jacob Mull came up huge for the visitors with a three-run home run to make it 11-8. Tate Jensen added the final run later in the half-inning.
Mull (3 for 5, seven RBIs, double) and Brayden Schutt (3 for 5, two runs, RBI) led DHS at the plate. Logan Carswell, Thomas Lambert and Trey Jensen (RBI) also scored two runs apiece and McGee, John Robert Abernathy and Tate Jensen had additional RBIs.
Trey Jensen (5 IP, 5 ER, 5 H, 4 K, BB) and Mull (3 IP, ER, H, 5 K, 3 BB) shared duties on the mound for Draughn.
Crest 11, Freedom 2
The host Patriots (0-2) saw a 4-2 deficit after one inning turn into a nine-run loss at home late Wednesday.
Mason Mozeley (two-run HR), Eli Thomas and Henry Waters (double) had the hosts' three hits. Carson Dyson also scored a run and stole a base.
Garren Bryant (5 1/3 IP, 5 ER, 9 H, 5 K, 3 BB), Jagger Bailey (2 ER, H, 4 BB) and Landon Cox (H, 2 BB) pitched for the hosts.
GIRLS SOCCER Freedom 6, East Burke 1
The Lady Patriots (2-0) kept their offense rolling with all six goals in the first half late Wednesday at home as Skylar Georges followed up Monday's hat trick with two more scores.
Malia Withrow and Keyla Rodriguez Perez both had a goal and an assist, Yurani Regino and Anastasia Angel Ortiz scored goals, and Abby Bryant and Maria Perez Rodriguez added assists. Kaylee Ollis made two saves in goals for the hosts.
"I'm most proud of the adjustments that we made from the game on Monday," said FHS coach Adam Mazzolini. "We needed to improve on some areas of our play, and we did that. I'm excited to see how we improve by Friday (at Draughn). We still have a ways to go before we are the team that we are capable of becoming."
Ashley Hernandez scored the lone goal for the Lady Cavaliers (1-1) in the second half. Chloe Cook, Maritza Cisneros and Jordan Robinson tallied four saves in goal apiece for EB.
Draughn 2, Patton 2
The Lady Panthers (0-1-1) and Lady Wildcats (0-1-1) finished in a tie late Wednesday in Valdese in nonconference action. The game was tied at 1-1 at halftime.
Stella Cross scored both goals for visiting Patton in the second and 56th minutes. Danielle Wojcik tallied six saves in goal for PHS.
Alexis Diaz and Isabella Caballero found the back of the net for Draughn.
BOYS TENNIS Freedom 5, East Burke 4
Late Wednesday in Icard, the visiting Patriots (2-0) got the better of the host Cavaliers (0-2) for the second time this week in nonconference rivalry action.
Freedom earned wins at No. 1 singles with B.J. Vang over Robbie Stringfield 7-6 (9-7), 5-7, 10-6; No. 4 singles with Henry Beall over Noah McCafferty 6-2, 6-3; No. 5 singles with Teague Ballew over Raleigh Slutsku 1-6, 6-1, 10-7; No. 6 singles with Hunter Ensley over Qwinton Hemphill 7-6 (9-7), 6-7 (5-7), 10-8; and No. 1 doubles with Vang/Chase Whitaker over Dalton Parker/Landon Lennex 8-1.
East Burke triumphed at No. 2 singles with Parker over Kenneth Hernandez Villanueva 6-3, 1-6, 10-7; No. 3 singles with Lennex over Whitaker 6-4, 1-6, 10-8; No. 2 doubles with Stringfield/McCafferty over Ballew/Noah Hawkins 9-8 (11-9); and No. 3 doubles with Slutsky/Hemphill over Hernandez Villanueva/Dallas McCall 8-4.
GIRLS LACROSSE Patton 10, North Lincoln 5
The Lady Panthers (1-0) scored the first win in program history late Wednesday at home to open the season, led by four goals from senior midfielder Bailey Tallent.
Sara Griggs (two goals), Laura Beshears, Anna Christiansen, Haley Letterman and Kendall Bryant also scored for the hosts.
BOYS LACROSSE North Lincoln 9, Patton 6
The Panthers (0-1) opened their spring with a home loss late Wednesday.
Anthony Hernandez led PHS with four goals and Chris Collins scored the other two. Shane Marshall had four saves in goal for the hosts.