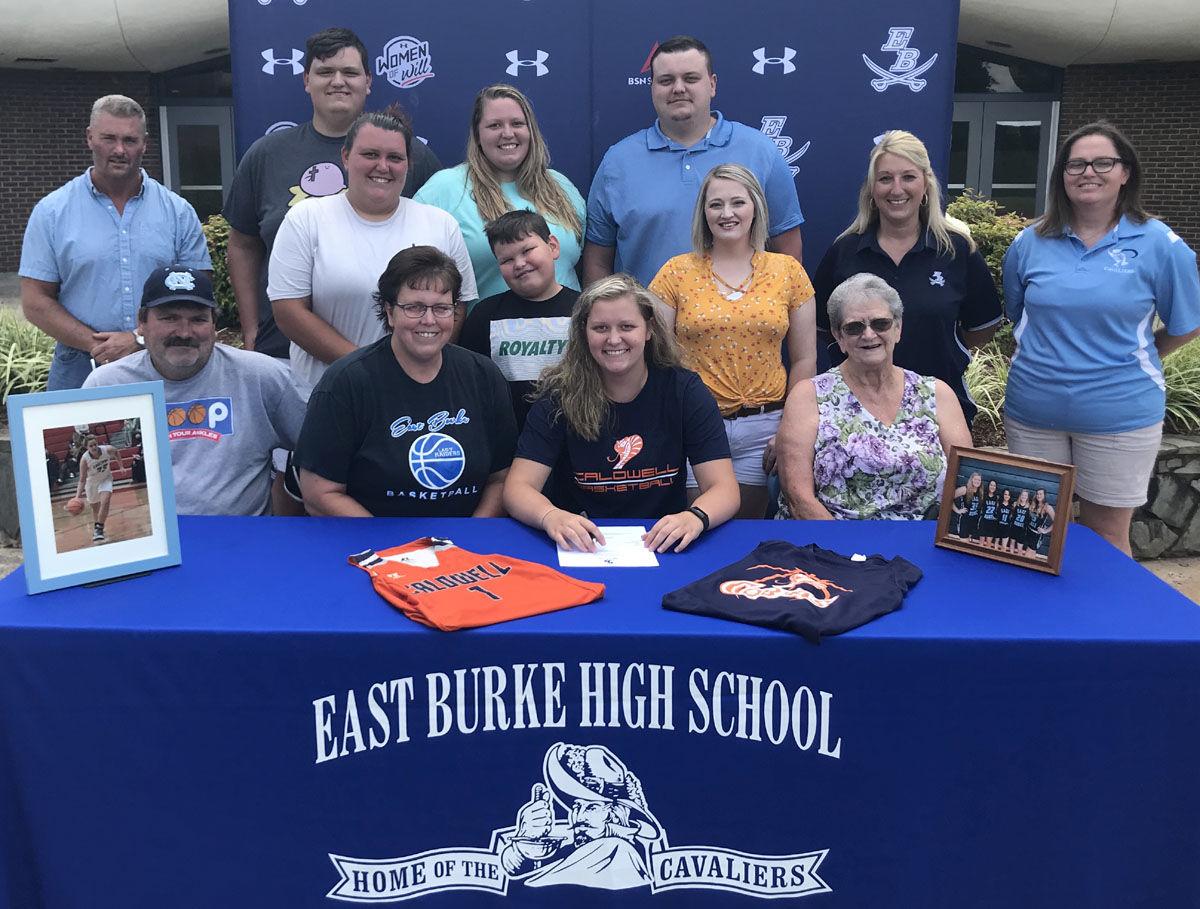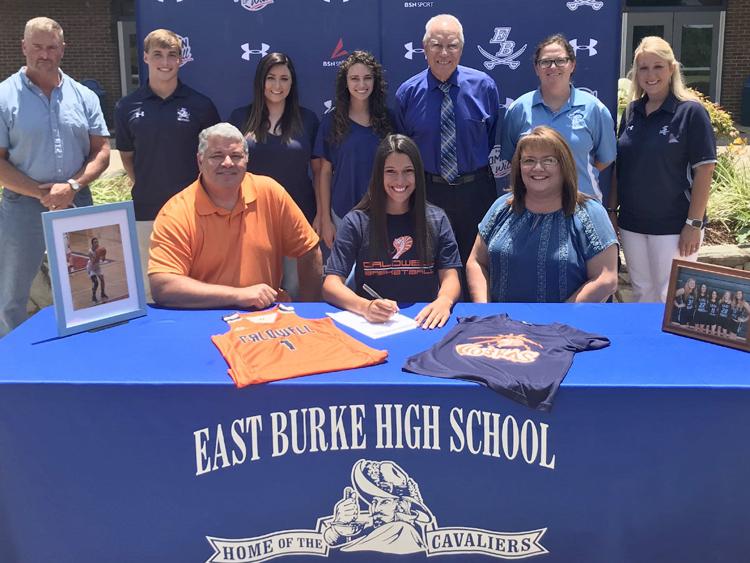 ICARD — Call it the re-reunion tour.
Recent East Burke graduates Riley Haas and Sarah Grace Lockee shined together on two title teams at EB Middle, then finally got to play together again the whole season this past winter — as the Lady Cavaliers won a program-record 20 straight games and tied the program record with 27 total wins — after a couple health scares kept Lockee off the floor most of her sophomore and junior seasons.
Next, they'll both play for Caldwell Community College and Technical Institute after both signing with the Cobras on Wednesday.
Haas and Lockee are the first two members of a Lady Cavaliers' departing class which was part of program-record 105 wins over the last four years, three times breaking or matching the single-season program record with 27 wins, to sign with a college program to continue the sport.
The duo has never been on a team that lost a conference game dating back to middle school. Their two Lady Raiders teams were undefeated Foothills Athletic Conference champions, then they moved up to key an undefeated JV Lady Cavs' campaign as freshmen before being part of EB's current 60-game conference win streak over the past three years.  
"I'm excited for both of them," EB coach Crystal Bartlett said. "Caldwell is getting two great girls. They're going to help the program all the way around. Neither one cares about stats, they just want to win. We're going to miss both of them, as well as the other three seniors.
"What made this past year's team so special was on the court, off the court, we'd never had so much fun before. This group was so close. I don't think I had to deal with one issue all year. And that's because of their parents, how they've raised these young ladies and the character they've instilled in them."
Haas, who was recently named EBHS' 2019-20 female athlete of the year, called the campus' proximity to home and the team's camaraderie the main selling points.
"I want to thank God for giving me the opportunity to play, my family for being there and supporting me through everything and all my coaches for helping push me," said Haas, the third member of her immediate family to sign with a college in the sport.
Haas averaged 14.5 ppg, 8.8 rpg, 1.5 apg, 2.0 spg and 1.3 bpg as a senior as she earned her third straight All-Burke County selection and her second first-team honor in that span. She was also named all-conference twice in her career and was second team all-district this year, also repeating as Northwestern Foothills 2A Conference tournament MVP.
She also led EB in field-goal percentage (.512) and free-throw percentage (.759) and was second in 3-point percentage (.383) this past winter, coupling with Lockee to drain 52 3s.
Haas, who started the sport at age 4 and hopes to be a P.E. teacher after graduating, was also a member of the volleyball and track teams at EB.
"I'm probably most proud that we were all able to come closer together and not play selfishly but play together as a team," she said. "Everybody wanted to win, and it wasn't one person doing everything. We've know each other since we were little, and we played travel together since we were in elementary school."
Lockee was also named all-county and all-conference as a senior, averaging 7.3 ppg, 2.1 rpg and 1.4 spg in her inspiring return from injury.
"I would like to thank my parents. They have given me everything basically," she said. "They were always there at my practices, they took me, were there to support me. They were at all my games. I would also like to thank my first coach, Nolan Wilson. He was always there to give me tips and support me and teach me. After games, he would talk to me and try to coach me along.
"I'd also like to thank God. He has brought me from a place where I was told I'd never play basketball again to where I was able to my senior year and now in college. He's answered a lot of prayers. He's performed a miracle in me."
Lockee said she hopes to be a physical therapist assistant upon graduation. She started playing the sport at age 5 (and also participated in track and golf at EB) and said she wasn't ready to give it up yet.
"I was focused on my degree first, and it worked out to play basketball there," she said. "I just could not bring myself to give up the love of the game. I believe this is God's plan, where I was supposed to be. … It'll be nice to have a teammate there.
"It was a privilege to be part of a team here that had opportunities to break records. It was a humbling experience. When I look back at my high school career, I'll be thankful for that opportunity."
Led by another ex-EB player, Savannah Coble, the Cobras finished the 2019-20 season at 18-9 overall and as NJCAA Region 10 runners up.
Be the first to know
Get local news delivered to your inbox!