As you begin to get excited for next month's Daytona 500, undoubtedly it will be surrounding matters at the front of the field.
Will Denny Hamlin three-peat in the 500? Will reigning NASCAR Cup Series champion Chase Elliott break through at Daytona? Will the Team Penske boys flex some superspeedway muscle again? What about Kyle Busch? Kevin Harvick? Martin Truex Jr.?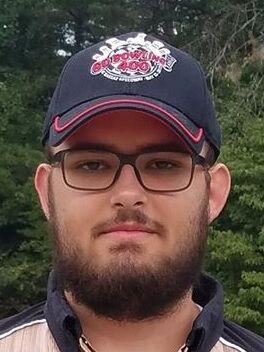 Don't get me wrong, you're on the right track. I'm interested in the answers to all that, too.
But for me, the real intrigue in the week leading up to the 500 will be at the back of the pack.
You see, this year's Daytona entry list will be as deep as any since 2015. Beyond the 36 cars locked in through NASCAR's charter system, we could be looking at up to 10 more entrants.
That'd be 10 cars competing for four spots, and some of those cars and drivers are really good. The chances to lock in are few — either be in the two fastest of the "open" cars in 500 qualifying or race your way in by being the top-finishing open car in your one of two Duel qualifying races.
Just this week, defending Xfinity Series champion Austin Cindric was added to the fray in a fourth, part-time entry for Team Penske, the No. 33 Ford. With Penske's prowess and a Roush Yates Engines powerplant under the hood, you can bet he'll be fast.
And speaking of fast Fords, David Ragan is back for another crack at Daytona after a top five last year. And unlike last year, when Front Row Motorsports used a Rick Ware Racing charter to guarantee Ragan's No. 36 a spot, he doesn't have that luxury this year and will be on the bubble.
So, too, fast will be the Chevrolets of Kaz Grala and Noah Gragson. Grala, trying to make his second series start, will be in the No. 16 for Kaulig Racing, attempting its second Cup race overall after Justin Haley qualified the team into its first 500 last year. And for his Cup debut, two-time Xfinity winner Gragson will take the reins of Beard Motorsports' No. 62 from retired Brendan Gaughan, and it's a ride that is regularly found in or near the top 10 at Daytona and Talladega.
While we're on the topic of the Bowties, don't forget that Ryan Preece — a fulltime, locked-in driver for the past two seasons with JTG Daugherty Racing — doesn't have a charter for his No. 37 Chevy anymore after control of that document went to Spire Motorsports this offseason. Preece qualified in the top 20 last season and teammate Ricky Stenhouse Jr. won the pole, but nothing is assured from one year to the next in terms of speed — or luck.
Luck is what some of the other non-chartered cars will hope to have on their side, like the No. 96 Gaunt Brothers Racing Toyota and new driver Ty Dillon. Dillon was fulltime and chartered the past four seasons with Germain Racing, but that team now is defunct. GBR ran its first full season in 2020 with Daniel Suarez, but the pairing failed to qualify at Daytona after a Duel crash. The partnership between Dillon and Gaunt is only for this one race for now, so they'll have to find some speed and hope for no more misfortune if they want to contend in the 500.
The straits are even direr and the need for luck greater for MBM Motorsports, which plans to enter two open cars in the 500 just as it did a year ago. In 2020, Timmy Hill's No. 66 made the show while Chad Finchum's No. 49 did not. The team plans to enter Fords this year instead of Toyotas, and they'll either need some good ol' Blue Oval power under those hoods or some trouble on the part of others.
The last two entries that could bring the Daytona qualifying field to 46 aren't set in stone yet, but are expected to come from NY Racing and Tommy Baldwin Racing.
NY Racing claims it plans to compete fulltime in 2021, but has not announced anything in the way of a driver or sponsor yet. The team has a somewhat turbulent history, having since its 2012 inception failed to qualify or withdrawn nearly as many times (13) as it actually has raced (17). If some of the speculation around the internet is to be believed, this could be a No. 44 Ford with Johnny Sauter behind the wheel — but take that with your smallest grain of salt.
Tommy Baldwin Jr., a former Daytona 500-winning crew chief, hasn't yet said what his plans for Daytona are, only that he might enter a car. He last did so for the Great American Race in 2019, failing to qualify with Ryan Truex. His team ran 22 races with five different drivers in 2020.
So, there you have it. Daytona 500 qualifying — this year on a Wednesday night for the first time ever — and the Duel qualifying races — still on their traditional Thursday date — will have more on the line than they have in quite a few years. It'll be a super-stressful week for those teams and drivers, but a joyous occasion for the four who ultimately make it in.
Amidst all the other hubbub that goes along with the 500, don't forget to pay attention to that.