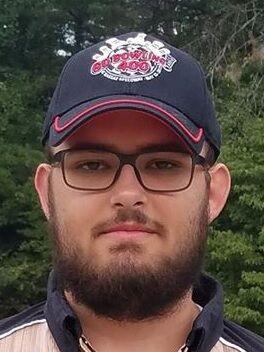 After 36 races and more than 12,500 miles run, there are plenty of numbers to digest from the 2021 NASCAR Cup Series season
Some of them are obvious, and mostly related to champion Kyle Larson — his No. 1 finish in the standings, his 10 wins (six more than anyone else), 2,581 laps led (more than 1,000 clear of the field) and his 68 playoff points (42 more than any other driver).
He also paced the field with 20 top fives and 26 top 10s — clearly he's a deserving champion.
Some of them aren't quite as glaring, such as the fact that Denny Hamlin finished all 36 races — the only driver to do so — and completed all but four of the series' 9,200 laps of racing.
Let's cast a glance toward some other numbers like those that deserve a look.
Josh Bilicki a model of consistency
Being a driver in back-marker Cup equipment isn't easy. Slower speeds may mean you're in the way of the leaders, parts and pieces break more easily, and wrecks may happen more frequently due to trying to squeeze a little more out of a bad race car.
Josh Bilicki might have done the best job overcoming those obstacles in 2021, the first season in which he ran all 36 races. And despite driving for Rick Ware Racing, which suffered its fair share of issues throughout the campaign, Bilicki completed all but two races, with both DNFs coming due to mechanical failures in the first five before he reeled off 31 straight finished races.
Perhaps more impressive still, Bilicki finished squarely in the middle of the fulltime drivers in terms of laps completed, placing 16th with 8,780 circuits run, good for more than 12,000 miles. His lap total was better than 16 other fulltime drivers, including playoff drivers Ryan Blaney, Kyle Busch, Kurt Busch, Alex Bowman, Aric Almirola and Michael McDowell.
Better still for Bilicki, he grabbed the first seven lead-lap finishes of his Cup career and earned his first top 10 at Daytona International Speedway in August.
Kevin Harvick's still got it
The 2021 season felt like a down year for Kevin Harvick, and it was by some measures — he didn't win for the first time since 2009 and led only 217 laps.
But let's not overlook the fact he still finished fifth in the final standings and was third only to Larson and Hamlin in top 10s (24) and average finish (10.9), and he trailed only Hamlin in laps completed with 9,150.
Harvick still has plenty of pace and isn't looking toward retirement just yet. With a top-notch crew chief in Rodney Childers, don't be surprised if Harvick's successful career stays that way even with the introduction of the Next Gen Cup car in 2022.
Chastain just outside playoff range
Ross Chastain wasn't a playoff driver in 2021, but he was one of the best of those to miss the mark. Add to that the fact that his finishes during the first round of the playoffs — third at Darlington, seventh at Richmond and 14th at Bristol — would have been good enough to advance to the Round of 12.
Some other stats suggest Chastain is on his way to being a playoff contender as he heads over to Trackhouse Racing's No. 1 Chevrolet for 2022. He was 11th in miles completed (12,110.78) and finished 33 races in his first full Cup season. Chastain also tied for 16th in top 10s (eight).
The Melon Man might be the Playoff Man if he trends up from those numbers next season.
No ovals for Chase Elliott
The defending Cup champion throughout the season, Chase Elliott, didn't have a disappointing season by any means, finishing fourth in the standings, but some of his numbers slipped a bit.
His two wins were the fewest since his breakthrough to victory lane in 2018 and, for the first time during that span, Elliott did not win any races on ovals. His two wins in 2021 came on road courses at Circuit of The Americas and Road America, which were new additions to the slate.
That came after Elliott won a career-high three oval races in his 2020 championship campaign.
Justin Epley is a sports writer for The News Herald. He can be reached at jepley@morganton.com
or 828-432-8943.