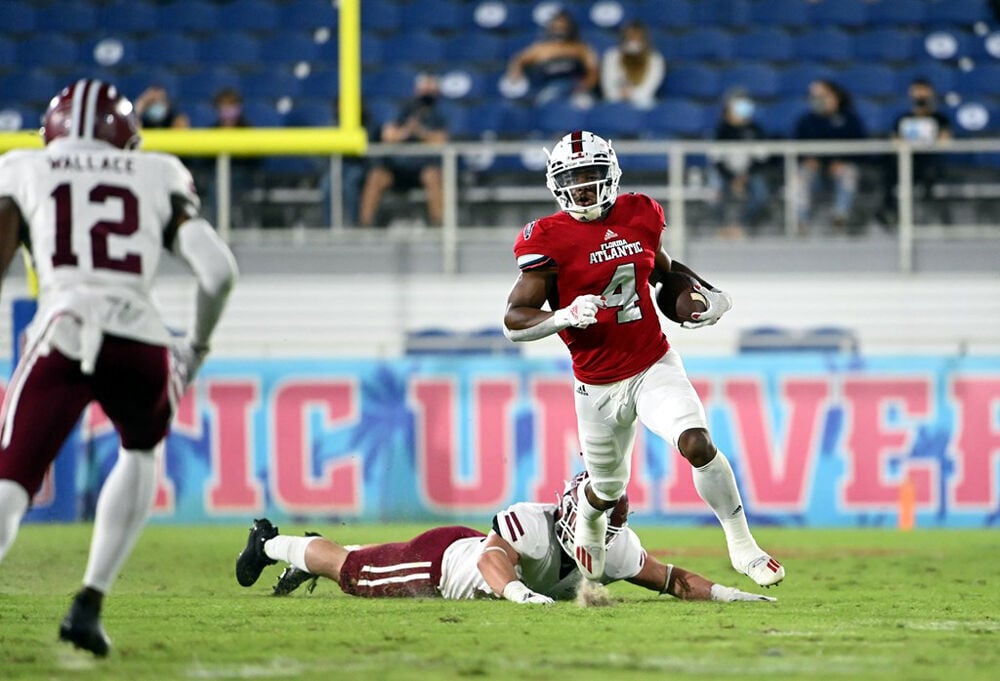 BOCA RATON, Fla. — BJ Emmons' college football career has come to a close as he seeks to work toward making it to the pros.
The 2016 Freedom High School and recent Florida Atlantic University graduate took to Twitter on Sunday night to announce that his next step is to pursue a career as an NFL running back.
"The journey has not been easy, but it has made me better, stronger, and more determined than ever to succeed," Emmons wrote in a statement tweeted from his account. "Today I am pleased to announce that the next stage of my journey has begun as I look towards making an NFL roster.
"Words cannot adequately express my appreciation to my coaches, teammates, advisors, and trainers for your guidance and support throughout my college football career. To my family and friends, without your never ending love and support, I would not be where I am today. I appreciate you all and look forward to your continued support as I enter the next phase of my football career."
Emmons finishes his college career with 1,220 yards and 18 touchdowns on 273 carries, averaging 4.47 yards per carry. He added 12 receptions for 63 yards along the way.
As Emmons eyes a professional career, Sports Illustrated reports the NFL Combine is likely to be drastically altered due to COVID-19. Concepts being discussed are more formalized pro days at schools, regional medical checks and Zoom interviews with NFL personnel.
The 2021 NFL Draft is scheduled to be held April 29 through May 1 in Cleveland.
After being rated as highly as the No. 2 running back and No. 36 overall player as a five-star prospect for the Patriots, Emmons signed with Alabama in early 2016 over Georgia, Tennessee, Florida, N.C. State, North Carolina, Virginia Tech, West Virginia, East Carolina and Louisville.
As a freshman for the Crimson Tide, Emmons ran 35 times for 173 yards and a touchdown, caught two passes for 20 yards and returned one kickoff for 26 yards before a foot injury ended his season and, ultimately, his Bama career.
Emmons opted to transfer to Hutchinson Community College in Kansas for his sophomore season in 2017, where he ran 150 times for career-bests of 694 yards and 10 touchdowns and five catches for 25 yards.
After a year away from the game in 2018, Emmons arrived at Florida Atlantic as a junior in 2019 to play under coach Lane Kiffin, but was hurt in the team's nationally televised season-opener at Ohio State. Emmons returned later in the season and was a key cog in the Owls' Conference USA- and Boca Raton Bowl-winning offense, totaling 237 yards and six TDs on 51 carries.
Kiffin departed for Mississippi ahead of the COVID-affected 2020 season, but Emmons stayed at FAU to play out his senior season under new coach Willie Taggart. Battling through injuries once again, Emmons ran 37 times for 116 yards and a score in four games before opting out of the Owls' last few contests.
As a prep standout, Emmons represented FHS in both the Shrine Bowl and Under Armour All-America game following his senior season after being named Burke County player of the year three times and finishing his Patriots' career with nearly every major county rushing record, including 6,573 career rushing yards and 101 career touchdowns.