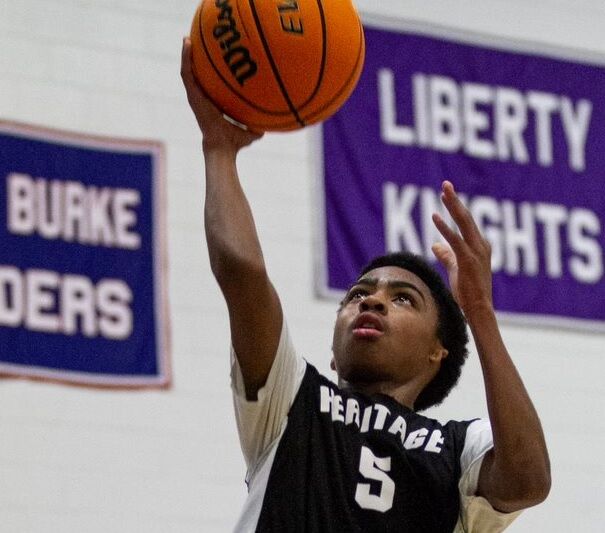 The Liberty boys basketball team slid past Heritage, 48-41, late Tuesday at home in Morganton.
With 2:32 left in the ballgame, the Eagles' D'Andre Moore cut the Liberty lead down to three points with a transition layup, but Brady Davis immediately answered back for the Knights with a backdoor layup of his own, extending Liberty's advantage back to five.
Less than a minute later, the hosts' Zach Costello scored a put-back basket off an offensive rebound, pushing the margin to seven and allowing Liberty (4-4 Foothills Athletic Conf.) to cruise on to the victory.
In the first quarter, Liberty jumped out to a 10-4 lead behind three points each from Davis and Luke Barrier. At the outset of the second quarter, the Knights extended their lead to 11 when Cohen Christian converted a layup off a touch pass from Nathan Waters.
Heritage (0-8 FAC), however, worked to stay in the game, battling back behind Moore's 14 first-half points.
Moore opened the second half with two more quick layups before assisting an Austen Reid bucket, which cut the lead to two. Moore's transition heroics weren't enough to overcome Liberty's balanced offensive attack, however, as the Knights extended the lead back to five by the end of the period.
Davis led Liberty with 19 points while Costello chipped in 11.
Moore paced the Eagles with a game-high 32 points.
Heritage hosts Table Rock today as Liberty pays a visit to East McDowell.
West McDowell 51, East Burke 34
The Raiders (1-5 FAC) dropped Tuesday evening's league contest in Marion by double-digits.
Owen Hartmann led the visitors with 16 points. Also contributing to the EB scoresheet were Nathan Fortenberry and Colton Ward (five points apiece) and Rylan Bargsley and Sam Keaton (four each).
East Burke returns home to face Walter Johnson today.
Walter Johnson at East McDowell
The Yellow Jackets (6-1 FAC) were slated to visit the undefeated Trojans in a first-place conference battle late Tuesday in Morganton. No details were available.
GIRLS West McDowell 31, East Burke 26
A loss for the Lady Raiders (5-1 FAC) in Marion late Tuesday dropped them back into a second-place tie in the conference with East McDowell, a half-game back of league-leading Heritage.
Kara Brinkley finished in double figures for EB with 13 points. Sydney Mosteller (six points) Addison Brittain (three) and Hermione Garro and Kendall McFalls (two apiece) also scored for EB.
East McDowell 43, Walter Johnson 13
The Lady Yellow Jackets (0-8 FAC) remained winless this winter with Tuesday's home loss.
Allison Zavala (four points) and three points apiece from Melina Bernabe, Alaya Caldwell and Cheryllana Cunningham led the way for WJ.
Heritage-Liberty postponed
Tuesday's game between Heritage (6-1 FAC) and host Liberty (2-5 FAC) was postponed. No makeup date has been announced yet.
WRESTLING Liberty 66, Heritage 42
The Knights (4-3 FAC) topped the host Eagles (1-6 FAC) late Tuesday in Valdese thanks to wins from Hunter Abee, Isaiah Greene, Aiden Lawrence, Eli Ledford, Matthew Lehn, Cayden Marshall, Isaiah Mitchell, Hunter Powell, Brody Suttles, Jameson Toner and Parker Winters.
Heritage's winners were Keira Allen (forfeit), Paxton Brown (pin), Oliver Salvatierra Pascual (forfeit), Bryson Seagle (forfeit), Cristal Tallent (forfeit), Chance Yang (pin) and Spencer Wheeler (pin).
West McDowell 84, East Burke 14
The Raiders (4-3 FAC) dropped Tuesday's home match in Icard. No more details were available.
Walter Johnson falls to East McDowell
The Yellow Jackets (1-7 FAC) fell at home late Tuesday in Morganton. No more details were available.