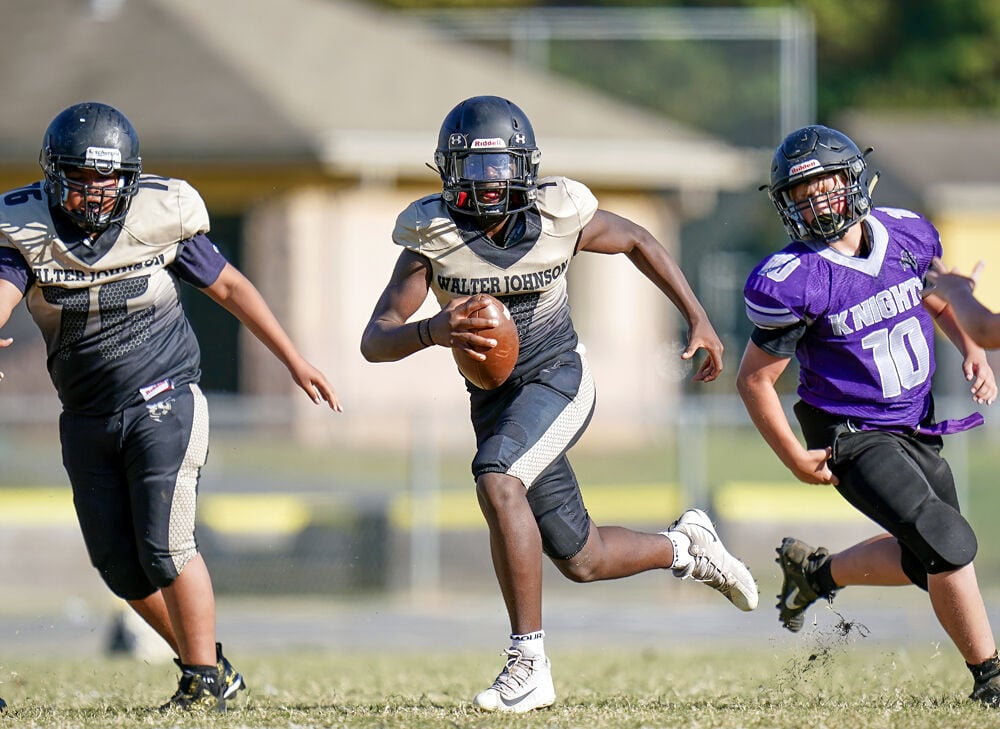 The Walter Johnson Middle football team halted a two-game skid Wednesday with a 38-16 home victory over crosstown foe Liberty in Foothills Athletic Conference play.
Kaden Davis led the way for the Yellow Jackets (2-2 FAC), finishing with more than 200 yards passing and 200 yards rushing and having a hand in all five of the hosts' touchdowns.
Davis passed for TDs to Izaiah Thomas and Ian Clark and ran for three TDs, also tacking on three rushing two-point conversions. Thomas also ran in a successful conversion attempt.
Julius Dominguez' play was also instrumental on both sides of the ball as he ran for 120 yards and led the Jackets' defensively with 12 tackles and a fumble recovery. WJ's Trenton Smith also recovered a fumble.
No individual statistics or additional details were available for the Knights, which finish the season at 1-4 both overall and in FAC games.
WJ visits Table Rock next week.
East Burke 36, Heritage 6
The Raiders (3-2, 2-1 FAC) crept within a half-game of first place as they scored the game's final 30 points Wednesday at East Burke High's Danny Williams Field.
Zayne Newman led EB with two rushing touchdowns, and DJ Weston, Trentyn Cole and Vernon Quintana (reception from Calvin Vue) also found the end zone in the win. Vue, Ossie Burkeen and Brayden Smith punched in Raider two-point conversions.
Aiden Deal led EB defensively with two tackles for loss with Curtis Taylor (sack), Kendale Cook (interception) and Bryson Church (fumble recovery) assisting.
"It's always nice to beat your rival," said EB coach Mitchell McGuire. "I'm really proud of our team. It's been an up-and-down year, but we have stayed the course and continue to grow and get better each week."
The lone touchdown for the Eagles (0-4 FAC) came in the second quarter on a pass from quarterback D'Andre Moore to Jesiah Johnson.
Heritage returns home next week to host West McDowell while EB travels to East McDowell.
W. McDowell 32, Table Rock 8
In a game pitting the league's last two unbeaten squads, the Falcons (3-2, 3-1 FAC) fell on Wednesday in Marion. No more details were available.
Liberty 2, Heritage 0
The Knights (9-0 FAC) remained the league's last unbeaten in soccer as Julio Miller scored both goals in Wednesday's rescheduled road win in Valdese. Midfielder Grayson Bonfield assisted on one of Miller's goals.
"Jacob Batz and Anthony Vicente proved once again to be versatile as they played in several different key positions in the midfield and defense, helping (us) chalk up another shutout," said Liberty coach Paul Gantt.
The Eagles slipped to 3-5-1 with the loss.
Heritage 3, Liberty 0
The host Lady Eagles (5-3-1 FAC) won a third straight game Wednesday as sixth grader Marissa Williams kept up her torrid pace with a pair of goals, giving her eight in the last three games. Mati Kincaid scored Heritage's other goal. Adisyn Smith, and Nora Keathly led the way for the Lady Knights (4-4-1 FAC) in defeat, Gantt said.