NORTH WILKESBORO — The message is simple.
It hasn't changed much since the fall of 1996.
It resonates with fans and people in the industry, and certainly with the locals.
People want North Wilkesboro Speedway back in action.
And at a time when positive momentum around that possibility seems as high as it has in a decade or more, the locals' rallying cry, their banners and their bumper stickers of "We Want You Back" are showing they're all in on restoring their county's crown jewel to its former glory.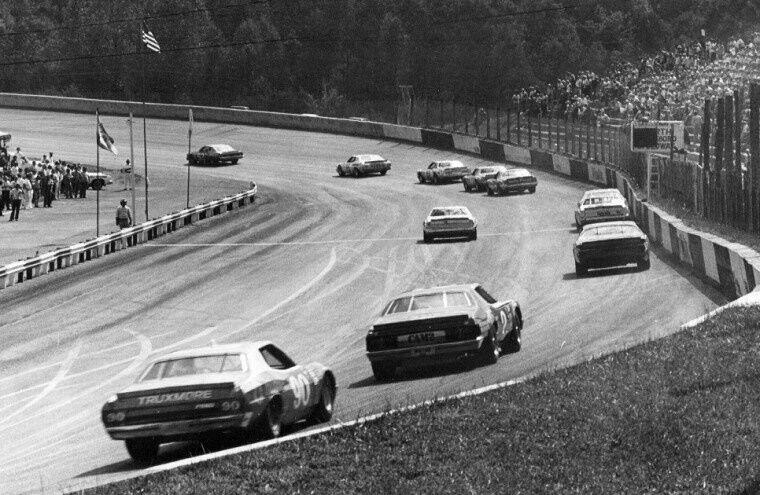 The initiative is backed by the Wilkes Chamber of Commerce and comes a few weeks after Marcus Smith, president and CEO of Speedway Motorsports — the track's parent company — said on Dale Earnhardt Jr.'s podcast he's constantly considering ideas for the 5/8-mile oval.
"It gave us just a glimmer of hope that things could change," said Linda Cheek, the chamber's president. "Terri Parsons — (NASCAR Hall of Famer and 1973 Winston Cup Series champion) Benny Parsons' widow — lives here and has a very strong relationship with the Smith family. So, she heard that same comment he made on the podcast with Dale Jr., and she came in and said, 'I need help. We're going to do this campaign.'"
Social media has shown banners going up at various locations around Wilkes, bumper stickers being handed out at local IGA grocery stores, and the supermarkets' manager, Keith Huffman, holding up one of the banners at the NASCAR Racing Experience at Charlotte Motor Speedway.
The banners are being printed by The Ragg Company Screen Printing and Design, a local business, and the theme is centered on an upcoming video featuring community members and The Jackson 5 song, "I Want You Back."
There's still a lot of love to be found for a track that hasn't hosted a race in a decade and lost its national NASCAR-sanctioned events 25 years ago after being on the schedule since the 1940s.
"For me, it's both business and personal," Terri Parsons said. "When Benny found out he wasn't going to make it with lung cancer, it was on his list of 10 things he gave me to get done for him. It was No. 3 on the list and the hardest to get done. It's a personal thing that way.
"But my background is tourism. I was the director of tourism for the state of Florida, and he knew that I could help the local community if they would let me. ... I've lived here 14 years now since he passed away. What it means to me is that I've watched a little community here and the county struggle financially ever since I've lived here. I knew about Lowe's (Home Improvement's headquarters) leaving, and I knew, of course, about the speedway closing."
The goal of the initiative is to spread that love of North Wilkesboro Speedway and extend it to Smith and Speedway Motorsports, letting them know how much people in the area still care.
"The signs are all over the place, and our local community and the citizenry of the county certainly are in agreement that they want their speedway back," Parsons said. "That's what this is all about. We're not reading too much into this other than the fact that we thought it was time that we let Marcus Smith and SMI know how local people feel. I think he's getting the message that we want them back. We hope that that sways some weight with some people, and it seems to be getting an awful lot of attention."
One person who has taken notice is Marcus Lemonis, CEO of Camping World. His business is the entitlement sponsor of NASCAR's truck series and this season he has branched out that support to truck teams, offering a tiered sponsorship plan to anyone who will run his companies' logos and colors. His willingness to spend money in motorsports extends to North Wilkesboro, with Lemonis tweeting his intent to support any such project numerous times.
That culminated Friday morning when he said on Twitter he'd be willing to pour $1 million into the cause, as well as locate a small Camping World store on the race track property.
"It's an economic windfall for the county itself," said Steven Wilson, who manages social media accounts for Save the Speedway, an initiative launched years ago to help support the cause of resurrecting North Wilkesboro. "I know that in these conversations, not only responding back to us, but responding to others and to Marcus Smith, (Lemonis) would like to tag along somehow or add a potential store in that location in Wilkes County.
"That's something commendable that guys like Marcus Lemonis are willing to take a risk on Wilkes County, not only as a track, but putting one of his stores there and bringing vital revenue and employment potential back into the county. To have two people like that willing to go take a risk and go out on a limb, it's a positive to see that happen. It's a net positive to the county."
Added Parsons: "That lends credibility for other businesses that are interested in coming here if the speedway reopens and Marcus Lemonis is involved and bringing his businesses here. It's good all the way around and helps us economically. Wilkes County is one of the poorest counties in the state of North Carolina, and has been for a long time. Ever since Lowe's left and we lost the speedway and other businesses have left here, this would be the boon that gets us back up and running and puts the economy back on the playing level all the way around."
So, if progress is made and the work is done, what could North Wilkesboro Speedway become? The answer depends on who's asked, but a lot of high hopes surround the future of the race track.
"It can become anything it wants to be," Parsons said. "Of course, it's going to have to be a multiuse facility. We're not illogical enough to think that we will get a Cup race, by any means. We know better than that. ... But there are other forms of racing like bicycle racing and motorcycle racing and every kind of racing division you can think of, and these people have already called us and said if something happens, keep us in mind. I keep saying, call Marcus. Don't tell us. Tell Marcus Smith."
Wilson still has his eyes set on big-time stock car racing returning to the venue. His most aggressive timeline would have the track ready for some kind of racing by next fall, working its way up the racing ranks and keeping hope alive for a return of the NASCAR Cup Series.
"While it's an aggressive schedule and something very pressing to get done between now and then, obviously SMI has resources to put these things together," Wilson said. "They own a large conglomerate of tracks and they can bring in resources from other tracks to make that happen. I don't see any reason why that if they decided to do something, that they wouldn't bring in the resources to make this happen economically and as fast as possible so they could get a return.
"But at the same time, you have to be realistic at the end of the day. And maybe NASCAR says next fall doesn't really work on our timeline, let's look at 2023. We'll throw in some ARCA races and a truck series race for you next year and in 2023, let's talk about bringing Cup there or whatever the case may be.
"We're fine with whatever the timeline is. At the end of the day, it's just about getting the track reopened."