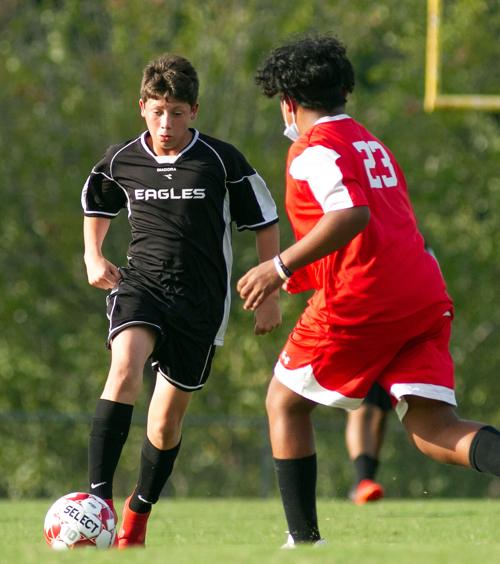 The Heritage Middle boys soccer team claimed a high-scoring contest as it pulled closer to .500 in Foothills Athletic Conference action on Tuesday with a 7-4 road win at Table Rock.
It was a far cry from the teams' earlier meeting in Valdese, which featured just two total goals as the teams tied.
On Tuesday, the Eagles (3-4-1 FAC) picked up two goals from Andreas Garcia Lopez, while five other players scored once apiece: Jean Garcia, Jimmy Velasquez, Harrison Blalock, Brian Castenon Yoc and Marcos Say-Chay.
No scoring details were available for the Falcons (0-7-1 FAC).
Liberty 5, E. McDowell 0
The host Knights (8-0 FAC) cruised Tuesday as midfielder Grayson Bonfield scored twice, forward Grant Huffman added a goal and an assist and Julio Miller and Alan Crisostomos tacked on a goal apiece.
"Giovanni Banales, Noah Talent and Zach Costello (also) played exceptional games as (we) kept (our) unbeaten streak going," said Liberty coach Paul Gantt, who called it "a strong performance across the board."
Walter Johnson 3, East Burke 0
The Yellow Jackets (7-1 FAC) won a third consecutive contest Tuesday at home, remaining just a game behind Liberty after shutting out EB (2-6 FAC). Josvani Regino, Gary Roblero and Nehemiah Vasquez scored once apiece in the victory for WJ.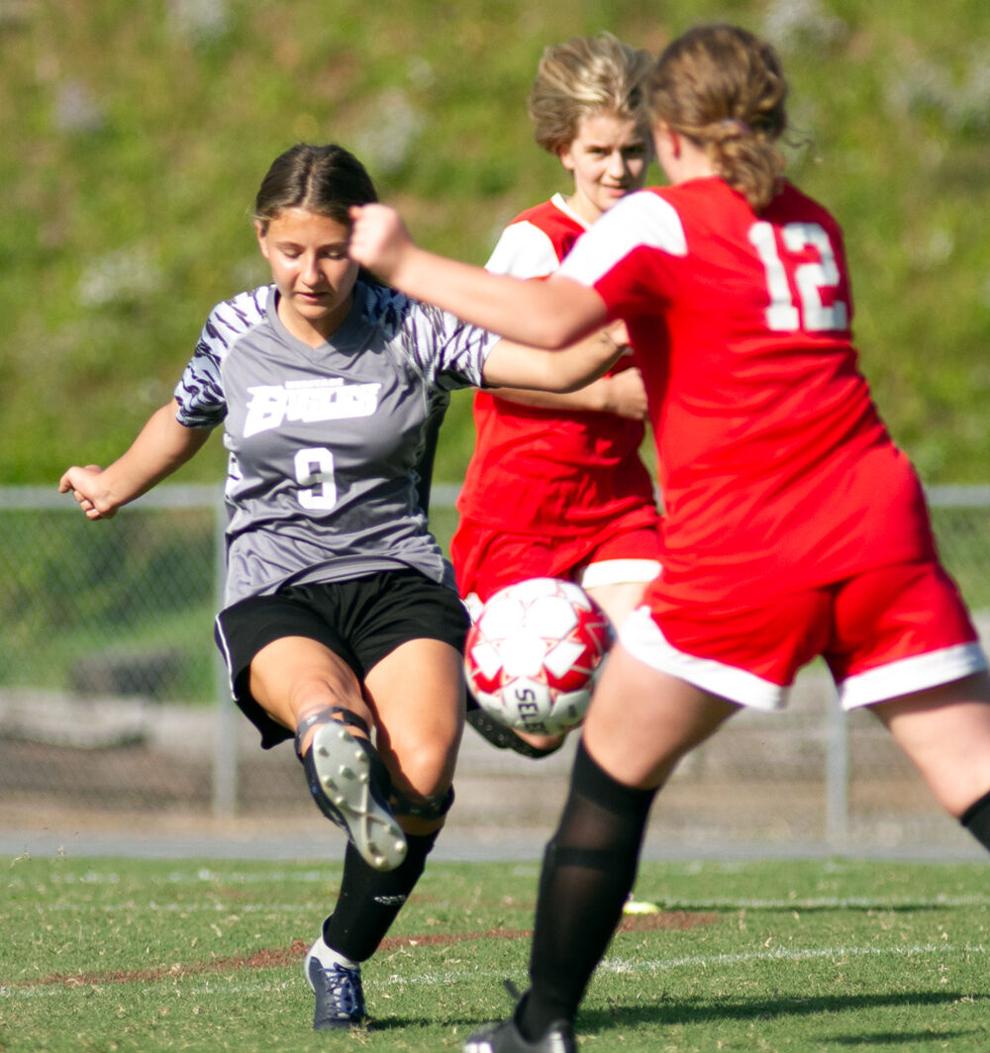 GIRLS SOCCER
Heritage 4, Table Rock 2
The Lady Eagles (4-3-1 FAC) claimed a key contest pitting .500 teams on Tuesday in Morganton. Heritage sixth grader Marissa Williams scored three goals in her second consecutive hat trick, and Mackenzie Powell added the guests' other goal.
The Lady Falcons (3-4-1 FAC), who are now tied for fifth place but remain just a game and a half out of second place in the league in an increasingly bunched middle of the pack, got both goals via Carlie Harris.
E. McDowell 1, Liberty 0
The Lady Trojans (3-4-1 FAC) upset the host Lady Knights (4-3-1 FAC) on Tuesday to add to the cluster among teams vying for a top-four league finish and accompanying FAC postseason tournament berth.
Liberty was led offensively in the setback by Callie Lane and Alexis Vasser and defensively by Natalie Morales Sale.
Walter Johnson 6, East Burke 0
The Lady Yellow Jackets (7-1 FAC) remained atop the league, padding their lead to two games, thanks to Tuesday's home victory over the Lady Raiders (0-8 FAC). 
WJMS led 1-0 at halftime on a Maida Ramirez Tomas goal. Forward Karina Chilel Martin and midfielder Gianny Regino then each added a pair of second-half goals, and forward Yoselin Rodriguez Aguirre finished the scoring with 5 minutes left.
VOLLEYBALL
East Burke 3, Walter Johnson 0
The Lady Raiders (4-2 FAC) rebounded from a loss the day before to sweep the season series from the visiting Lady Yellow Jackets (0-9 FAC), winning by set scores of 25-2, 25-15 and 25-4 on Tuesday.
EB was led at the service stripe by Karlie Chester, Hermione Garro and Heaven Waycaster, defensively by Carissa Towery and Anna Coble and offensively around the net by Sydney Mosteller.
Heritage 3, Table Rock 1
The host Lady Eagles (8-1 FAC) won for a second time in as many days and pushed their win streak to five matches, taking down the Lady Falcons (2-6 FAC) on Tuesday, 25-7, 14-25, 25-8, 25-18.
HMS was led in the win by the service efforts of Macy Auton, Ella Anthony, Ava Aldridge and Peyton Brewer, the attacks of Bailey Mozeley, defensively by Kristyn Cozort and passing-wise by Ashlyn Heavner.
TR was led statistically by Rumi Campbell's eight digs and by Cynica Caldwell's four kills and three aces.
Liberty-E. McDowell canceled
Tuesday's scheduled Lady Knights' match in Marion was canceled with the league-leading Trojans now in quarantine.