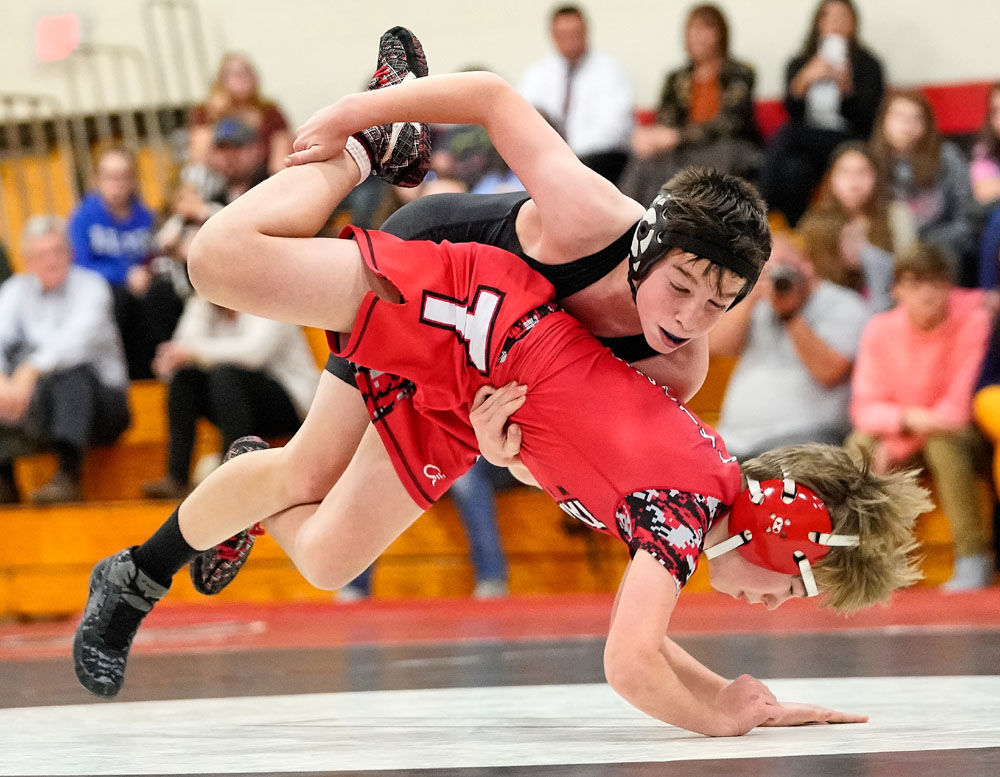 The Liberty Middle wrestling team won its regular-season finale — its first match in 11 days — by a 67-36 tally at rival Table Rock on Monday to end on a high note with a sweep of the Falcons, a two-match win streak and sole possession of second place in the Foothills Athletic Conference.
The Knights (8-4 FAC), who finished behind only undefeated West McDowell in the standings, gained wins Monday from Noah Coffey, Luke Parker, Andrew Mosley, Burke Wilson, Brandon Monroy, Aaron Duncan, Chase Bingham, Shane Marshall, Caleb Clark, Jesus Blas and Connor Berg.
The Falcons (6-6 FAC), who finished fourth, got victories from Xander Vue, Alejandro Campos, Nathan Lindsey, Hunter Smith, Gaven Sweeney and Blaze Cobb.
Heritage 55, Walter Johnson 54
The host Eagles (4-8 FAC) slipped past the Yellow Jackets (3-9 FAC) on criteria Monday to claim the teams' fifth-place battle.
Heritage gained wins by pin from Avie Helton, Guian Collado, Logan McGee, Justin Hollingsworth, Tino Arellano and Vicente Michele, while Skyler Hudson, Isaiah Eller and Zander Stephens each won by forfeit. WJ's individual winners' names were not available.
Walter Johnson 56, Heritage 9
After four straight winless seasons, the Yellow Jackets (11-1 FAC) finished the job Monday at home with an 11th consecutive victory to claim the outright FAC title, a game clear of Table Rock. WJ was led once again by Amore Connelly (20 points) and Zion Thomas (10 points, five assists, seven steals).
"I'm so proud of our boys for accomplishing the goal that we set early this season," Jackets coach Brandon Thomas said. "I'm so proud that we won this championship for WJMS athletics and our community. We became a team that was determined to change the culture of Walter Johnson basketball."
The Eagles (0-12 FAC) were led in defeat by Blair Cooper's three points.
Table Rock 67, Liberty 52
The Falcons (10-2 FAC) took solo second and swept the Knights this year thanks to Monday's road win, in which the team trailed by 20 but stormed back to win by 15.
TR was led in scoring by Jackson Denton and Eli Tillery with 18 points apiece plus Jaiden Belin (15 points).
"This game demonstrates how far these kids have come as players and individuals," Table Rock coach Chip Lewis said. "They did not quit and battled the entire game. As a coach, I couldn't be prouder of a group of kids as I am of them."
No individual scoring totals were available for Liberty (8-4 FAC), who finishes third.
Table Rock 41, Liberty 22
The Lady Falcons (8-4 FAC) cruised Monday on the road behind a big game from Peyton Caldwell, who scored 22 points for more than half of the team's total.  
TR, which ties West McDowell for second place behind only East Burke, also was led by Stalee McGee (seven points), Haven Gladden (four) and Ava Whitaker (four). No individual scoring totals were available for Liberty (4-8 FAC).
Heritage 45, Walter Johnson 17
The Lady Eagles (3-9 FAC) won in Morganton on Monday as Jenna Abernathy scored a team-high 15 points and Taylor Holder and Ivie Carrol added six and four respectively. No individual scoring totals were available for WJ (0-12 FAC).