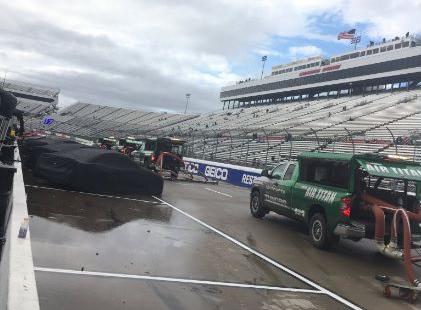 MARTINSVILLE, Va. — Martinsville Speedway hosted two separate tests last week, and while Speedway president Clay Campbell didn't watch one of them, the other he called "very encouraging."
The Speedway, home to a Cup Series race Saturday night, hosted a Next Gen car tests with all three manufacturers - Ford, Chevrolet, and Toyota - testing their cars that are scheduled to be run in the Cup Series next season.
"I didn't come down here. I was in my office the entire day," Campbell said. "I can tell you they sound different. I could tell that from my office."
On the next day, Martinsville hosted a rain tire test, which Campbell did watch. The tires aren't meant for racing in the rain, Campbell said, but rather meant for getting back to racing as quickly as possible after a rain. With the tires, the track won't have to use Air Titans and jet dryers for as long waiting for the track to be completely dry.
"The good thing about that is it opens up so many opportunities for us to continue a race without having to postponed it or have our fans sit in the grandstands for so long," Campbell said.
"With this tire the possibility is there to get back to racing much, much quicker. And everybody benefits from that. TV, the fans, NASCAR, us. It's just a good situation to be in."
Goodyear provided the tires for the test. Goodyear director of racing Greg Stucker said on SiriusXM NASCAR radio this week he thought the test was "very promising" and the Martinsville test was the company's "first genuine step" towards seeing if racing in wet conditions on an oval track would be something with which the sport could be comfortable.
Stucker said the company will look at data from the test and hasn't determined what the next step would be. The rain tires would not be available for this week's race at Martinsville. NASCAR senior vice president John Probst told NASCAR.com it would be "ambitious" to think the use of wet weather tires in any race this season would be possible.
NASCAR tested the track with different levels of wetness. At one point, it was so wet that Campbell said he could see water spraying up behind the cars driven by Kyle Larson and Chris Buescher, and they were still getting around the track quickly.
"I think they were very happy with it," Campbell said of the drivers.
"Honestly it didn't drive completely different," Larson said in a video posted to NASCAR's Twitter page from the test. "You could still slow down good, turn good. Drive off was easy to spin your tires, but other than that it was kind of fun to chase the grip throughout the portions when it would start drying.
"It was pretty fun. I think they've got a good product that we could honestly start racing with right away if we needed to on these short tracks."