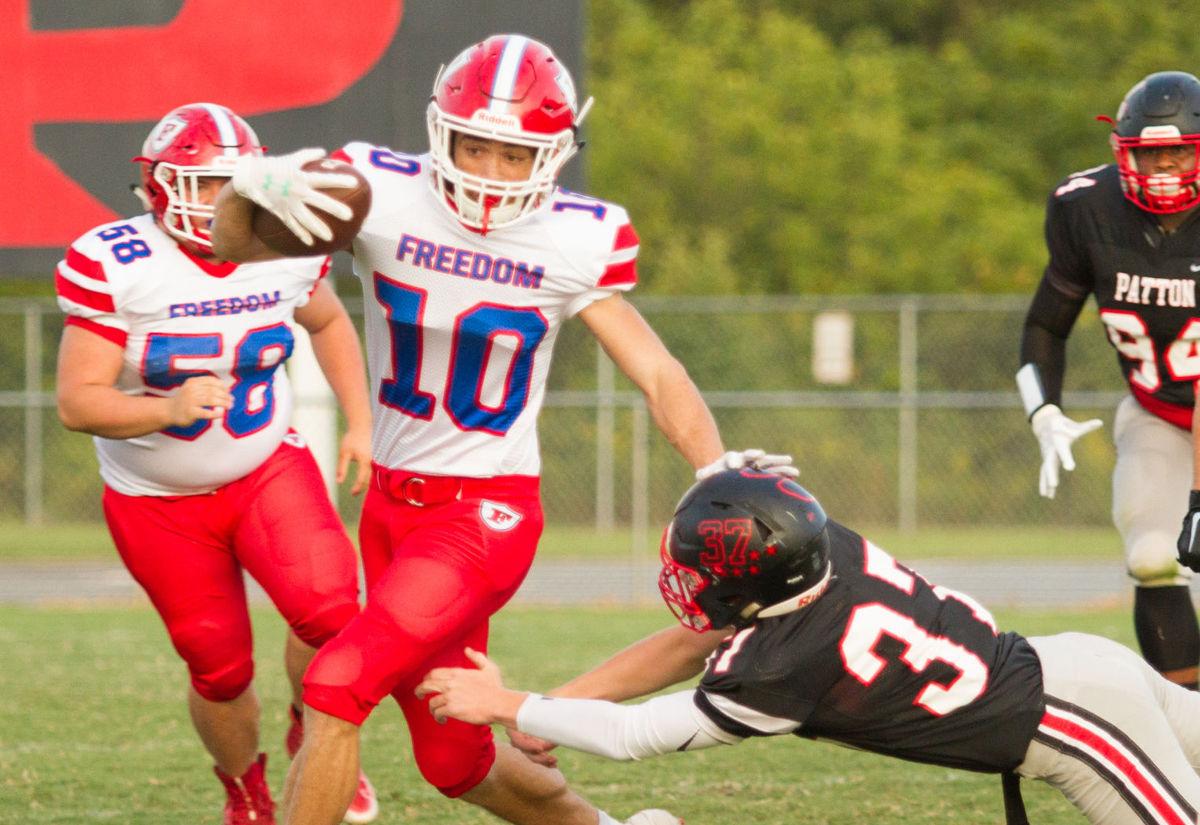 Big plays on special teams led to short fields and scoring drives as the Freedom football team vanquished rival Patton, 48-12, in the rescheduled Motown Throwdown XI game Monday night at PHS.
Already up 7-0 thanks to a short Mekhi Spates touchdown run, the visiting Patriots were set up by Chase Young's blocked punt at Patton's 26-yard line with 7:19 remaining in the opening period. Six plays later, senior quarterback Jayden Birchfield ran another one in from 6 yards away.
After Birchfield's 44-yard, second-quarter scoring strike to Demorian Burgess made it 21-0, Damien Dula's fumble recovery on the ensuing kickoff again placed the ball on the hosts' 26. The Patriots made it count again, needing just four plays to find the end zone when Spates cashed in from 6 yards out.
Following a Patton three-and-out, Dula returned Waylon Rutherford's punt 28 yards from around midfield to set up shop at the Panthers' 20 with 1:17 remaining before halftime. All it took was one play for Young to run 20 yards to paydirt, sealing a 35-0 halftime lead for Freedom.
And a botched snap on the final PAT notwithstanding, kicker Onyx Velez went 6 of 6 on extra points to keep the Patriots on schedule on the scoresheet.
Thanks to the game-changing moments on special teams and the quick scores, many of the starters were able to rest after the intermission, including Birchfield, with a nonconference tilt at Crest just four days away.
"We practice special teams every day," said FHS coach Luke Little. "They hurt us against Monroe last year in the playoffs when they ran a kickoff back. Any time you can get a short field because of special teams, that's big."
After a scoreless third quarter, the Patriots tacked on another TD when freshman backup QB Ty Little connected with classmate Sacred Baylor for the second straight week. Baylor, who also had a second-quarter interception for the visitors' defense, zig-zagged across the field, making half-a-dozen Patton defenders miss on his way to the end zone.
"It was crazy, but it was fun," Baylor said. "I saw the one (defender) coming, and I juked him. After that, I knew I was gone. I know I'm pretty fast, so I figured I could score on that play."
A 16-yard TD run by Curt Young deep in the fourth quarter lit the final bulbs on the scoreboard and closed a decade when the Patriots beat every other county foe 10 times.
Birchfield went 5 of 7 through the air for 88 yards, and Little added three more completions for 62 yards. Baylor (54), Burgess (44) and Desmond Caldwell (34) led Freedom in receiving yards.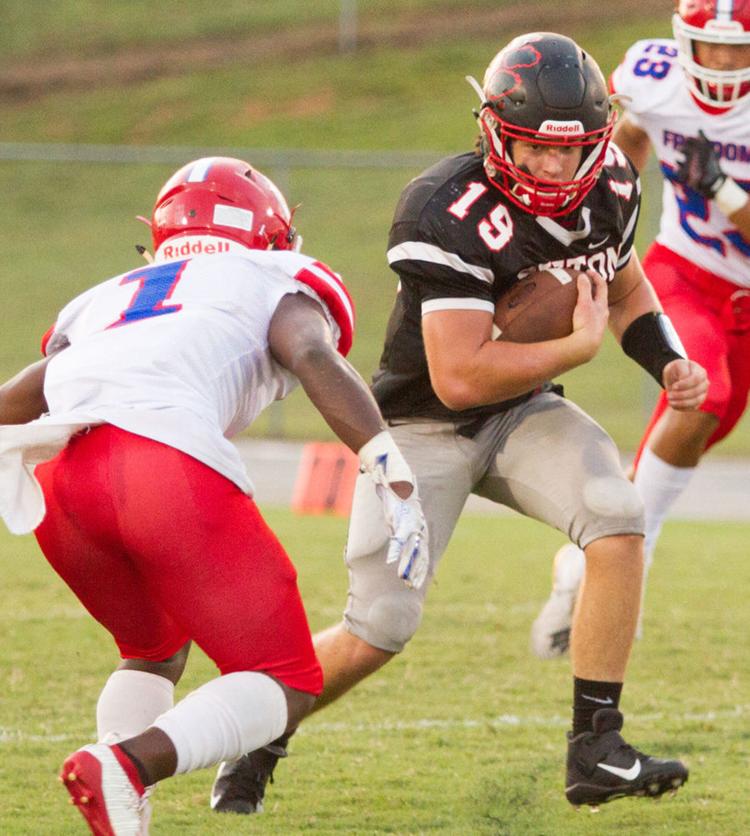 But it was the Patriots' ground game that impressed the most. The uptick FHS (3-1) showed in rushing in Week 3 carried over to Monday when the team's running backs combined for 208 yards on 26 carries.
Chase Young, who added a 66-yard sprint late in the game, led in that category by accumulating a career-best 137 yards on 11 tries. Curt Young went for 35 yards on six carries, and Spates gained 36 yards on nine attempts, including his first and second TDs of the season after scoring once in limited varsity action last fall.
"It was really special," said Spates, who has formed an effective RB rotation with Chase Young the last couple games. "I knew I had to do my job for my teammates. They do a lot in practice. (The offensive line) worked hard all summer."
"We just had to power through everything. That's what linemen do," added starting tackle Austin Lowery. "We don't get the glory, but you've just got to stick your head in there and get the job done."
Defensively, Burgess led the FHS defense with eight tackles, including two for loss, and a forced fumble. Noah English (two TFL) made six stops and Dula (TFL, pass breakup) made five. Spates (two, including a sack) and Cam Silvers added stops in the backfield. Curt Young notched an additional forced fumble.
Patton first got on the scoreboard via special teams, as well. When a fourth-quarter long-snap went sailing over punter Velez' head, Kalen Byrd and Max Short converged in the end zone, with Byrd falling on the loose ball for the score.
The Panthers (1-3) tacked on another score when senior quarterback Weston Fleming guided a five-play, 56-yard scoring drive that he capped with a 4-yard dive. Fleming paced the hosts' offense, which gained all of its 133 yards on the ground, with 60 yards on 18 attempts.
Bryson Ratliff (4-26), DeShawn Cantrell-Vazquez (5-19), Jackson Vance (7-14) and Max Short (6-11) supplemented that effort.
Defensively, Vance (seven tackles, sack), Shawn Moody (five, sack), Rico Barrino (five, TFL), Byrd (TFL) and Ethan Pons (interception, TFL) led the charge for the hosts.
With the non-league slate now in the rearview mirror, Patton can rest up over its bye week before jumping into Northwestern Foothills 2A Conference play versus Foard on Sept. 27.
"We'll just continue to improve on what we do. We're not going to completely revamp everything based on the outcome of this game," said PHS coach Jonathan Browning. "You tip your hat to Freedom in this one, they've got a very good football team. I thought we gave a very good effort tonight."
Be the first to know
Get local news delivered to your inbox!