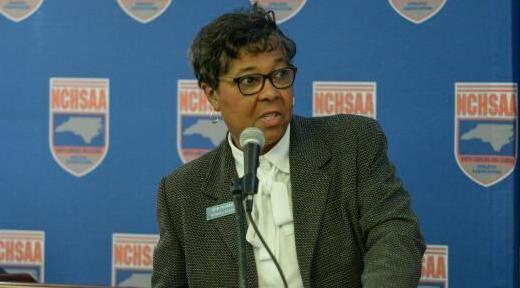 GREENSBORO — On a day when the N.C. legislature moved a step closer to dissolving the state's governing body for public high school athletics, the N.C. High School Athletic Association's commissioner said that she believes her race and gender have been factors in the attacks on the association and that she doesn't see a path to a compromise with state senators driving the legislation.
"I believe that were I not female and African-American the approach would have been a little different," Que Tucker said during a one-on-one interview Wednesday at the Greensboro Coliseum Special Events Center. "I can't help but feel that because of the climate in which we live today, that as we prepare to celebrate 50 years of Title IX, that women in leadership positions still have a hard row to hoe. I believe that is part of – not the only thing and maybe not the majority – but it is a factor."
The Senate Education Committee on Wednesday unanimously approved HB 91, which would allow the NCHSAA to continue to operate with limitations for the 2021-22 school year before a newly formed and state government-appointed N.C. Interscholastic Athletic Commission took its place. The legislature, through the State Board of Education, has the power to determine the governing body for North Carolina public high school athletics.
Tucker, a Reidsville native, said she hadn't been in contact with anyone from the legislature by early Wednesday afternoon, but she addressed the proposed overhaul of North Carolina high school athletics. The highlights (read a fuller version at Greensboro.com):
Q: You said Tuesday evening that you felt the die had been cast with the Senate hearing led by Sens. Tom McInnis (R-Moore), Vickie Sawyer (R-Iredell) and Todd Johnson (R-Union). Do you still feel that way?
A: In the committee meeting today I heard some opposition to the bill and trying to move it forward, but it did unanimously move forward. … The three senators who have been the leading proponents of this dismantling, as they said, have been working on this for months. They have some friends in the Senate and I do believe that they will be able to use their power of persuasion to get it through the Senate.
Q: A member of the media on the Zoom conference Tuesday referred to this legislation as the "nuclear option." Do legislators understand the potential fallout?
A: I do think that because of the length of time that these legislators have spent on this they're feeling now is that they've invested so much that they have to go with it. I think they will be able to persuade others to go, too. That's unfortunate and I'm disappointed that at this time our politics have sunk to the level that we now believe it is OK to politicize education-based athletics at the high school level.
Q: Do legislators understand what creating a new governing body for high school athletics would entail and that their timeline is realistic?
A: I don't think it's realistic that they would be able to put something in place and it function the way this almost 110-year-old organization has functioned. I don't think that can happen in a year.
Q: Are member schools concerned about the process and the timeline if the bill becomes law?
A: One of the reasons that the membership has kind of risen up over the last 24 hours is that they now realize, whoa, wait a minute. You're talking about doing away with an association that has a proven track record and now you're getting ready to give us state championships and appoint some people to this commission who maybe don't have an understanding of what it takes to do what we do. That's concerning. 
Q: Do you regret letting the association's net assets grow to $41 million and not giving more of that money back to the schools?
A: We have to be careful not to let the $41 million guide our thinking. That's the net assets. About $13 million of that is operating expenses, a two-year operating reserve, and when we talk about the (NCHSAA office in Chapel Hill) and its contents that's part of that money. … About $16 million of it we can't even touch because it's donor-directed. … Then you have some other monies that have been invested and are board-designated which account for $10 million or so. That's where the $1 surcharge (on playoff admissions) went, that's where the 25 percent of the gate for endowment games went, so that the board would have the opportunity to do things like the $4 million that went to schools (during the COVID-19 pandemic). … I don't regret any of that. What I do regret is the fact that we have not done as good a job as we needed to make sure people understood those pots of money and what's in them.
Q: What do you see as other concerns legislators have with the NCHSAA that led to the introduction of this bill and can any of those grievances be addressed within the association's bylaws?
A: One of their grievances really kicked in when we were in the midst of the COVID pandemic and COVID surges and we had limited numbers of people who could be in the gyms because we were following Governor Cooper's executive orders and we were under the guidance of DHHS. I believe they feel the leadership was not sufficient and we were not proactive enough to make sure that fans could get back into the gyms and stadiums faster than we were allowing.
I do believe that there is something personal beyond the fact that a team of one of the senators did not get into the playoffs. I believe that were I not female and African-American the approach would have been a little different. I can't help but feel that because of the climate in which we live today, that as we prepare to celebrate 50 years of Title IX, that women in leadership positions still have a hard row to hoe. I believe that is part of – not the only thing and maybe not the majority – but it is a factor. I don't think if Charlie Adams were alive and still sitting in this chair he would be dealing with this at this level. If Davis Whitfield were here I do not believe he would be dealing with it at the level I am because some of the requests that have been made of me border on … what in the world? We did PSAs that the national federation (NFHS) sent to us and were sent to radio stations. A senator sends me a letter wanting to know how much we spend on advertising because he just heard a PSA on the radio and wanting to know why we need to advertise. Really? PSAs are free and they have messages about sportsmanship and about the mental health aspect of things, about bullying, about spectator behavior, about the officiating shortage. We get those free, but I'm being questioned on the amount of money we spent on them? I don't think that would happen if I were not who I am. I don't want this to be a racial thing, but I do understand who I am and there are things I recognize for what they are.
Q: How have you addressed those issues with the members of the N.C. Senate who raised them?
A: I tried to address right many of those in the April 15 hearing (with the Senate Education Committee), but when you're just receiving questions all of the time and you're not able to enter into a dialogue after the fact that's pretty frustrating. After we left that hearing April 15, we've not been asked to come before any subcommittee or anybody to say what we have gathered or how we've looked at the information. That's disappointing because they say we've been uncooperative. Someone at the hearing today said, "The director refuses …" That is absolutely not true. Any time anybody has asked me for any information we have given it to them. I will tell you that the very first request I received last May insinuated that we had shut down athletics and they wanted to know how much money we had given back to schools. They then started seeking financial information. I did refuse up front to give out that information because I work for the membership. I didn't think I should be just giving out financial information without a good reason. Some folks on the board said, "Que, we need to do this," and we were ultimately able to provide that documentation. From that point forward anything they asked us for we gave to them. If there are those who do not believe that, I will be happy to share the correspondences and my follow-up and how we addressed the questions asked of me.
Q: If this legislation is signed into law, it would create a lame-duck year for the NCHSAA. Is there any way that the association would simply shut down Aug. 2 instead of serving out that year?
A: They're asking that there be some memorandum of understanding signed by Aug. 15 that would say there would be no more fines and we would be subjected to a state audit and that if we don't do that, then we wouldn't be able to function in this 2021-22 school year. How unfair for the people who are getting ready to start practicing Aug. 2 to wonder are we or are we not going to be in place? When I think about it on a selfish level, oh, yeah, I'd love to be able to just say, "Hey, take it and do whatever you want with it."' But I care too much about the NCHSAA. I've invested 30 years here. I care about the 427 member schools and the student-athletes they serve. More importantly I care about those individuals who come to work with me every day. I would want to make sure that what they want to have happen is also addressed. It's not an answer I can give emphatically that, yeah, I'm going to walk away if this happens. I will put some thought into it, and I will sit down with my staff if this does pass and we'll have a discussion about how we want to move forward.
Q: Would you sit down with legislators and negotiate a reorganization of the NCHSAA in a way that addressed their concerns while maintaining the integrity of the association?
A: We've always wanted to work with the General Assembly. We want to work with the State Board of Education. We would certainly be willing to sit down and work together, but I don't think any of us are willing to sit down … under the conditions that you either do this or you can't do that. We want to work with them. There just has not been a willingness to sit down and hear our side of it as we've tried to show the data from our point of view. They've just not been willing to listen to that.
Q: Do you see a path forward that would maintain the NCHAA in some way shape or form?
A: At this point, I believe that if that was what (the bill's sponsors) wanted, they would have already said that we want to come over and sit down at your table or brought us over to them before they introduced this legislation and asked us how we could work together. That didn't happen and I don't see that path at all.
Q: Would you consider resigning or retiring if you felt that would preserve the NCHSAA?
A: Really and truly, if I thought that would work I would do it in a heartbeat. That's how much I care about the association, my staff and the students across this state. I would do that, beyond the shadow of a doubt.
Contact Joe Sirera at 336-373-7034, and follow @JoeSireraSports on Twitter.