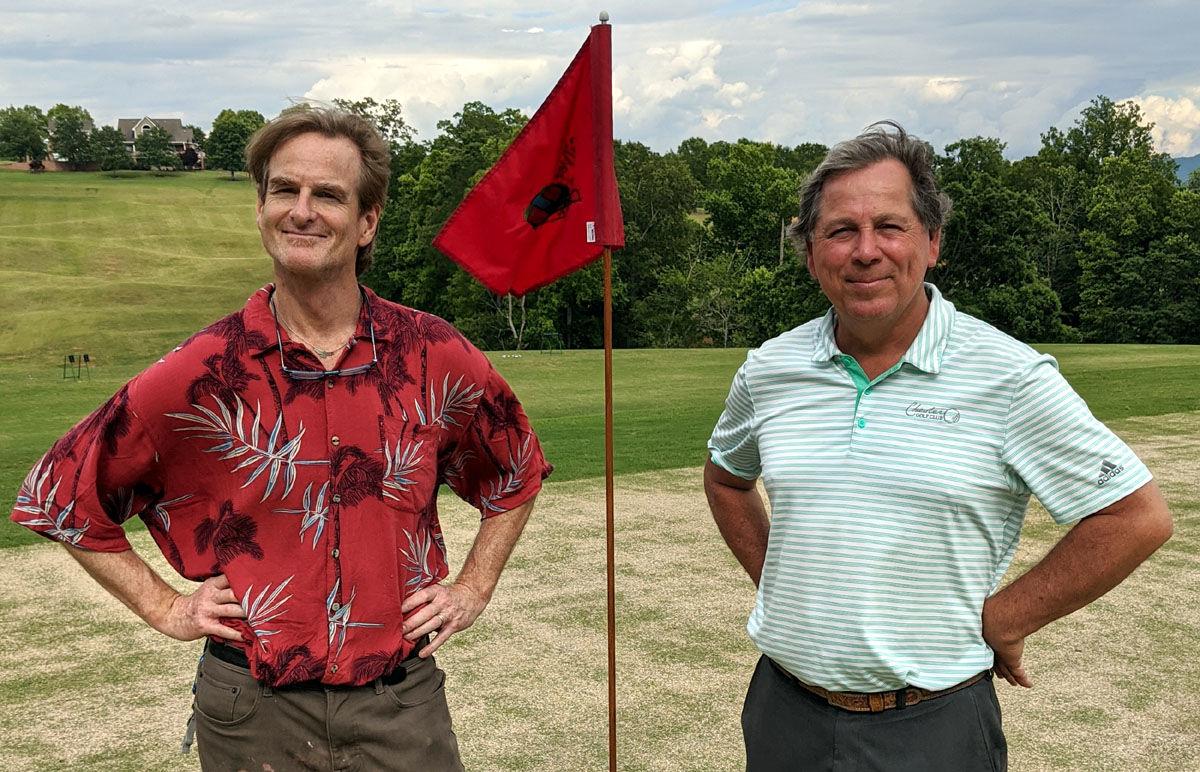 Sitting just off Jamestown Road, Silver Creek Plantation Golf Course has built a name for itself by charming natives and visitors alike with its pristine views of the South Mountains, the soft trickling of its namesake stream and its trademark brick silos — which the course not only uses in its logo, but also is genius enough to plant a pair of at each hole for those bold enough to tee off from them.
The Bristol family, most recently Doug and Ricky Bristol with partner Buddy Fisher, had owned the course since it opened in 1995, but the impression it left on out-of-towners was enough for two lifelong friends from Oregon to recently make it their own.
"We saw this property online over a year ago and I called and it was under contract, and I just said 'Well, hey, if anything falls through, let us know'," said Wesley Jones, the new owner of the course, along with his friend and business associate, John McCormack.
This spring, things lined up for Jones and McCormack.
"My wife and I were driving through Asheville. We swung by and checked it out and it was beautiful, we loved it," Jones said.
Jones said he and his wife then talked it over and couldn't figure out a reason not to buy it.
"My wife and I and (McCormack) and his wife all went in and closed on March 5," Jones said.
Jones and McCormack originally are both from Oregon, but Jones has lived in the Carolinas for the past 30 years, working as a golf pro in Hilton Head, S.C., for the first 10 years and Charlotte for the past 20. Jones said his wife convinced him to take that experience and go in business for himself instead of for a big company.
"We love it out here," Jones says, "The golf course is awesome, the Morganton community is an awesome community. We're only an hour away from so many places, so we just love the area."
Jones does point out there was more to the appeal than just the area.
"The main reason we bought this place was because it was so well-built," Jones said, mentioning meeting with the Bristol family and learning more about the history of the construction of the course, built by well-renowned designer Tom Jackson.
"Papa Bristol always wanted a golf course, and they didn't cut any corners," Jones said. "I mean the drainage here is the best drainage of any place around, and the irrigation system and the clubhouse are just quality and high-end."
Jones says the course was a turn-key operation with a solid staff already in place and a course that had been well-maintained over the years but did say new ownership is making an effort to bring the course along with the times by increasing their digital presence.
"There wasn't a real social media presence, so we've gotten on Instagram. They had a Facebook account, but it wasn't something that was very active so now we're starting to turn out stuff," Jones says, "Now you can book tee times online. If you post a picture of yourself on the ninth or 18th hole, you get a free soda at the turn. We've been having a picture contest and each month whoever gets the best picture gets a $25 gift card."
Jones said the course's ladies' clinics have grown over the past couple of weeks as well as the number of golfers registering for weekend tournaments. Jones says he had nearly 80 golfers sign up for his two-man tournaments in the first three days, two weeks in advance.
Jones and McCormack started their work around the course itself by building a new chipping green behind the clubhouse next to the driving range but won't finish there, they say.
"Number one, make sure the greens are perfect," Jones said. "We're also going to be making our (bunker) design where the grass grows down the banks to the flat area so if a ball hits on the bank, it will roll down in the bunker. But the bunkers will actually be smaller as far as how much sand you have to maintain but they'll still play the same size because if you land in the bowl, it's going to roll down in there."
Jones also plans to take advantage of the natural beauty of the land by targeting weeds but letting the wildflowers grow and flourish. By the spring of next year, Jones said, he hopes the course will be growing into his vision more fully.
Be the first to know
Get local news delivered to your inbox!