The Northwestern 3A/4A Conference recently announced all seven of its all-conference teams, as nominated and voted upon by league coaches, while the Mountain Foothills 7 2A Conference released three more, including football.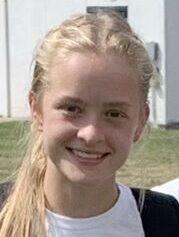 In the NWC, western Burke County's only league superlative honor from the 10 teams that were announced went to Freedom junior Katie Deacon as girls cross country runner of the year. Deacon enjoyed a terrific season that was capped by an all-state performance.
Other All-NWC boys and girls cross country runners from FHS included Leah Kirksey, Dalton Brittain, Colby Anderson and Joseph Hover.
In football, Freedom's All-NWC players were Avery Pollard, Chris Hensley, Trenton Coffey, BG Hampton, Demarcus Lowrance, Sacred Baylor, Caleb Morrissey and Eli Thomas plus honorable mentions Curt Young and Mikey Cowling. The Patriots finished fourth in the league and reached the NCHSAA state playoffs after a year away to make it 12 postseason appearances in 13 seasons.
League awards went to Watauga's Orlando Leon (player of the year), Grant Lawrence (defensive player of the year) and Ryan Habich (coach of the year). Hibriten also collected awards, with Coby Wilson named offensive player of the year and Trenton Cornett named special teams player of the year.
In the MF7 for football, the league released a 22-man all-conference offense and defense list by position, with no honorable mentions. Patton offensive lineman Dawson Carswell and linebacker Colten Dale were PHS' two selections to the team.
The league's top honors went to MF7 conference champion Hendersonville's Gavin Gosnell (player of the year), Cooper King (kicker of the year) and Jim Sosebee (coach of the year). Other winners included Chase's Marqies McCombs (offensive player of the year) and Polk County's Angus Weaver (defensive player of the year).
Freedom's boys soccer team, which earned a trip back to the playoffs after breaking a long drought, was represented as All-NWC by Cole Johnson, Silas Miller, Lauritis Nor Langager, Drew Costello and Ashton Alva, plus honorable-mention picks Jacob Searcy and Eduardo Monge Velasquez. In volleyball, the Lady Patriots' Savannah Mooney was All-NWC, and Sarah Armentrout and Brooke Barker took home honorable mentions.
Emily Kania was all-conference for FHS in girls tennis, and Ellie Deacon was honorable mention. Freedom was not represented on the All-NWC girls golf team.
Patton's Faith Webb and Riley Berry were named All-MF7 in girls tennis, and Allie Witherspoon was one of just three to be named all-conference in girls golf.
The News Herald sports department can be reached