TOKYO (AP) — Simone Biles came to Tokyo as the star of the U.S. Olympic movement and perhaps the Games themselves. She convinced herself she was prepared for the pressure. That she was ready for the spotlight.
Only, as the women's gymnastics team final approached on Tuesday night, something felt off for the American star. So rather than push through the doubts that crept into her head as she's done so many times before, she decided enough was enough.
Biles withdrew from the competition following one rotation, a stunning decision that opened the door for the team Russian Olympic Committee to surge to gold. Her American teammates held on for silver after the 24-year-old realized following a shaky vault she wasn't in the right headspace to compete. Read more: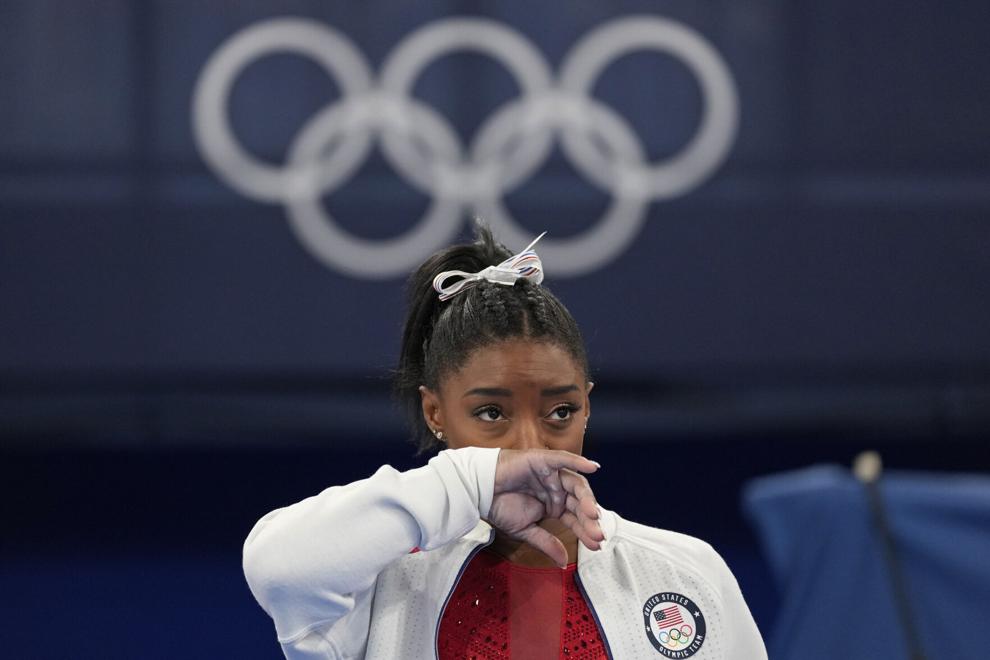 Here's a roundup of more of the latest stories from Tokyo, including an updated medal count, TV schedule and photo gallery, plus a look ahead to what's in store for Wednesday:
---
Japan beats US to win softball gold
Japan won its second straight Olympic softball gold medal, beating the United States 2-0 Tuesday in an emotional repeat of its 2008 victory in Beijing that again left the Americans in tears.
Yukiko Ueno took a one-hitter into the sixth inning, five days after her 39th birthday, and Japan snuffed out an American rally attempt with an acrobatic double play in the sixth inning that will long be replayed.
MORE COVERAGE
WHAT TO WATCH FOR
MEDAL COUNT
TV SCHEDULE
All times Eastern
Noon-5 p.m.: canoe slalom, women's beach volleyball, cycling, women's 3v3 basketball, swimming, diving.
8 p.m.-midnight: swimming (live); gymnastics, women's team final.
12:35 a.m.-2 a.m. (Wed.): cycling, women's team trial; women's water polo, U.S. vs. Hungary (live).
8 p.m. Tuesday-2 a.m. Wednesday: rowing and cycling (live), beach volleyball.
Various sports throughout the day Tuesday.
8 p.m. Tuesday-2 a.m. Wednesday: women's basketball, women's soccer, women's volleyball.
10 p.m. Tuesday-2 a.m. Wednesday: tennis.
12:40 a.m. Wednesday: men's basketball, U.S. vs. Iran.
6:15 a.m. Wednesday: men's gymnastics all-around
Noon-2 p.m.: Women's soccer, Canada vs. Great Britain
2-6 p.m.: rugby, weightlifting, taekwondo, boxing, women's basketball
6-8 p.m.: women's soccer, U.S. vs. Australia
8 p.m. Tuesday-2 a.m. Wednesday (live): beach volleyball; table tennis; men's volleyball, U.S. vs. Tunisia; slalom canoeing.
COVID-19 TRACKER
TODAY'S PHOTOS