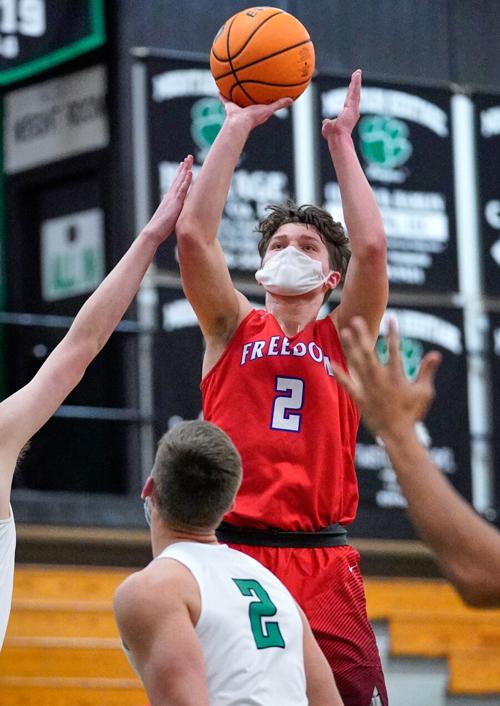 BURNSVILLE — A halftime lead for the Freedom boys basketball team became a 15-point deficit, which in turn led to a big road rally and a go-ahead shot attempt at Mountain Heritage in nonconference action late Wednesday.
But the Cougars swatted away Freedom's one shot to take the lead late with under a minute to play, handing the reigning NCHSAA 3A state co-champion Patriots their first loss in more than a calendar year, 59-55.
After working to a 26-22 halftime lead, Freedom (1-1, 1-0 Northwestern 3A/4A Conf.) found itself capsized in a 45-30 hole by the time 30 seconds remained in the third quarter. But junior Quentin Rice's 2-for-2 trip to the foul line to end the frame created a spark.
Rice started the fourth-quarter scoring with a teardrop basket to make it 45-34, and his 3-pointer 34 seconds later brought FHS back within 10 at 47-37. Classmate Daylin Pritchard took over from there, hitting back-to-back baskets in a 13-second span — the second on a steal-and-assist from Rice — to put the score at 49-41.
Ninety seconds later, Pritchard earned back-to-back trips to the charity stripe, going 3 for 4 and making the score 52-44. Then, it was Rice's turn again with back-to-back buckets to put Freedom down just four, 52-48.
Pritchard answered a hosts' score to make it 54-50, then Rice (team-high 22 points) did the same with 1:36 left at 56-52. The Cougars then bookended an FHS miss with two fruitless trips to the foul line, setting up another Rice 3 with 1:05 to play to make it 56-55.
After a Mountain Heritage miss, Pritchard (12 points) had the look for a go-ahead basket but was blocked. The Cougars again went 0 for 2 from the foul line, but collected the rebound off the second miss and hit 1 of 2 to make it 57-55 with 26.8 seconds to play.
But as the Patriots tried to set up a play to win or tie, they were called for traveling with 4.5 seconds left, ending the hopes of sealing the comeback.
"We got beat because I did a terrible job preparing us for this game," said FHS coach Clint Zimmerman, who took just his second loss in his 32nd game as a head coach. "I did not have us ready, I did not help us make adjustments and I allowed this to happen. The rebounding issues, the struggles we had offensively, us getting beat on their cutting actions is all on me.
"The late game life we had, the energy they showed, the way we slowly got back into this one is something we can build upon. Mountain Heritage has a very good, very physical, very tough team."
Zaydin Pritchard (six points) hit two 3s before departing with an ankle injury just before halftime. Drew Costello added five points for FHS and Philly Harris scored four.
NOTE: The varsity girls game between the two schools was postponed and has not yet been rescheduled.
JV BOYS
Freedom 48, Mtn. Heritage 39
The JV Patriots (1-1, 0-1 NWC) built a double-digit lead by halftime and maintained a comfortable advantage from there in Wednesday's road nonconference win. Cory Miller, Jackson Denton, Jacob Searcy and Jaylin Michaux led FHS' balanced scoring attack with nine points apiece, and Julian Castro added six more.