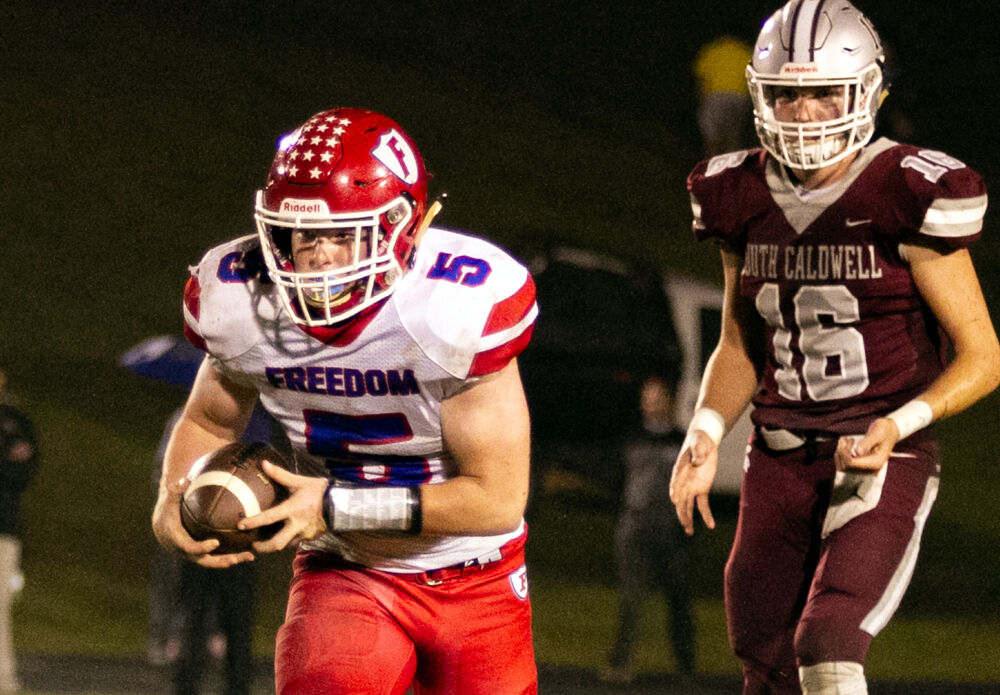 SAWMILLS — The Freedom football team on Friday traveled to South Caldwell looking to rebound after last week's home loss to Hibriten and gain its first win in Northwestern 3A/4A Conference play.
The Patriots were in a position to do so on the Spartans' homecoming night, driving to the host's 16-yard-line in the final minute of play.
A fourth-down pass from Landon Cox to Malakai Lloyd continued the drive, but a fumble ruined the plans as South Caldwell held on for a 20-14 win to snap a seven-game Patriot streak in the head-to-head series and collect just their sixth win in the programs' 34 all-time meetings.
The winning touchdown for South came with 1:06 left on a 9-yard run by Jaxson Wilkerson (game-high 121 rushing yards) to break a 14-14 tie.
Freedom's final drive started at its 35 after the Spartan kickoff went out of bounds.
Cox completed a pass to Avery Pollard for 13 yards on the first play to get near midfield, and a defensive holding penalty on the Spartans positioned the Patriots past midfield and down to the 38-yard line.
Cox then fired incomplete three times before his clutch completion to Lloyd extended the series. But a failure to convert with time winding down in the red zone sent the Patriots (3-3, 0-2 NWC 3A/4A) to the loss.
Freedom is now just 2-5 in league games under second-year coach Justin Hawn after a streak of 10 straight seasons last decade finishing in top-three in the league standings, including three titles and five runner-up spots.
B.G. Hampton led the Patriots with 79 yards on 14 carries and scored both the team's touchdowns in the first (2 yards) and third (12 yards) quarters, first for their only lead and then to tie up the game.
South captured a 14-6 halftime lead after a 34-yard touchdown pass and a 35-yard interception return in a sequence of four plays.
Freedom surrendered 250 yards on the ground and was outgained in all by a nearly 2-to-1 margin, 309-158.
The game was plagued by turnovers (five total) as well as by penalties as both teams combined for 295 penalty yards including 205 for the Spartans.
Curt Young, rushing for 49 yards on five carries, aided Freedom's offense in moving downfield. Cox in his first start was 3 for 11 for 33 yards with two interceptions. Avery Pollard grabbed a third-quarter interception to lead the Patriots defense.
Freedom returns to Morganton for homecoming this Friday, hosting Ashe County.