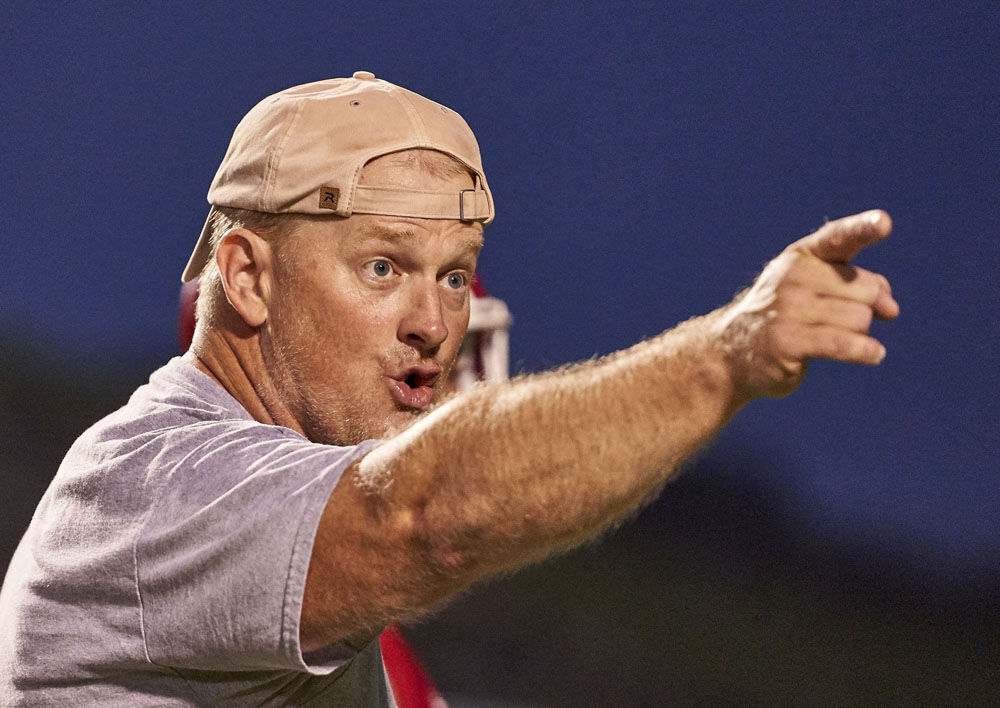 Patton High School on Wednesday announced that Mark Duncan has been named football head coach. The announcement was made via a press release from Burke County Public Schools.
Duncan, 45, had served as Freedom's defensive coordinator since 2017. In that three-season span, the Patriots held 10 opponents to fewer than 10 points, including four shutouts. Under Duncan, Freedom also led the county in total yards allowed and points allowed each of the past two years after allowing the fewest passing yards in the county in his first year.
This is Duncan's first head coaching opportunity after 18 years as an assistant coach.
"I would like to thank (principal Sara) LeCroy and the staff at Patton," Duncan said, according to the release. "My vision for the program will be student-driven, with new ideas and opportunities that will link with the already winning culture at Patton.
"Upon that vision, I want to build a strong foundation that is established on leadership, commitment, accountability, toughness, effort and community. … It will be my job as the head coach to inspire and motivate players, coaches and people of the community to take a personal ownership attitude for the program. … Most importantly, the program will have a family atmosphere which will be built on love, trust and respect for each individual."
Duncan graduated from North Stokes High School in 1993 and from Chowan University in 2002, playing football at both levels. He began his football coaching career in '02, and before Freedom, he both coached and served as weight trainer at Burns, Richmond County, Crest and Polk County.
At both Richmond County (2008; 4A) and Crest (2013; 3A), Duncan's teams played in state championship games. Duncan said he has coached all positions on defense in the past and was defensive coordinator at Crest (2012-13) and Polk County (2014-16).
He replaces Jonathan Browning, whose Panther teams finished with a 10-13 record with one playoff appearance over the last two seasons. Long-time PHS assistant coach Eric Shehan had served as interim coach since Browning's early-July announcement.
Duncan becomes PHS' seventh full-time head coach in the sport since the varsity program's birth in 2008. None of the previous six coaches have stayed longer than four seasons.
"Coach Duncan has a level of football knowledge, passion for the game and personal intensity that really impressed our hiring committee," LeCroy said, according to the release. "In addition, his personal values, integrity and vision of developing young men of character and as leaders stood out to us. His experience in extremely competitive programs has prepared him, and I know he will serve our school well in this role."
Patton athletic director Jeff Williams added, according to the release: "I am beyond excited to begin working with (Coach) Duncan. His experience and knowledge of the weight room will not only serve our football team but all of our student-athletes as well. He presented to our hiring committee a five-month plan to get our student-athletes ready for competition."
Duncan said he is currently working with PHS administration to set up a time to meet all the current football players. He said he started evaluating the coaching staff makeup on Wednesday.
"Just getting to know the coaches that are here, getting to know people in the community and gauge interest, talking to some guys I know," Duncan said.
Duncan said his and the PHS administration's vision for the program is compatible, calling that a big selling point in taking the job.
"It was just the right opportunity and right time to take the next step," he said.
Duncan is the third new football coach in the county to be named during this extended offseason. The regular season is set to begin Feb 26 and has been shortened to seven games. The playoffs have also been shortened by one round.
"Coaching through COVID-19 will be a new challenge indeed," Duncan said, according to the release. "I believe that to be successful, we'll need to have a plan and be flexible. The new challenges that we will face will bring new opportunities to be creative in how to organize workouts and practices and to rely on each other to make Patton football better."
Duncan and his wife, Miranda, a first-grade teacher at Icard Elementary School, have two children: Hannah at East Burke Middle School and Luke at Icard Elementary.
Be the first to know
Get local news delivered to your inbox!