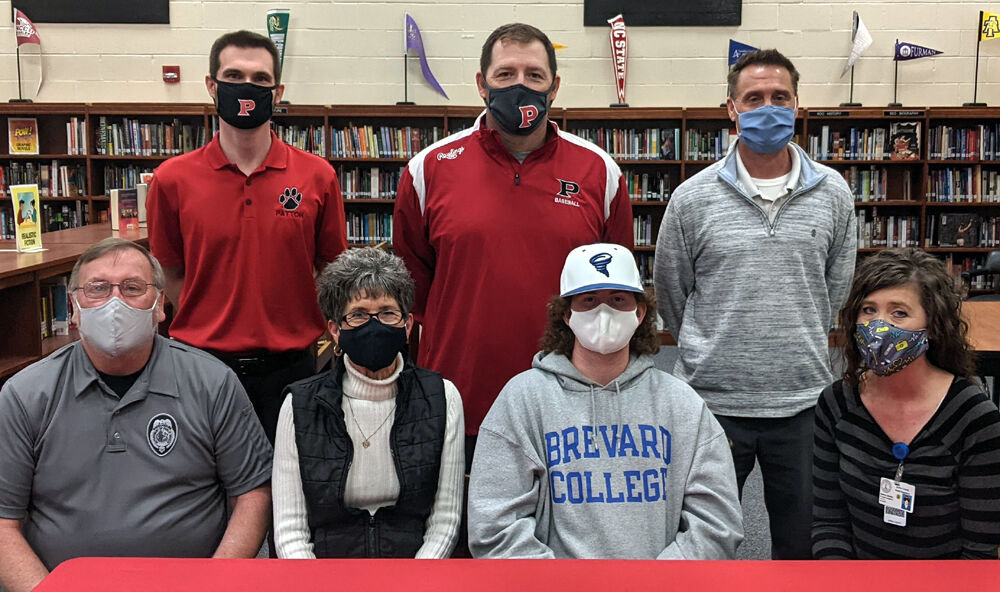 The local pipeline to Brevard College's baseball team kept flowing Tuesday as Patton senior Bryce Charlet signed with the Tornados.
The senior pitcher and infielder is the second Panthers player to sign with Brevard this month, following Peyton Smith, and those two will join a roster that currently includes PHS graduate Tanner Carpenter, former Draughn standout Ben Melton and Freedom alum Tristan Robinson.
Charlet was a key part of the Patton staff for his COVID-19-abbreviated junior season and was a starting pitcher for the Burke County Post 21 Junior American Legion team the summer before.
He'll join a Brevard squad that is a member of NCAA Division III's USA South Conference.
"I really love the campus," Charlet said. "When I met head coach Mike Victory, I really enjoyed it. He's a good guy. They have what I wanted to major in, health science, and I saw the baseball field and really liked it."
Patton baseball coach Jonathan Browning praised Charlet's dedication and work ethic during his time with the Panthers, noting those efforts have given Charlet the opportunity to play in college.
"He's matured a whole lot physically over the four years he's been here," Browning said. "A lot of that has been his hard work. He really does a lot of things on his own that have changed his body to the point where he's going to be able to compete at a college level. He's always here at workouts and always does exactly what he's been asked.
"He's done everything in his power to put himself in the position he's in."
Charlet said he has enjoyed the PHS squad's energy, companionship and camaraderie while working to improve his skills.
"It's been hours of work day in and day out," Charlet said. "I've just been improving every day. I really hope to show what I've got in college, and everything I've worked for. I'm really excited to get there and go to college.
"I want to bring a lot of energy and excitement. I hope to get a lot of strikeouts."
Browning expects continued improvement at Brevard, where Charlet likely will split time between the mound and at first base. The coach also expects that a fresher-than-normal arm will be a benefit for Charlet.
"I think he's got a lot of upside in the fact that he's not really thrown a lot of pitches at the high-school level," Browning said. "We expected him to be a key piece on the mound last year, but we got cut short. So the lack of experience on one hand will hurt, but the lack of wear and tear on the body, I think, will be a positive for him.
"He'll maybe be a little fresher than somebody who's thrown 1,000 pitches a year for the last four years."
The Tornados went 3-15 overall in last spring's shortened season, including a 1-8 mark in USA South play. In the program's most recent full season in 2019, Brevard went 10-26 overall and 2-21 in league action. The Tornados started their 2021 campaign with a doubleheader Sunday with a home doubleheader against nonconference foe Maryville.