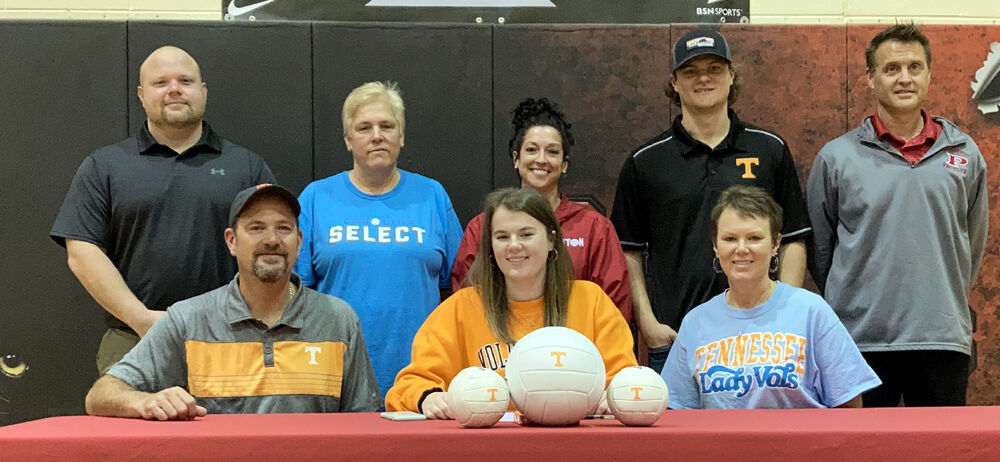 Patton High School senior standout Kenady Roper will play volleyball starting next season at the University of Tennessee.
Roper, a four-time all-conference selection who this season was named Mountain Foothills 7 2A Conference player of the year, on Wednesday signed with the NCAA Division I SEC program after making her official visit to the Knoxville, Tenn., campus on Oct. 10 and giving the program a verbal commitment shortly afterward.
Roper chose the Volunteers over interest from Gardner-Webb among several other schools.
"Tennessee was the biggest and my favorite option," Roper said. "When I took my visit, the players were so welcoming. We took a campus tour, and it just felt like home when I was there. And the resources that they have for female athletes are equivalent to males, and that's important for me. I'm very excited. It won't be easy, but it'll be worth it."
Roper finished her PHS career as the program's all-time leader in digs (1,666) to go with totals of 685 kills, 226 assists, 171 aces and 20 blocks. This past season, she led the Lady Panthers with both 439 digs and 381 kills and sported a .267 hitting percentage.
Roper played mainly the libero position as a freshman and sophomore before switching to mainly outside hitter as an upperclassman. She was an outside hitter before that at the middle school level at Liberty and will once again switch to libero, where she also plays in travel ball, when she arrives at Tennessee.
"One of my first coaches, Lisa (Godfrey), told me that I needed to expand and broaden my game and not just go for one position because you never know what you might end up doing in the future," Roper said.
"Defensively we have depended her. Offensively too," Patton coach Cindy Powell added. "When she first came in, it was more defensively. But as a player, she grew so much so quickly that later we were also able to depend on her offensively.
"She's a motivator, she's a leader, she's a go-getter. She puts the hours in, not only with our program but outside of our program. Her desire to get better is there; nothing's ever going to be good enough for her. She's always striving for what can I do better the next time. She is truly going to be missed. She fills a big spot on our team. Tennessee is getting a good player for sure."
Roper started the sport at age 7 at the recreation level, and by age 9 was on the local 13U Kryptonite travel team playing with and against much older players.
She then played club ball for Carolina Select and is now entering her second season with Carolina Union out of Charlotte. The team's season runs now through late spring, when Roper graduates from PHS and leaves early to start summer classes at UT. She says she's contemplating a kinesiology major in college.
"I definitely want to thank my family," Roper said, "especially my dad because he's been my coach and biggest supporter. And just all my coaches along the way."
Roper's play helped fuel Patton to a tie for second place in the league this fall and a third consecutive season with at least one state playoff win, which also includes trips to the NCHSAA 2A West semifinals during her sophomore and junior seasons. Roper's class leaves as the winningest in PHS program history.
"Making it that far in the playoffs was a really big accomplishment," she said. "For some of my best friends and teammates here at Patton, volleyball wasn't their main sport, so seeing them develop their love for the sport and watching them grow as players was just huge. When we first started, we were doing it for fun. By the end, we were doing it to win and get better."