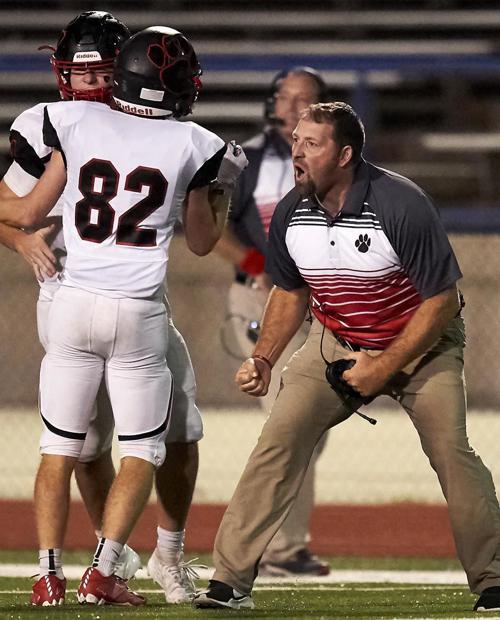 MARION — Nearly 35 minutes into a scoreless road game and facing a fourth-and-goal at his opponent's 9-yard line, second-year Patton football coach Jonathan Browning had a decision to make.
Should he try to go for the touchdown or should he trust his sophomore kicker?
Browning decided to have faith in Eliseo Ramirez, a 5-foot-7, 160-pound soccer player who joined the team late in the summer. It was the right choice.
Ramirez split the uprights from 25 yards away off a snap from Kalen Byrd and a hold from Weston Fleming. The 3-0 advantage with 1:27 to go in the third frame was enough as the Panthers held on for their first win of the year over nonconference foe McDowell.
"It felt great. It was a great moment in the game," said Ramirez, who was swarmed by his teammates after the kick. "I just practice a lot kicking footballs. I want to thank my offensive line, holder and snapper. It's pretty great, but it wasn't just me. The whole team worked hard for it."
Fleming and Byrd, who had a 26-yard passing connection earlier in the game, said practice makes perfect when it comes to executing as a placekicking unit.
"The connection with me and Eliseo is a great one," Fleming said. "I think it's just two parts coming together as a whole. (A win like this) takes a whole team effort and takes heart."
"It's all repetition," added Byrd. "Before the game, I was at that exact spot just snapping over and over, getting the snap and getting the hold. We were making sure we had everything clean and crisp. Eliseo took his steps and made the kick."
Fittingly for a shutout performance, the chance for the kick came after the Patton defense made a big play. With McDowell backed up to its own 5-yard line after two successive penalties, Titans quarterback Riley Moore appeared to break free for a big gain before John Franklin and Will Cain combined to force a fumble that Max Short recovered.
Two plays later, it looked like the Panthers (1-2) were on the board with a 9-yard Fleming TD run, but it was called back due to a holding penalty. The visitors battled back inside the 10 to set up the field-goal opportunity.
"I can't say enough about how our defense played," Browning said of the unit, which turned a 180 after allowing 101 points in the first two games. "That's one of the things we stress, creating turnovers every game. They did a great job of that, and they did a great job of playing assignment football with everybody doing their job and trusting their teammates to do theirs.
"On special teams, the obvious thing is the field goal, but Waylon Rutherford got a couple good punts for us that pinned (McDowell) deep there late in the game. That's a big momentum swing that puts us in a good spot to close it out."
Browning added that the winning field goal was a big deal for the Panthers, who emphasize practicing all three phases of the game. On Thursdays during practice, Browning has the kicking unit practice game-winning scenarios.
"We kicked under pressure," he said. "(Ramirez) is learning every day. He's not played much football. He's there, he's putting in the effort and he's taking the reps. He kicks and kicks and kicks. He comes over from soccer practice so we can get the snap-hold-kick down pat and clean up the timing on it.
"He's really put in a lot of effort."
On their penultimate drive of the game midway through the fourth quarter, the Titans drove to midfield but again were turned away when the Panthers' Jackson Vance forced a fumble that Ethan Pons recovered.
The PHS defense limited the hosts to just 88 total yards of offense, including only 57 yards on 20 rushing attempts (2.9 per attempt). Moore was held to 3 for 10 through the air for 31 yards as Pons also had a pass breakup.
Byrd and Ben Varsamis (two tackles for loss) led the Patton defense with five stops apiece. Pons (TFL) and Bryson Ratliff made four tackles apiece, and Cain registered a sack.
Ratliff led the Patton offense with 75 hard-earned yards on 17 carries. Playing tailback for the first time this season, Vance ran for 45 yards on 13 attempts. Fleming, who went 2 of 4 through the air for 31 yards, ran 16 times for 43 yards. Short carried the ball seven times for 22 yards.
Patton returns home this Friday to finish up non-league play versus rival Freedom in Motown Throwdown XI.
Be the first to know
Get local news delivered to your inbox!