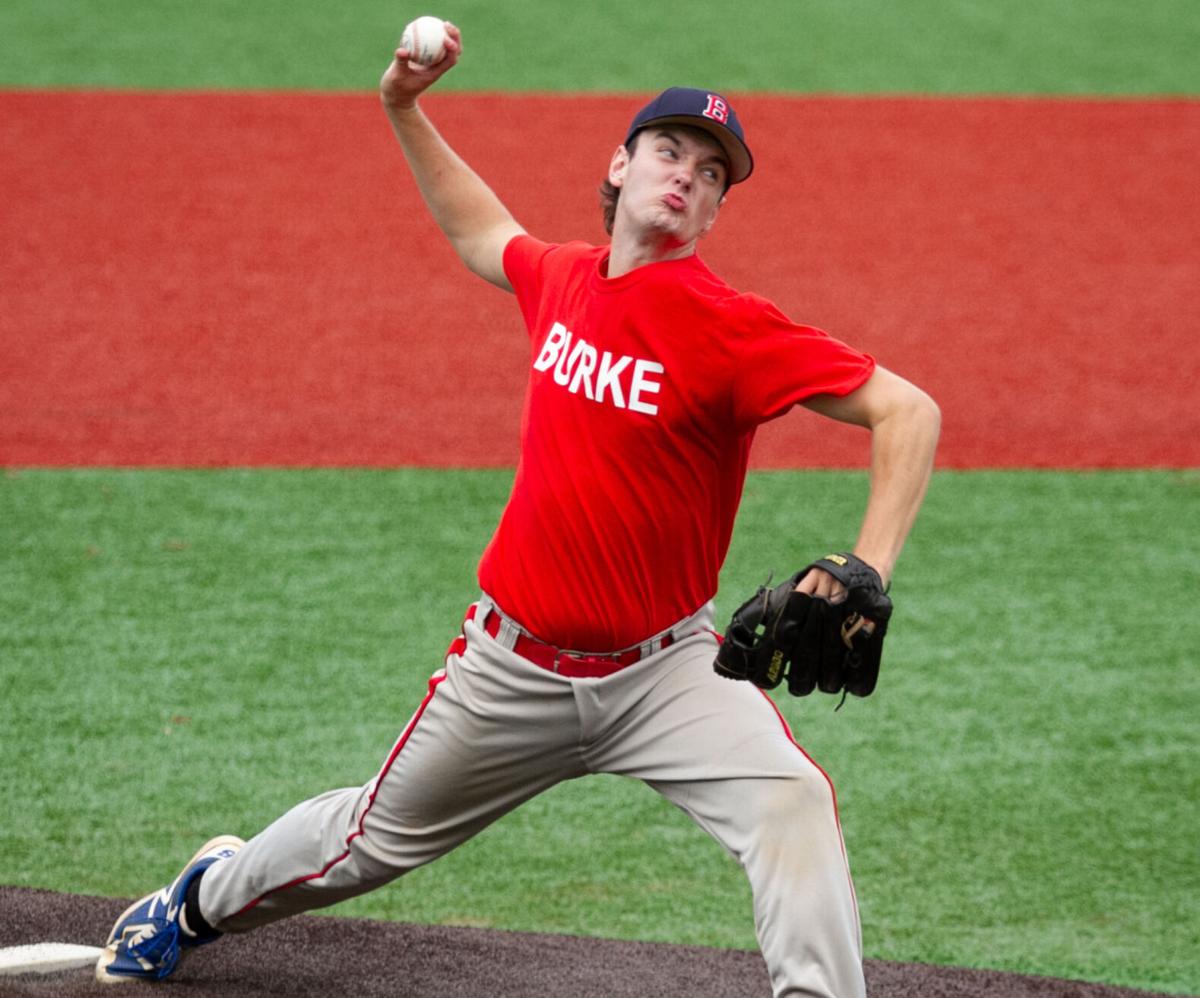 MARION — The winning hit in the final inning of the second game of a doubleheader Tuesday night was nice, but it wasn't Peyton Smith's highlight of the night.
"The mound. Always the mound for me," Smith said after he helped his Burke squad to 10-0 and 5-3 wins over Chase in Big League Camp Fall League play. "Just knowing I can go up there and dominate people. I got lucky on the hit. Sometimes it's better to be lucky than good."
No luck was needed for Smith from the rubber in the opener. The big Patton High senior right-hander struck out five and scattered three hits and a walk in a complete-game shutout, allowing just one runner to reach second base.
"That is vintage Peyton," Burke coach Ron Swink said. "He did a good job, pitched ahead, had a little pop on it. He didn't get frustrated. And he's hitting now too."
Smith and right fielder Christian White both hit RBI doubles in a five-run bottom of the first inning, and Bret Bedard plated two with a two-out single. Smith added another RBI double in the fifth as Burke scored three times (after two runs in the fourth) to end the contest early via run rule.
In game two, Burke (4-0) trailed 3-2 and was down to its final out with runners on first and second when Smith lifted a pitch to shallow right field. The defense was playing him so deep, however, that the ball found a hole just under the right-fielder's glove, and one batter later, Waylon Rutherford's RBI single to center did the same to account for the final margin.
"Early in game two, the bats were going just fine," Swink said. "We were hitting bullets but right at people, and they were making plays. Late in game two, we didn't hit it real good. But Carson (Dyson) got on, we bunted him over. Mason (Mozeley) gets hit and Peyton hits a pop-up that ought to be caught and the game's over but we get two runs there and then Waylon got a little bloop there. Things just worked out."
Brayson Buff (2 1/3 IP, 4 H, BB, 2 ER, K) started on the mound, Bedard (1 1/3 IP, BB) threw in middle relief and Mozeley (1 1/3 IP, BB, K) earned the win.
Smith added: "That builds our momentum for the next game. Everybody in the dugout was into the game. This was the loudest our dugout's been in a game so far and in summer ball. I think our whole team has gotten it together. We're on the same page; everybody's playing together."
In addition to Smith (4 for 6, run), Burke's offensive leaders on the evening included Bedard (three hits, two runs, walk), Mozeley (two hits, three runs, SB), Buff (two hits, three RBIs), Dyson (three hits, RBI), Noah Morgan (single, two runs, walk) and Easton McCoy (hit, run, RBI).
Burke faces McDowell in its next game on Sept. 22 at Big League Camp.
Be the first to know
Get local news delivered to your inbox!