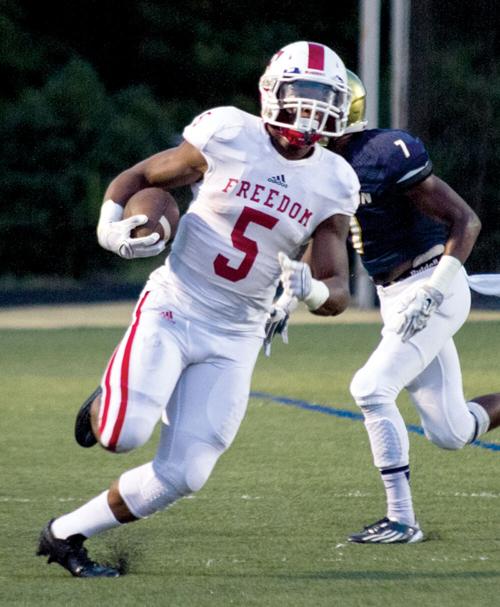 A look back at some of the top Burke County high school football games from September 2015 … five years ago at this time:
(EDITOR'S NOTE: The 2015 season was the closest the county has come to getting all four teams in the state playoffs the same year in the modern four-school setup dating back to the 2009 football season. BJ Emmons and Freedom won their third straight conference title, East Burke and veteran coach Tom Brown rode a skilled trio to an eight-win campaign, Patton turned the corner under second-year coach Tom Eanes and Draughn welcomed back coach Scott Lambert for a second stint with a big turnaround year.)
There is a new Burke County high school football rushing king.
And Freedom senior B.J. Emmons eclipsed the program and county all-time yardage list in the same sensational fashion which Patriots fans have grown accustomed to for three-plus years Friday in a 48-10 road win over T.C. Roberson at Easley Memorial Stadium.
With Freedom (3-1) leading 14-3 despite three early turnovers sandwiched around a 40-minute lightning delay, Emmons needed 51 more yards to make history.
He got nearly twice that much on one run, bursting through a seam from the 1-yard line and cutting back to his left to streak in front of the guests' cheering section for a 99-yard touchdown run.
With the run, Emmons surpassed former Patriots back Terry Sheffield, who finished his four seasons with 4,758 career yards from 1995-1998.
Emmons, who didn't get a single carry his freshman year but already held the county rush TDs record after last season, ended the night with 18 carries for 325 yards and four TDs.
"It gave us an advantage," Emmons said of the run. "It's a good honor knowing what kind of athletes we've had here and knowing that I'm able to be at the top of the list. It's a blessing. But I couldn't do it without my line; they're the ones that got me those yards."
After the record-breaking run, his next touch put the win on ice. Emmons fielded a punt at his own 5 near the sideline, juked and stiff-armed two would-be tacklers in rapid succession, then picked up blocks and eluded even more defenders zeroing in on him, exploding down the field for a 95-yard return and a 28-3 lead midway through the second period.
Emmons now has scored 95-plus yard touchdowns three different ways this season (rushing, punt return, interception).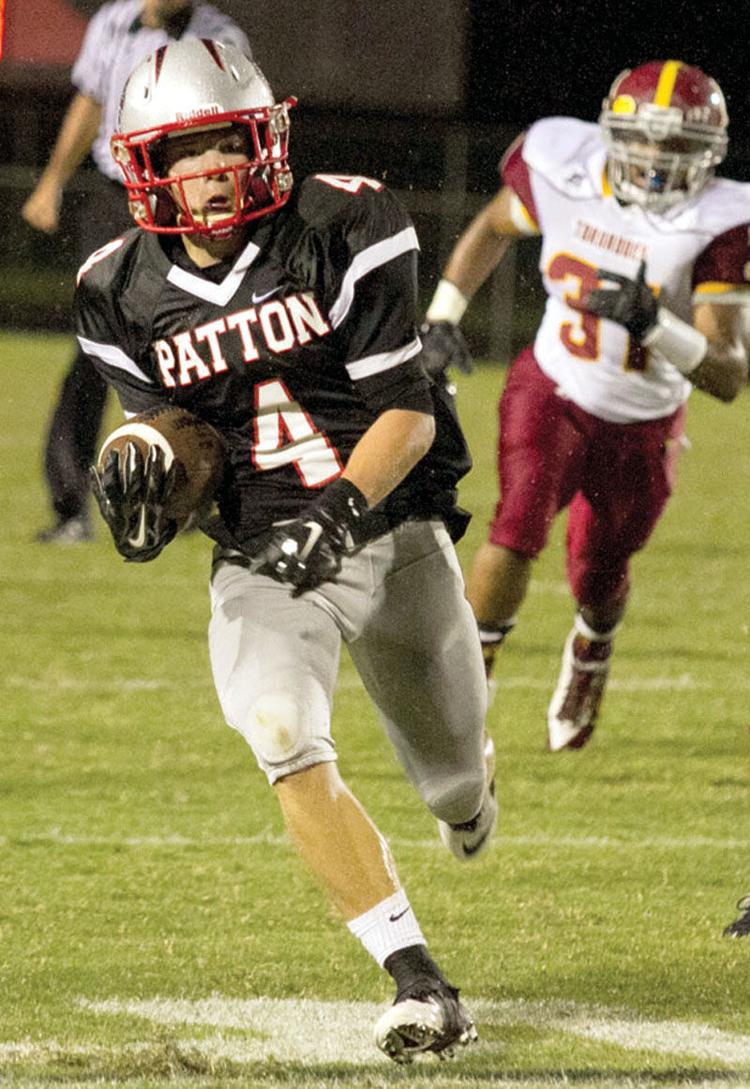 Patton 40, Hickory 20
Patton had waited a long time for a night like Thursday.
And it wasn't just to see head coach Tom Eanes lead the team's celebratory dance to the song "All the Way Turnt Up" after a 40-20 win in the locker room.
The Panthers racked up a program-record 518 rushing yards on 64 attempts at home — coming within three yards of a new record for total offense in a game — in an emphatic victory over Hickory.
It was the Panthers' first-ever win over the Red Tornadoes in both teams' Northwestern 3A/4A Conference opener. It was also Eanes' first home win with Patton and the most points the team has ever scored in a conference game.
"These kids this year have been unbelievable," Eanes said. "We know we didn't have anything on paper to show for it, but they hadn't given up. They've gotten better the last couple weeks. I'm just so glad for them. They've suffered, especially these seniors. People telling us you can't do this, you can't do that. But our rally cry is it's us against the world.
"The offensive line knows we get 300 yards (rushing), they get doughnuts. We get 400, it's pizza, and 500, it's wings. So they'll be excited about that."
The Panthers (1-4, 1-0) were led on the ground by sophomore quarterback Joe Eakin, who in just his second varsity start gained 185 yards and scored three touchdowns on 30 carries.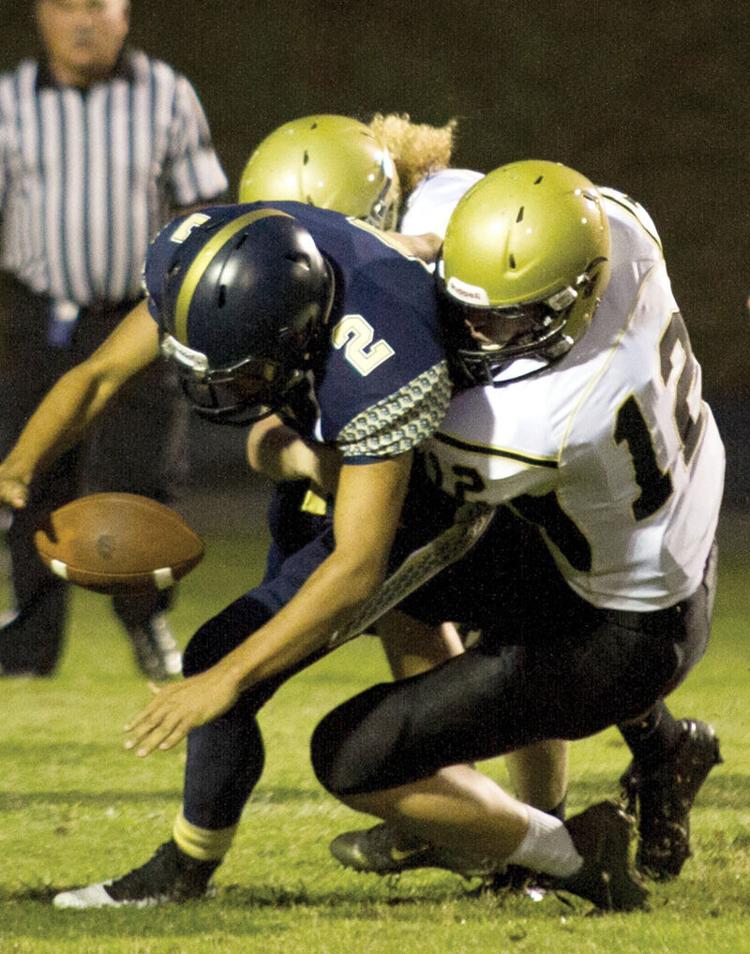 Draughn 10, Chase 7 (OT)
Draughn junior Abraham Sagaon Lozada is getting used to beating Chase on last-second field goals. More importantly, the Wildcats are getting used to winning.
A year after his 30-yarder from the right hash provided the only points in a Draughn homecoming win over Chase, Sagaon Lozada drilled a 19-yarder in overtime Monday to send the Wildcats to a 10-7 walk-off win.
It was the Wildcats' fourth victory already, matching their total from the last two seasons combined. It was also their second consecutive triumph in South Mountain 2A/3A Conference play, lifting them above .500 in the league for the first time since Week 8 of the 2013 season.
It's the first time Draughn (4-2, 2-1 SMAC) is two games above .500 overall since starting 3-1 in 2012, which was also the last season it reached the playoff-eligible status it attained again Monday.
"Same as last year, I give God all the honor and glory for this moment. I'm speechless again," Sagaon Lozada said.
"We're really happy for him. He delivered in the clutch," Draughn coach Scott Lambert said. "That's tough, overtime kicking it to win the game. Our holder Gavin (Bennett) did a good job, and we got it off in time and he delivered. To look back and know how tough this group had it last year, and to now be 4-2 and be playoff-eligible, I couldn't be prouder of them."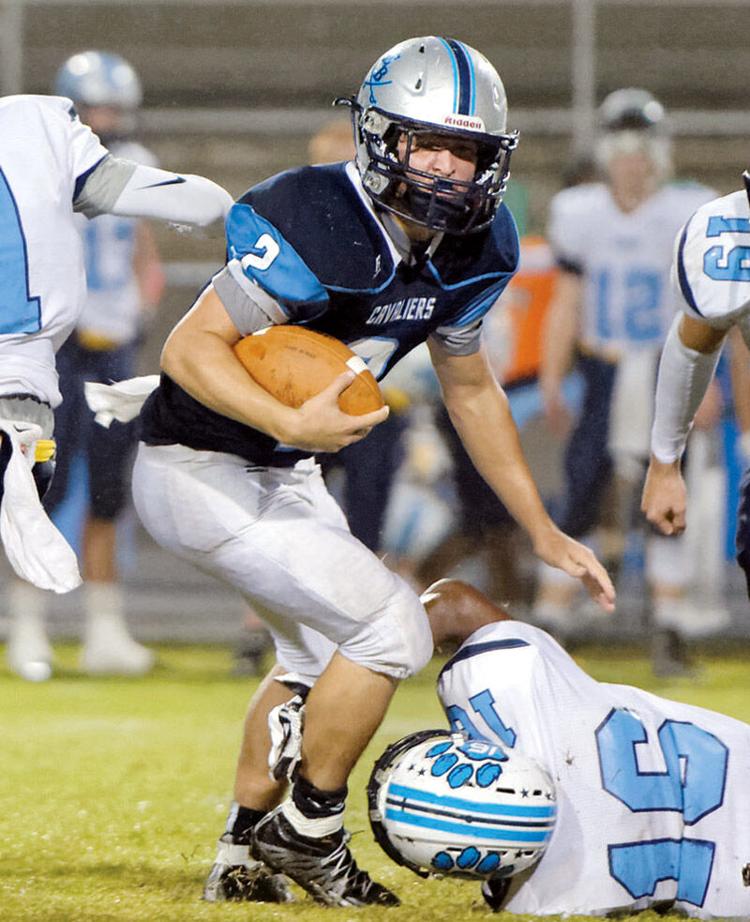 EB 44, Burns 33
When it mattered the most, senior Brandon Clark pounded the hammer down for the Cavaliers.
With only 71 yards rushing at the halftime break, Clark couldn't be corralled the rest of the way, finishing with 216 yards and five touchdowns in a win over Burns.
It gives Clark nine rushing scores over the last two weeks, the program's first back-to-back South Mountain 2A/3A Conference wins. In the process, the Cavs (3-2, 2-0 SMAC) claimed the first victory over Burns in conference play for any Burke County team.
Even with playmaker Ryan Newell sidelined for the second half due to injury, EB's explosive no-huddle offense scored nearly as many points as Burns allowed in its first four games combined (47).
Clark's second-half touchdown runs came in totals of 1, 4, 3 and 28 yards. They followed his 3-yard TD run in the second quarter, and he also finished the contest with a pair of two-point conversion carries.
Be the first to know
Get local news delivered to your inbox!