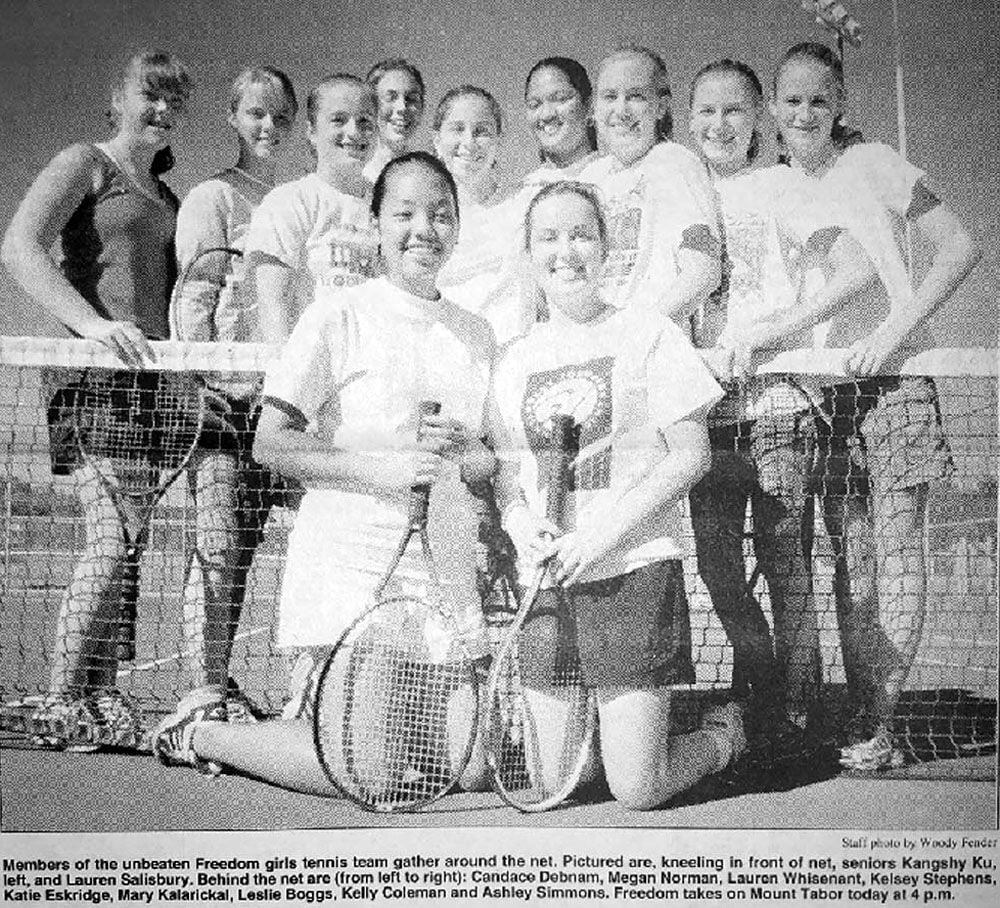 A look back at some of the bigger anniversaries in Burke County sports from October 2000 … 20 years ago at this time:
(EDITOR'S NOTE: The following articles each originally appeared in October 2000 editions of The News Herald. They have been edited.)
Sometimes when your back is against the wall, you find out just what you're made of.
That was the case on Tuesday afternoon when the Freedom girls tennis team rallied to beat visiting Mount Tabor 5-4 in the first round of the NCHSAA 4A state dual-team playoffs.
"This match is a good learning experience," said Lady Patriots junior Mary Kalarickal. "It will prepare us for the rest of the playoffs."
The Patriots (17-0), who went through the regular season without losing a match and ran their conference win streak to 33 matches spanning parts of the last three years, were just one doubles match away from elimination before rallying.
With the two teams splitting the six singles matches, it came down to the three doubles matches. At No. 1 doubles, Freedom's Kang-Shy Ku and Lauren Salisbury lost 10-4. Facing elimination, FHS' Katie Eskridge and Lauren Whisenant overcame a slow start in a 10-5 win.
"We were both nervous out there," Whisenant said, "but we had good teamwork and were able to pull through."
A few minutes after that match ended, the team of Kalarickal and Leslie Boggs took a 10-5 triumph to seal the team victory, finishing string by winning five of six games after leading just 5-4 in the 10-game pro set.
Freedom coach Marsha Crump was pleased with the team's effort.
"This was definitely our toughest match (of the year)," she said. "You just can't say enough about how we were able to come together today and win the match."
In singles, Eskridge and Whisenant remained unbeaten on the season with straight-set victories.
FHS volleyball repeats
The Freedom volleyball team clinched its second straight NWC 4A championship by defeating arch rival East Burke at home Thursday, 15-6, 15-8, 15-13.
The Lady Patriots (16-8, 9-1), who lost eight players from last year's state title squad, share the conference crown with Crest. The teams will draw Monday to decide the top two seeds for the conference tournament.
"This championship is extra special considering we basically had to replace almost an entire team," FHS Joanna Crew said. "I am very pleased with the girls and how they have come to work really hard."
The Lady Pats jumped right out of the gate in the first set, winning 10 of the first 12 points. The Lady Cavaliers then scored five straight but were unable to sustain the momentum, with Freedom winning the last five points and the set.
The final point came via an ace by Jennifer Miller, who was playing her final regular-season home match.
"She is an incredible person, not just a volleyball player, and I have had the privilege to see her grow these last four years," Crew said. "She has been a fabulous leader for our team and a true competitor."
The third set proved easily the most competitive. Up by just one late, Ginny Erwin's kill ended things for Freedom.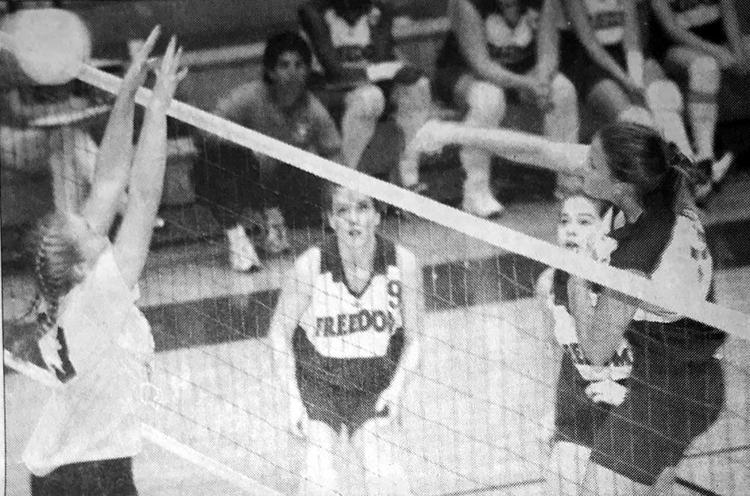 Pats-Cavs soccer split
A surprisingly frigid early October chill fell on East Burke Stadium on Monday night, but it did little to cool the county rivalry between the Cavaliers and Freedom.
With temperatures dipping into the 30s, the two teams fought tooth and nail for 80 minutes but that wasn't enough to settle things.
In the first of two overtimes, EB struck first, but it wasn't enough as the Patriots charged back with a goal of their own followed by the game-winner in the second OT session.
"It's always a big game when East Burke and Freedom play," said FHS coach David Fletcher. "Especially for us. We're in the chase for a conference championship. We had to win this game to stay in the hunt."
Freedom's 3-2 overtime win moved it a half-game closer to leader Watauga, who tied McDowell on Monday. The Patriots (14-3, 4-1) have now won both their overtime games this season, and broke a three-game losing streak vs. EB in the process. …
In the rematch later in the month, a pair of second-half EB goals including one on a penalty kick gave the Cavs some payback with a 3-2 win of their own on Senior Night at the Catawba River Soccer Complex.
EB couldn't come up with any better way to end the regular season.
"It's hard to think of a better way," Cavs coach Brian Jillings said. "I'm really proud of how the team played. For the seniors, it can't get better than this."
EB goalkeeper Michael Hussey helped preserve the win with 10 saves.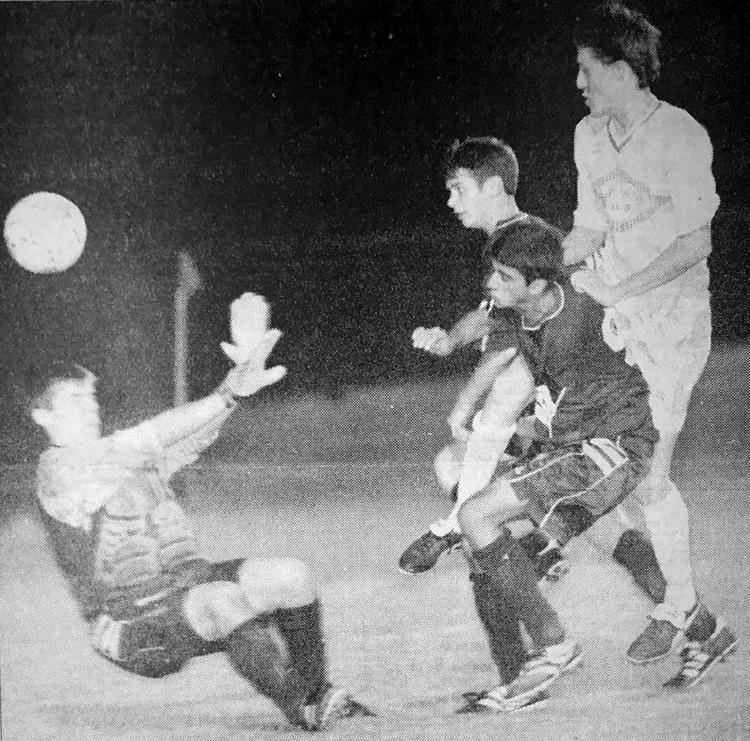 Four qualify for XC state
Both Freedom and EB runners fared well Friday at the NCHSAA 4A Western Regional cross country meet at McAlpine Greenway.
Freedom's Billy Houston (16:42) placed eighth overall to qualify for state at the same site next week, leading the Patriots to a sixth-place team mark. EB's Matt Dameron (17:23) took 22nd place to also qualify on the boys side.
In the girls race, FHS' Whitney Heavener and Hannah Owensby placed eighth and 10th respectively at 20:12 and 20:14 to advance to state individually and help the Lady Pats place sixth.
Future coach comes out
When Tom Harper took over the East Burke football program two years ago, the first thing on his agenda was to recruit Adam Hastings to play.
"I saw a future for him, and I told him I would take care of him as a person," Harper said.
It took Harper a while, but he convinced Hastings, who was a sophomore at the time, to come out.
"Basketball has always been my main sport, but I always loved football and for some reason I didn't play," Hastings said.
Hastings, who never had taken a snap at any level of football, began the process of learning to play offensive line. Hastings said the learning process was hard but he tries to get better each time he steps onto the field.
Hastings credits Harper for helping him learn, grow and adjust to his new sport and position.
(NOTE: Hastings has certainly stayed with football. He coached offensive line for the 2005 and '06 EB teams and has accumulated more than 50 wins from the sidelines in the time since as head coach at Charlotte schools Ardrey Kell and Providence Day, whom he guided to the 2017 NCISAA Division I state championship game.)
Be the first to know
Get local news delivered to your inbox!