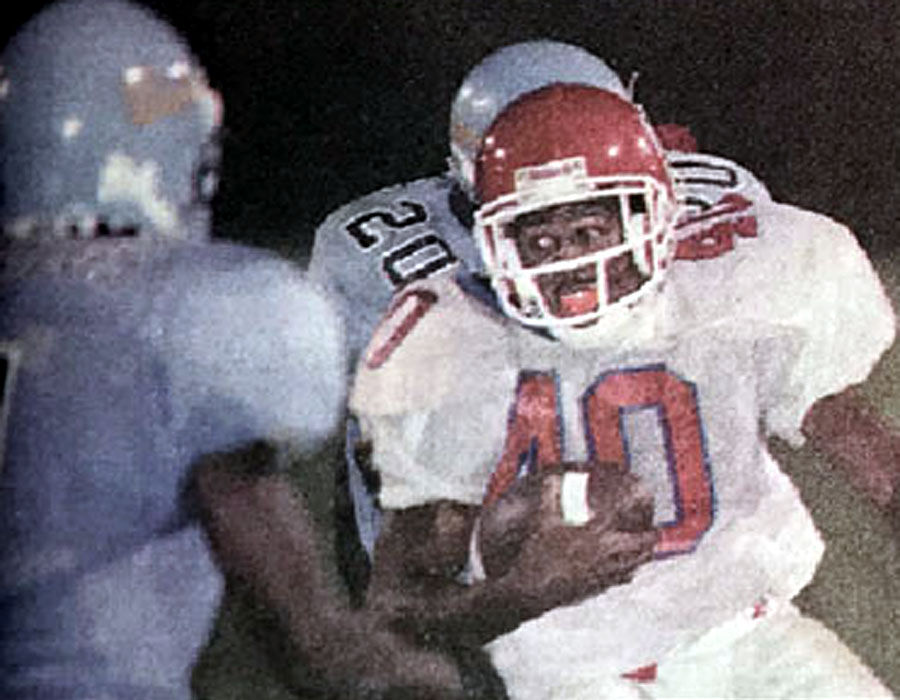 A look back at some of the top Burke County high school football games from September 1995 and 2000 … 25 and 20 years ago at this time:
(EDITOR'S NOTE: Freedom would beat Avery County handily and eventually end the month of September 2000 at 5-0 with a 25th consecutive regular-season win, adding to a school record that still stands.)
LAWNDALE — A slow start for Freedom is nothing new, but a touchdown for Burns had been a rare feat this season.
The Bulldogs not only scored their first touchdown in 13 quarters Friday night, they also gave the Patriots a run for their money for at least a half, trailing just 7-6 at halftime.
Following a fiery halftime speech by coach Tim McMahon, the Patriots came out ready. They needed just two plays and 23 yards to surge in front 14-6, and from there scored three more TDs before Burns scored in the final minute to send Freedom back home with a 34-13 victory and a 4-0 start to the season.
Burns had totaled six points over its opening three games.
"We didn't come out playing very well," McMahon said. "We didn't think our focus was as sharp as it should have been. What concerns me was our poor tackling."
The Bulldogs led 6-0 after covering 80 yards and converting two big third downs. Patrick Henson scored on runs of 13 and 29 yards, and fellow running back Chris Chapman (team-high 106 yards) added touchdown carries covering 1 and 45 yards.
"He's a good back," McMahon said of Chapman. "He's played well all year."
Quarterback Robert Smith had a 3-yard touchdown run and passed for 95 yards.
Freedom won despite 115 penalty yards, more than twice Burns' 53 yards, and a nearly 2-to-1 differential in time of possession favoring the Bulldogs.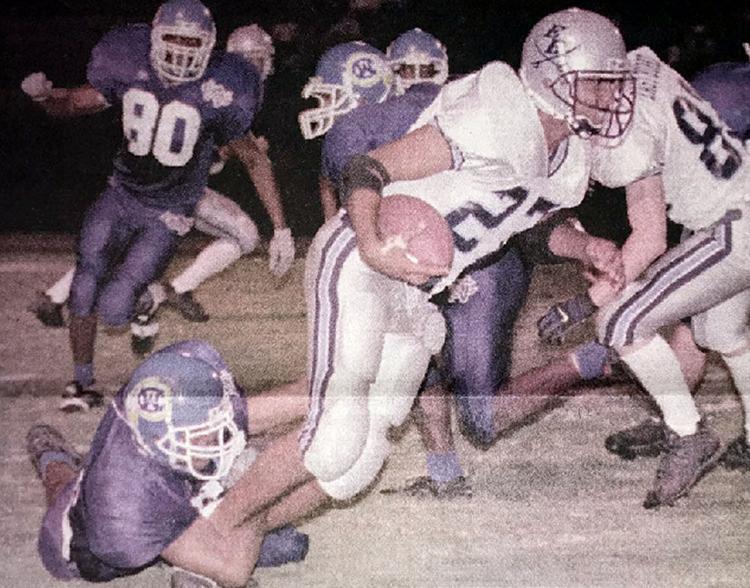 EB 22, Hibriten 13
East Burke got back into the win column Friday night at home, scoring on offense, defense and special teams and limiting the Panthers to 71 rushing yards.
The Cavaliers improved to 2-2 and have not allowed a 100-yard rusher yet this season, though Hibriten did find success in the form of 164 yards through the air.
"The bottom line is we won," said EB coach Tom Harper. "Even if it was ugly, we found a way to win. Even if it was overcoming our own mistakes."
But it was Hibriten's mistakes that allowed the Cavaliers to put the game away in the second half. The Panthers lost three fumbles and an interception, with EB turning two of those takeaways into touchdowns.
A Ricky Davis 52-yard fumble return touchdown made it a two-score game in the final period and helped seal the win. EB got earlier rushing scores from Daniel Frazier and quarterback R.J. Mozeley. Frazier's TD made it 6-6, and EB never trailed again. Ricky Ball added a 33-yard first-half field goal.
Donnell Cuthbertson led EB with 58 rushing yards, Frazier added 52 and Ball had 51.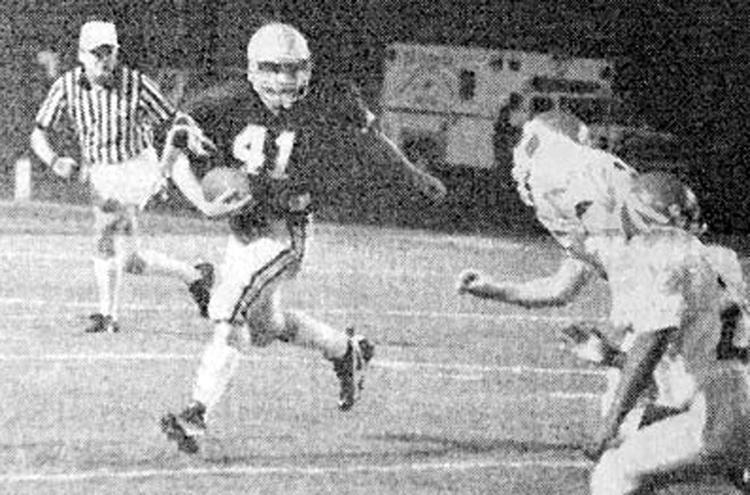 W. Caldwell 26, EB 23; 2OT
(EDITOR'S NOTE: Close games but frustrating losses became an early trend in coach Curtis Threatt's first season in Icard, which ended under .500. Year two would pan out much better, with eight wins. The Patriots also experienced growing pains in 1995, McMahon's first year of a very successful tenure that stretched to 2005.)
Although the scene was eerily similar to what unfolded last week, it just wasn't meant to be for East Burke this time.
West Caldwell quarterback Errol Hood punched into the end zone from a yard out Friday at Danny Williams Field, dashing EB's hopes for a repeat outcome.
"This was about as exciting as you can get," Threatt said. "It's been a wild season so far, daggone it."
Wild indeed, as for a second straight week, EB came back from what appeared to be several hopeless situations, trailing 20-0 but pushing the game into overtime.
And whereas last week's win at R-S Central only went one overtime, Friday's game went two overtimes. One can only wonder what will happen next week. Three overtimes, perhaps?
"I'm getting too old to go through many more like this one," Threatt said. "I like to win 'em in regulation."
The Cavs' comeback bid started with a Joey Smith to Trinity Hare 44-yard touchdown pass midway through the third quarter. Howard Anthony plunged in from 2 yards out to make it a one-score game early in the fourth before Smith found Hare again covering 26 yards with 34 seconds remaining.
EB's best chance then came after a West missed field goal to start overtime. But the Cavs answered with a miss of their own to extend the game. Mark Rector led EB with 75 yards rushing on 11 carries.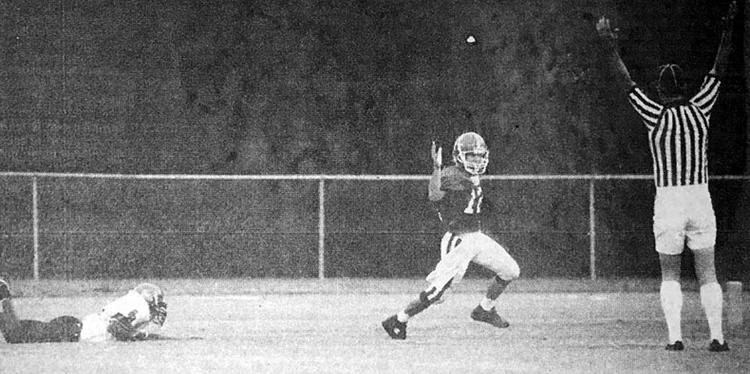 Freedom 20, E. Rutherford 12
A week after suffering through the fourth-worst defeat in school history (37-0 vs. Shelby), the Patriots bounced back to beat the Cavaliers again gain their first win of the year.
"Coming off last week, this was an important win," McMahon said. "But we have to remember we haven't won the Super Bowl and we didn't win Fat Friday tonight. It was just one more step toward improvement. But our young team needed a victory."
The opening loss nurtured more team unity, something Freedom will need as it continues the season, junior quarterback Brad King said.
"We got our heads on straight and came together as a team tonight and played as one. No matter the stats, we had no individuals," said King, who scored all of Freedom's points on touchdown runs of 46, 6 and 4 yards plus a two-point conversion carry.
King rushed for 114 yards and completed 6 of 9 passes for 94 yards in a game to remember.
"Brad's performance was one of the gutsiest I've ever seen," McMahon said. "And it wasn't just the physical part, it was the mental part too, and how he led the team. He didn't get flustered, he just continued on with the next play. He runs our team."
Be the first to know
Get local news delivered to your inbox!