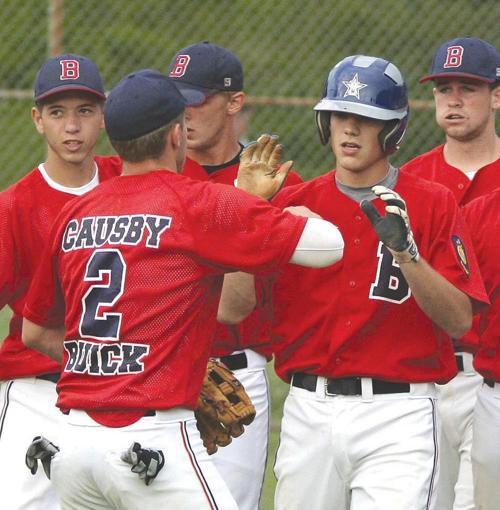 A look back at some of the bigger anniversaries in Burke County sports from June 2000 and 2010 … 20 and 10 years ago at this time:
(EDITOR'S NOTE: The Burke County Post 21 American Legion baseball team was involved in some serious slugfests one decade ago this summer. Entering June 5 at 4-2 overall, Burke dropped a non-division home contest to Clover, S.C., 18-14. The next night, Post 21 traveled to East Henderson High School and whipped Henderson County Post 77 by a 23-9 margin. And while Post 21 hasn't scored that many runs in a game again in the 10 years since, the club played a wild contest with Hickory Post 48 just two nights after that, rallying from a trio of four-run deficits to win, 20-15. The following is from two articles that originally appeared in June 2010 editions of The News Herald. They have been edited.)
It was all about the Post 21 offense Sunday afternoon when the boys from Burke County went to Henderson County Post 77 and slammed nine home runs over the fences, winning 23-9 after seven innings of play.
Head coach Ron Swink said the team gave an offensive performance unlike any he had seen in nearly three decades of coaching.
"That's the most home runs that we've ever hit in a ball game by far," he said. "But I've been saying all season that we've got good hitters."
Henderson scored four unearned runs in the first inning to take an early lead after Burke scored two.
The real action started in the third when left fielder Dykota Speiss (4 for 5) dropped a single into center field. Right fielder Justin O'Dear brought in a run on a single that got past the shortstop. Then catcher Brent Rowe started his 5-for-6 onslaught at the plate with a two-RBI double down the third-base line to give Post 21 the lead they extended the rest of the game.
The entire Burke lineup batted in the fourth. Patton High products Speiss and Aaron Attaway had home runs and Rowe slugged a monstrous grand slam. Post 21 ended the inning with a 13-4 lead.
Second baseman Eli Miller led off the fifth with a solo home run. Then Rowe smashed an RBI double to right field to put Burke ahead 15-4.
Attaway led off the sixth with his second home run, and Hopkins (3 for 4) added a three-run shot over the fence.
The seventh saw a two-run homer from Speiss — his second of the slugfest — and a two-run blast from Freedom's Mason Webb. First baseman Tre Young also went yard in the lopsided win.
… For a while on Tuesday night at Shuey Field, Hickory appeared to have Burke County's number in an Area IV Western Division makeup game.
Hickory took its third four-run lead of the game, as the Burke boys trailed 12-8 after the top of the seventh inning.
Burke sent 17 batters to the plate in an unbelievable bottom of the seventh inning, scoring 12 runs to leap out to a 20-12 advantage. Two innings later, the scoreboard showed Post 21 still standing, with a 20-15 win.
Hickory never trailed until the big Burke seventh, though Post 21 had battled back to the game twice, at 4-4 and 8-8.
Burke's seventh inning explosion came after Hickory had used long balls in the sixth and seventh innings to put seven of their eight runs on the board.
But four runs on five straight hits later, Burke had tied the game, as doubles by Spiess and Rowe highlighted the Burke sixth. A three-run blast ensured the game wouldn't be tied very long and Hickory was back in front, 12-8.
But Post 21 answered right back with seven hits, four walks, two errors and a sacrifice fly to plate a dozen.
"We got our chances in the seventh inning, and the guys took advantage of them," Swink said. "I am very proud of the way we keep battling, as we got down by four runs several times tonight."
The game featured 25 hits, 19 walks and nine errors. Rowe had Post 21's only homer, finishing with three extra-base hits, three runs and four RBIs. Hopkins (double, three runs, three RBIs), Spiess (three runs) and Miller (two RBIs, two walks) also had three hits each.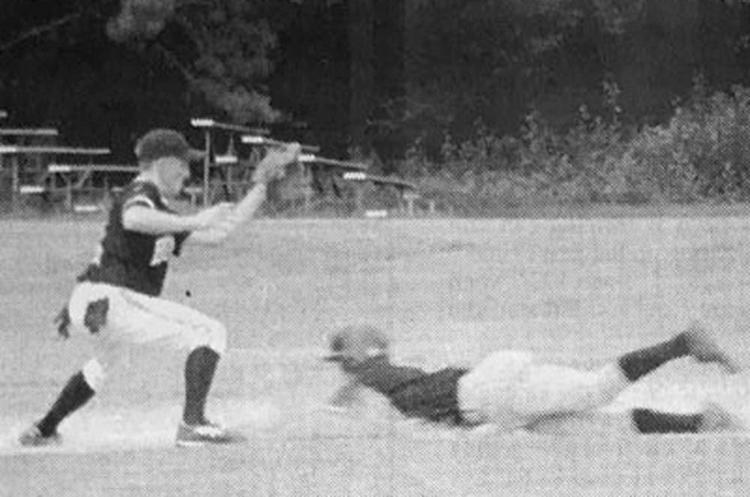 '00 club wins playoff series
(NOTE: The following is from two articles that originally appeared in June 2000 editions of The News Herald. They have been edited.)
No. 16 seed Burke County Post 21's season was not going to end last night against Gastonia Post 23 at Shuey Field. Matt Dellinger and Dusty Davis would not let it happen.
Down 4-2 in the bottom of the ninth, Dellinger belted a two-run homer to tie the game at 4-4 and send the rubber match of the three-game series into extra innings. Davis continued the heroics by sending a blooper over third base to score Matt Stiles and give Post 21 the 5-4 victory in the bottom of the 10th.
"This was more fun because tonight was do or die," Swink said. "We don't usually come from behind to win."
For eight innings, it appeared Burke had no answer for Gastonia starting pitcher Chris Neal, whose lively fastball coupled with the guests' defense held Burke at bay, the hosts stranding 12 runners.
But Dellinger — who tossed a two-hitter with 10 strikeouts this season and in another win, whiffed eight while delivering a three-run homer — kept Post 21 in it. He was perfect outside of two innings, retiring the side in order six times.
Burke had won Game 1 at home but dropped Game 2. In the 9-6 opening victory, Burke seized a 6-1 early lead thanks in large part to Jimmy Mull's three-run homer.
Be the first to know
Get local news delivered to your inbox!