EDITOR'S NOTE: The News Herald sports editor Paul Schenkel sat down with long-time area track and field coach Robert McGimpsey to discuss some of the biggest track stars and accomplishments in Burke County history for today's lookback article. McGimpsey was a member of Freedom's first two boys track teams, a timespan which featured the Patriots' first WNCHSAA individual state titles and a second-place association finish as a team. He has coached the sport at both Freedom and Patton high schools and at Liberty Middle School as well as in the summer at the youth level, and has coached or seen all of the athletes about which you will read here…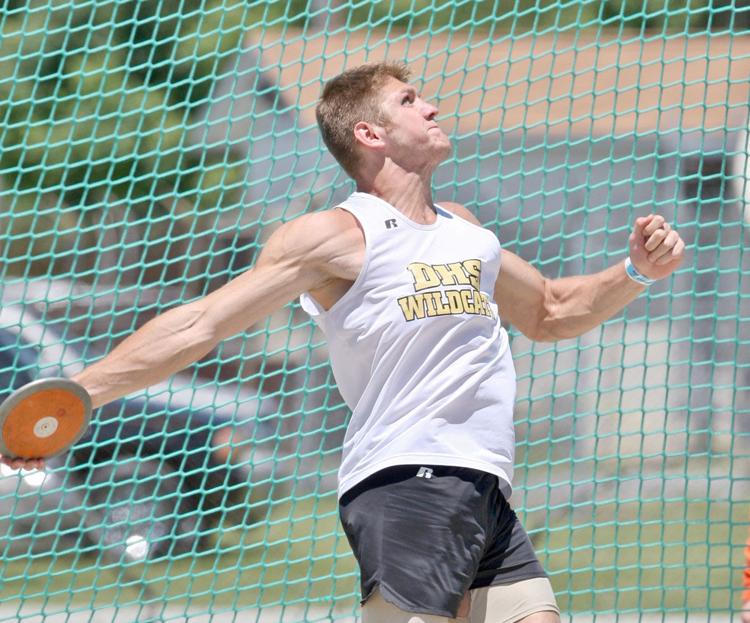 Manns was the Wildcats' first state champion and is the only athlete in county history to repeat with gold in two events.
(NOTE: This article originally appeared in the May 13, 2012 edition of The News Herald. It has been edited.)
There was simply no denying Draughn senior Adam Manns from consecutive state titles in two events.
With a shot put mark of 56 feet, 1¼ inches and a discus throw of 160 feet, 8 inches, the East Carolina recruit successfully went back-to-back in both throwing events at the 2A state track and field championships at North Carolina A&T.
He ended his Wildcat career with 13 straight wins in the shot and discus, a streak that spanned more than 1½ seasons worth of meets.
"It was my goal and I met it," said Manns. "I couldn't feel any better. It's a real huge accomplishment for me."
Manns started off with the shot put, finishing with an advantage of four feet over Northside's James Rowland. He then made the trip outside Aggie Stadium to the discus where he joined fellow Wildcat senior Brandon Osborne and finished ahead of Rowland by three feet, six inches.
Osbourne finished fourth (145'7") as both he and Manns ended their senior years by standing on the podium to receive medals.
Manns had won both events as a junior in 2011 with distances of 52' 5½" in the shot and 167' in the discus.
McGimpsey: "He was a tremendous athlete, football, basketball and track. He was just an all-around stud. Going back-to-back in the shot and discus is big stuff. That's really hard to do in North Carolina or anywhere. We have an awful lot of talented athletes in this state, a lot of good coaches. To win any state title in North Carolina is tough, but to win them back-to-back or win more than one in a year takes a lot of hard work. It doesn't just happen."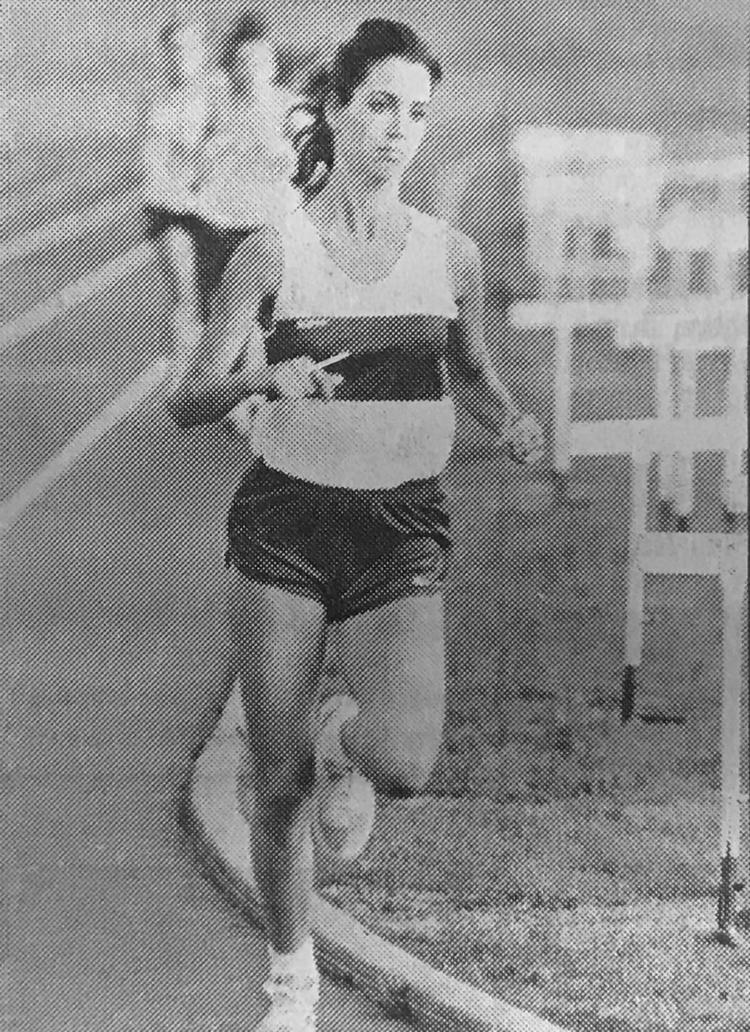 Along with Manns, Hudson is the only four-time outdoor state champion in the county. She holds the distinctions of being the first Lady Cavalier to win gold at state and being the only athlete in county history to win outdoor track gold in three different seasons.
(NOTE: This article originally appeared in the May 30, 1988 edition of The News Herald. It has been edited.)
With the Western North Carolina Society's debutante ball coming up, it was quite fashionable that East Burke's Cessy Hudson ended her athletic career in the public forum — and very much in style.
Hudson, a 17-year-old senior who will be attending the "coming-out gala" in June, breezed through the 1600- and 3200-meter runs Saturday at the state 4A girls track and field championships at Duke University, bringing home her fifth and sixth state titles of a wondrous prep career.
She crossed the finish line in the 1600 in 5:10.38 and the 3200 in 11:18.05 to add two state titles from the same meet for the first time ever. Hudson won the 3200 (11:09.30) in 1986 as a sophomore, the 1600 (5:07.03) as a junior and added a cross country and indoor 1600 crown along the way.
The soon-to-be Clemson frosh said she had long wanted to win both events the same year but was careful not to count chickens.
"I thought I had a good chance, but I've learned never to expect anything," she said. "I'm happy about winning both events. That's something I wanted to do my senior year.
McGimpsey: "Biggest thing about her was she just enjoyed running. She loved to run. It was just running 5 miles, 8 miles, or come back from one event and then run 2 miles. She had fun doing it. She tried to play it off and act like she didn't train that much. She'd go to the beach with her mom and run 5, 6 miles down to the next pier. She'd say, you could see it, it was just right there on the beach.
"Her older sister, Julie, was a good runner so she was pushed by trying to keep up with big sister. … She really didn't like losing. A lot of kids lose and get down on themselves. She would just have that determination that, OK you beat me this time, but next time I'm gonna get you. She was really gritty."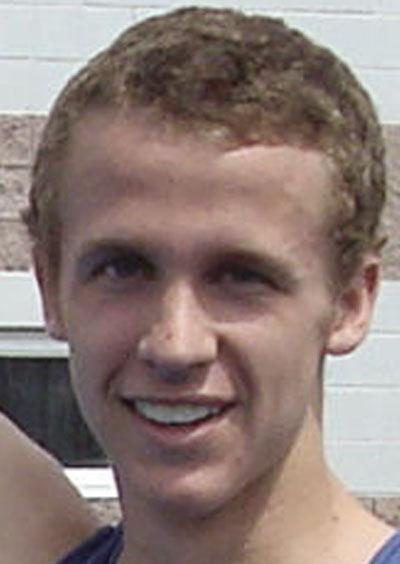 Tanner Anderson, East Burke
Anderson started 2010 with a bang that eventually grew into a sonic boom a few months later. He won his first state title at the NCHSAA 1A/2A/3A indoor track championships at UNC in February with a high-jump clearance of 6 feet, 10 inches.
Anderson placed second in the nation in the same event at the 2010 Nike National Indoor Track and Field High School Championships, earning first-team All-American honors.
Then he broke the state all-time record (7'3¼") at an outdoor regular-season meet in Mooresville and broke two more records in winning NCHSAA outdoor gold. And in July, the Duke recruit — who would go on to break two Blue Devils records as a freshman — was named to the "jumps team" of the All-USA Today track and field team.
(NOTE: This article originally appeared in the May 16, 2010 edition of The News Herald. It has been edited.)
Tanner Anderson capped off a highlight-filled career on the high school level in the high jump event at N.C. A&T State University in the 2A state championship track meet. Anderson, with a jump of 7-feet, 2½-inches, broke both the 2A state record and all-time state meet record regardless of classification, along with capping a goal of being crowned as state champion.
"It's definitely a blessing and I came in here thinking today I could have a great shot," said Anderson. "But when I cleared the 7-2 landing, it pushed me to go higher and breaking records is a plus."
After breaking those two records, Anderson felt driven to attempt a mark of 7-4 and raise the bar for the high jump record, possibly going away as the top-ranked high jumper in the country. Anderson's three attempts at 7-4 were close, but not successful.
"I thought I had it on the third attempt, but I'll save it for nationals and attempt it again," he added.
McGimpsey: "(EB coach) Odell (Williams) said when he started taking Tanner to Lenoir-Rhyne to jump on a synthetic surface during his junior season I believe, his legs freshened up and his jumps went up about 4 inches. I think Tanner first jumped 7 feet right around that time as a junior. His senior year, in Mooresville when he hit an all-time state record, that's among the all-time top 10 or 15 best nationally. I believe the national record is 7-feet-6. That's pretty wild. That's way up there. In most high school meets, if you can jump 6-6 or so, you are gonna win 8 or 9 out of 10 meets. To jump 7 feet in high school is a big deal."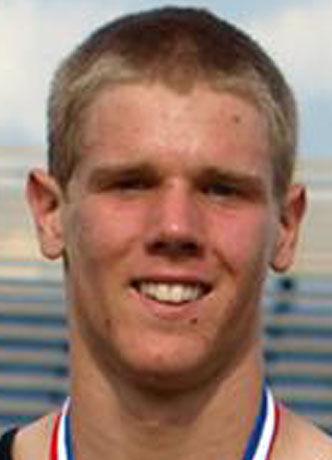 Schilkowsky bolted onto the scene as a sophomore when he won the Panthers' first-ever NCHSAA state gold, taking the 2A boys 800 meters in 1:57.28. A year later at the same meet, he came back and posted a county-record time (which still stands) of 1:54.04 for back-to-back gold medals, qualifying for the outdoor nationals in Ypsilanti, Mich., that summer.
He topped that by reaching indoor nationals in New York as a senior and earning All-American status there with a runner-up finish in the 800. From there, he was invited to run in the prestigious Gibson Relays in Jamaica.
Schilkowsky very likely would have won outdoor in 3A as a senior a few months later, as PHS bumped up one classification that season, and become the county's only athlete to three-peat in an event — "That's what we were working toward," McGimpsey said — but a stress fracture cost him nearly the entire outdoor season.
McGimpsey: "He started with me at Liberty in seventh grade. I had seen him playing soccer and thought, this kid's pretty long and gangly. Tim Barnsback, who was also teaching and coaching there at the time, asked me if I could teach him how to run. So I worked with him, and real quickly you noticed he had a lot of bounce and covered a lot of ground per stride.
"He went to Washington D.C. with our seventh graders and comes back the day before our first conference meet at Heritage, and I'm not gonna let him run. Well, we had a kid in a relay get hurt, and of course John asks me to run. He says, 'I've got my uniform on under my clothes.' The kids tell me, let him run. He gets ready, so we start and we're pretty far back, and he catches the kid from 15 yards behind. John takes off like a bullet and catches him on the backstretch and never looks back.
"So then ninth grade, we're at South Caldwell in a Polar Bear meet. South had a really good runner, Chase Eckard. John is in our 4x4 relay and gets after him. John can't quite catch him that leg but almost, and John hands the baton off and we do end up winning. But John thinks he's run a bad leg. It was like 54 (seconds) flat. I said, 'John that guy was third or fourth in the mile last year at state.'
"John just really had a lot of competitiveness to him. He really wanted to go to UNC. I thought he was going to, and then they decided didn't want him, the coach tells him we hope you find good place to run or whatever. Well the thing is, John's 800 PR was faster than anyone on the team. So Carolina lost him, and Cornell got him. And he had a very good career running up there. … That's pretty good when your second choice is one of the best colleges in the world."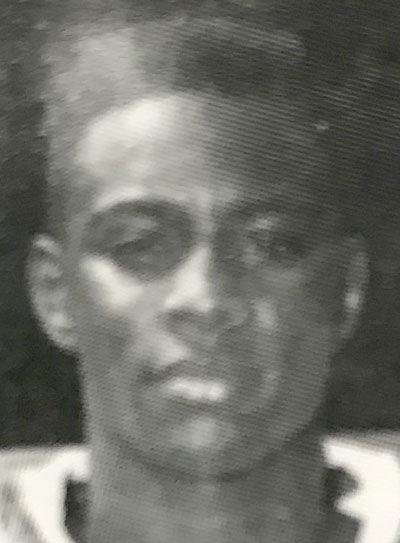 Freedom's first-ever back-to-back state champion, Johnson stayed quite busy in his time with the Patriots and is best remembered for other things, like being one of the best running backs in ACC history at North Carolina, going on after that to enjoy a nearly decade-long NFL career, being a Burke County Sports Hall of Famer or being drafted by the San Francisco Giants as a teenager.
That's right. For Johnson, after football in the fall and basketball in the winter, one sport just wasn't enough in the spring.
Johnson won the outdoor 4A state gold in the boys long jump in 1991 with a distance of 23 feet, 8¾ inches, breaking Jay Wilson of Freedom's county record from 1989.
He repeated in '92 in style at the 4A outdoor meet at UNC, becoming the first back-to-back champ in the boys long jump since prior to 1986 when the classifications split into separate state meets.
His winning mark of 24'7 ¾" that season at state — established on his final jump as a Patriot — ranked No. 8 in the nation. The distance also set a 4A state meet record that stood until 1997. Johnson then went to the International Prep Invitational near Chicago, an event that invited the top 10 nationally. Johnson was runner-up, losing by a half-inch but earning the county's first-ever All-America accolade in the sport in the process.
McGimpsey: "He made nationals after his eighth-grade year in the 13-14 boys triple jump and got down there and went third I believe.
"Fast forward to his senior year, he was at Carolina after already having won state his junior year with a county and school record 23-8. He comes down to his last jump and had that look in his eye only Leon could get. He came down there — we were in the stands — and he hits the board and I mean, man, you can hear it and it's loud. Then it looks like he's walking up a ladder.
"Big thing about Leon, from the time he was a little kid — and it's a credit to parents, and Odell coached him and says the same thing — whenever I had Leon do anything, it was always, 'OK coach.' Never back-talked, just did it. His attitude and work ethic was so good.
"I don't even know how you play two sports in one season. He was like Morganton's Bo Jackson. He could do anything.  … When you get a kid to that level, he's willing to try anything too and he's probably pretty good at it. Shawn, his older brother, was on the team and he was a great athlete that ran at state on a relay. Juan, Shawn's twin brother, was a great thrower too. And they were both older than him, so I think it really pushed him and you see the results."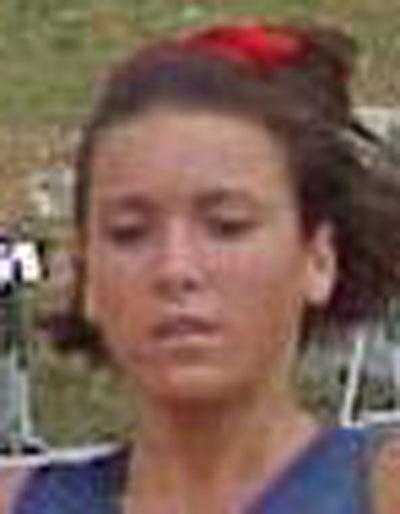 Alisha Little, East Burke
In perhaps the rarest of the rare feats, Little claimed an amazing five NCHSAA gold medals — two in outdoor track — as a senior at EBHS in the 1998-99 school year.
 Little swept her way to 4A crowns in girls cross country (a 5k run) at McAlpine Park in Charlotte in the fall, in the indoor 1600 and 3200 meters at the Greensboro Coliseum in the winter and then in the same two events at the outdoor state meet at UNC-Charlotte in the spring.
Little won the outdoor 1600 in a still-county-record 5:08.40 and the outdoor 3200 in 11:04.39.
McGimpsey: "When she won the 3200 at the Queen City Relays during her outdoor senior year (setting a county-record 10:57.1 that also still stands), she was only the fifth or sixth girl in state history to break 11 minutes in 2 miles. … Winning five state titles in one year hasn't been done before or since. That's pretty amazing.
"She was a workhorse. She had made it to (outdoor) state and reached the finals as a junior and didn't run that well. But she made nationals in AAU that summer, and that got her going. Her coach at East Burke, Robert Murray, told me all summer just keep her going. So I just kinda handed her off to him the fall."
Be the first to know
Get local news delivered to your inbox!