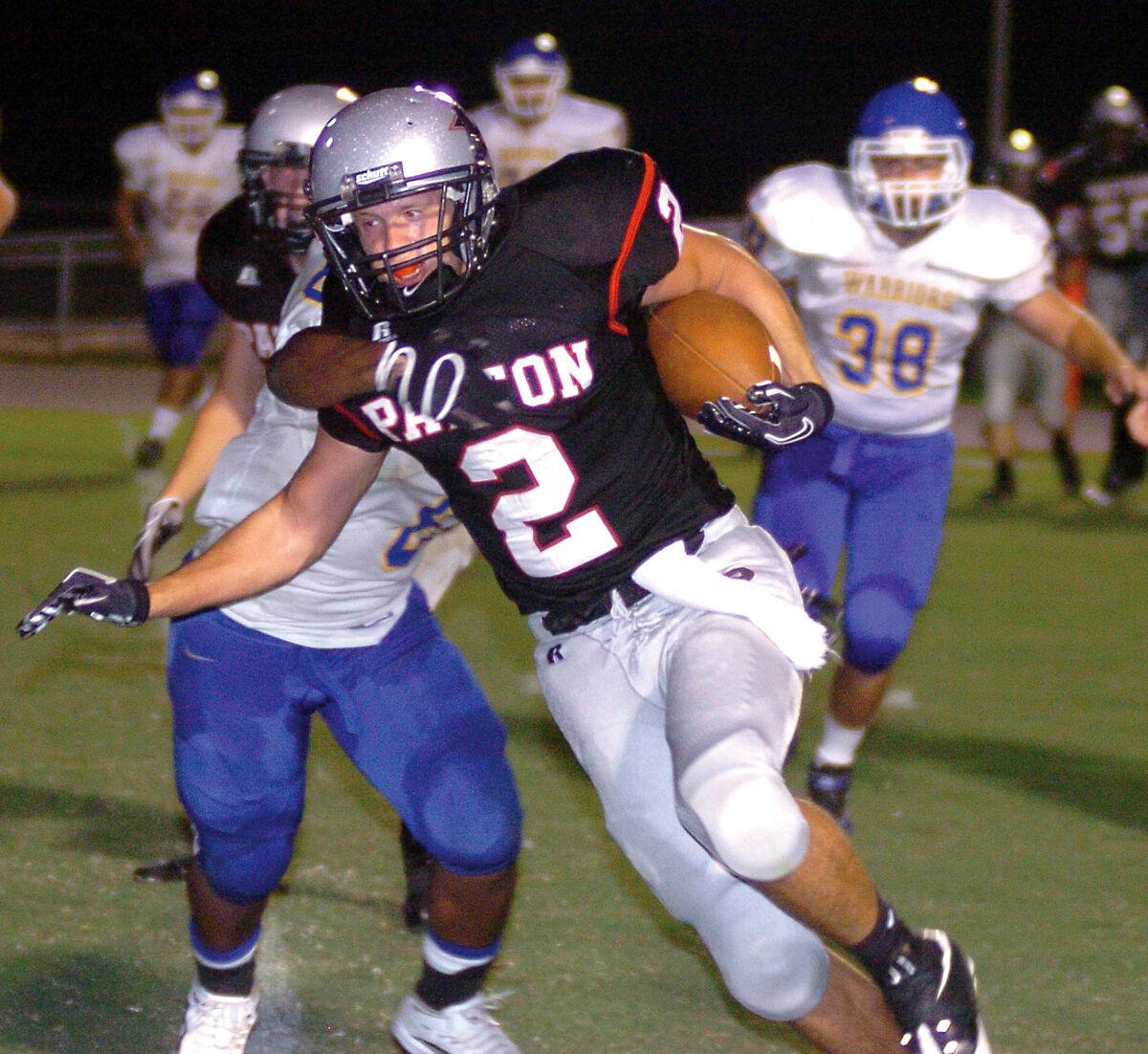 A look back at some of the top Burke County high school football games from September 2010 … 10 years ago at this time:
(EDITOR'S NOTE: Patton would add another win to start 6-0 in just its third varsity year, still the best opening run to any season in program history. Freedom started the year with an overtime road loss but then began rattling off wins, and both Morganton teams were receiving votes in the 3A state poll by late September heading into league play.)
TAYLORSVILLE — Patton remained perfect and stunned 4A foe Alexander Central on the road Friday, 14-13 in overtime, thanks to a Winfield Johnson blocked extra point.
Johnson, a junior running back and linebacker, also rushed for 47 yards, returned a kick for 32 yards and registered the team's only sack of Cougars quarterback Kyle Kinnaird in addition to recording 11 total tackles.
He scored the Panthers' only touchdown in regulation, knotting the game at 7-7 in the third quarter with a 22-yard rushing score.
Patton (5-0) won the overtime coin toss, electing to go on offense from the 10-yard line first. A roughing the passer penalty was called against AC, moving the Panthers up to the 5, from where Johnson pounded the ball into the end zone. Kevin Stone successfully completed the PAT, which proved to be the difference-maker.
Kinnaird made short work of his team's overtime possession, running the ball 10 yards for a touchdown on the first play. But Johnson rushed the kicker, dove over the line, and was able to get a hand on the kick to bring the visiting crowd onto the field in a moment of sheer football ecstasy.
Patton head coach Chris Deal, who formerly coached at AC, was at times overcome with emotion after the game while describing the heart and determination that led his team to victory.
"I think the whole team now believes that they're as good as I've always thought they were," he said. "The important thing is that this team is a family that loves each other."
Patton won despite being massively outgained. The Cougars earned 19 first downs to Patton's four and had 352 yards of total offense to the Panthers' 95.
Alexander scored its only touchdown of regulation with 4 minutes left in the first quarter, on a 5-yard pass from the senior Kinnaird to junior running back Kodie Farley. AC had two opportunities to score in the fourth quarter on field-goal attempts, one of which was deflected by Patton's Hatchel Linens. Zack Cole (16 tackles) led the Panthers on defense.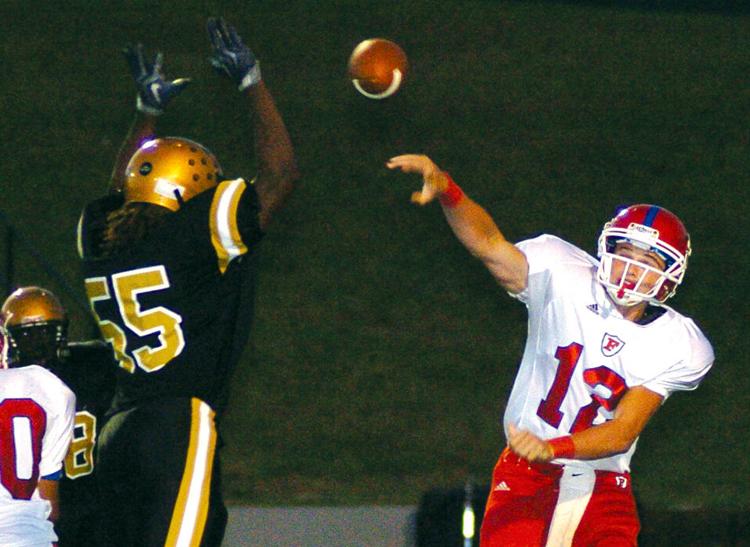 Freedom 35, Shelby 30
Friday's game at Shelby High's Blanton Memorial Stadium was an old-fashioned battle of wills. "Barnburner" is also a term that applies.
Visiting Freedom was determined to go to the air early and often, while the defending South Mountain 2A/3A Conference champion Golden Lions smashed the defense up front with their patented wing-T ground attack.
In the end, though, one of the most prolific single game quarterback-receiver combinations in Burke County's long football history trumped 396 Lions' rushing yards as Freedom won for only the second time ever at Shelby.
Junior quarterback Michael Helms finished 24 of 41 passing for 314 yards and four touchdowns, rushing for another score, while David Duckworth caught 15 balls for 211 yards and two touchdowns.
Helms capped his stellar evening with a 24-yard touchdown pass to David Burgess for the Patriots' go-ahead score with 2 minutes left in the game.
"The play broke down a little bit, so I stepped up in the pocket," Helms said. "David was supposed to be running a slant, but he just broke to the outside and I hit him. Good play, good line blocking and he made a good catch."
Burgess started the year under the radar, alternating between the JV and varsity squads. But after two game-winning scores and four total touchdowns in the last three weeks, it's safe to say the speedy sophomore has sealed a roster spot on Fridays.
"I was nervous as can be but I was able to fight through it," said Burgess of his final of four catches, which totaled 63 yards. "The Lord blessed me; he made me able to (make the catch) and we won the game."
The Patriots (4-1, 1-0 SMAC) trailed 17-7 and 27-21. Helms showed his versatility with a crucial 7-yard keeper on third-and-goal for a touchdown to regain the lead late in the third before the game-winner late.
"I don't know if he could play any better," said proud dad and Freedom coach Mike Helms. "He was very good tonight. He made plays, he stepped up, he avoided rushes."
Freedom's only previous win at Shelby came in 1999 (17-10).
"I think this win is going to take us a long way," said the younger Helms. "It's a momentum builder."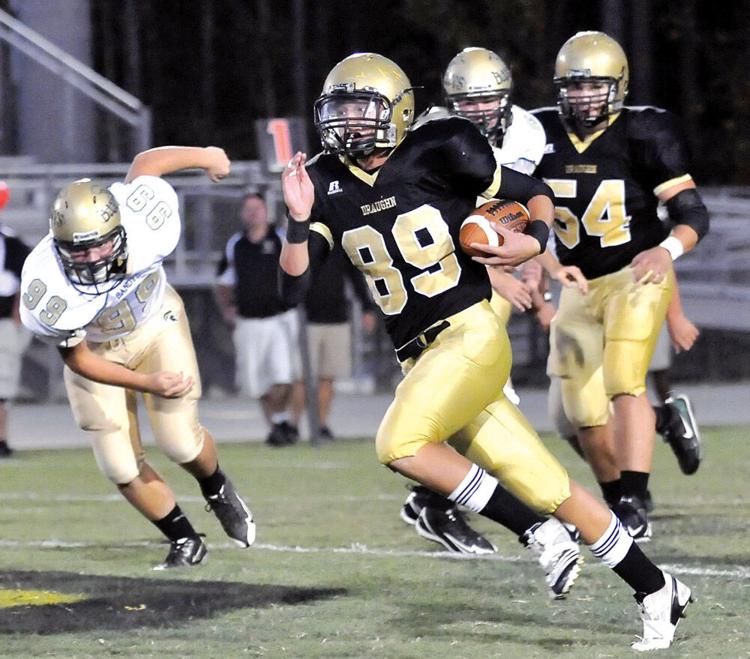 Draughn 23, Bandys 20
Ever since Draughn gave Freedom a close game two weeks ago, Wildcat fans were looking at the first Catawba Valley 2A Conference game against Bandys as a chance to see what the team could do in its second year of varsity play. They found out Friday night at home.
Draughn (1-4, 1-0 CVAC) used a fourth-quarter comeback to earn its biggest win — and first-ever at home — in 16 total varsity contests, a 23-20 victory over the Trojans.
"We're extremely excited about being in first place, undefeated in conference play," said Draughn coach Scott Lambert. "Bandys played a great game, but my kids found a way to win tonight."
It didn't take long for the 'Cats to get Bandys' attention, as junior Alex McGee took the opening kickoff 71 yards to paydirt, giving the upstart hosts a 6-0 edge. A McGee 27-yard field goal put Draughn back up 9-6 at the half, and McGee's 13-yard TD grab from freshman quarterback Chance Carswell less than a minute into the third period made it 16-6.
Bandys scored twice early in the final period to regain the lead. Draughn took over at its own 20 with 3:30 on the clock, and Jordan Moore punched in the game-winner with 1:02 left on a 2-yard run.
Bandys moved down to the 'Cats 25-yard line, but Draughn junior Chris Baker came down with the ball in the end zone for an interception on fourth down as the celebration started at Wildcat Stadium.
Be the first to know
Get local news delivered to your inbox!