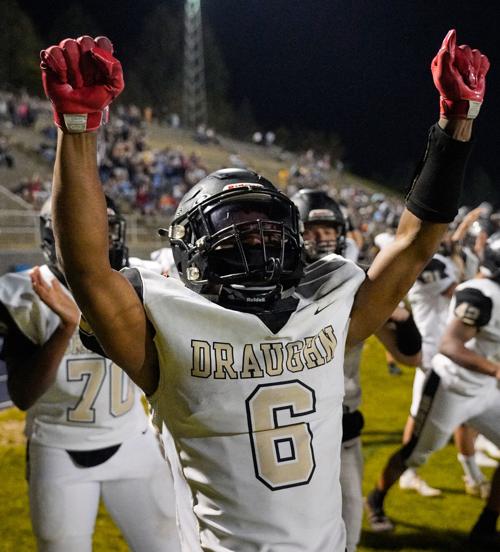 ICARD — The twelfth football matchup between the Draughn Wildcats and the East Burke Cavaliers was every bit as intense as it was billed to be Thursday night in the confines of EBHS Stadium's Danny Williams Field.
The season-ending showdown was a battle for third place in the Northwestern Foothills 2A Conference, and the bonus was the winner beefing up an outside possibility of gaining an NCHSAA 2A state playoff wild-card berth.
Freshman running back Nigel Dula ultimately made the difference for the Wildcats, scoring the go-ahead touchdown on an 11-yard run with a minute and a half left in the third quarter to break a 28-all tie in a 41-28 Draughn victory.
Dula scored again on the ground, from 5 yards out, to put the contest to rest with 42 seconds left. Directly afterward, a Cavalier blocked extra-point kick led to a skirmish between the two rival sides as officials called the contest and left the field in an unfortunate conclusion.
The end result was Draughn (5-2) establishing a new scoring record for the rivalry with its 41 points and claiming a program-best third consecutive win over EB, all under coach Chris Powell, after the Cavs had won a series-record four straight from 2014-17.
It evened the all-time series, 6-6, as the squads part ways to different conferences and different classifications (with Draughn going down to 1A) in the fall.
"We knew this was going to be a dogfight," Powell said. "This team was looked down on because of what we lost (last season), but they persevered."
Both teams' opening drives ended as defensive stands as Dula grasped a second-down interception from Carter Crump and EB's Noah Rooks forced a turnover on downs off a sack on Wildcats quarterback Desmond Hedrick.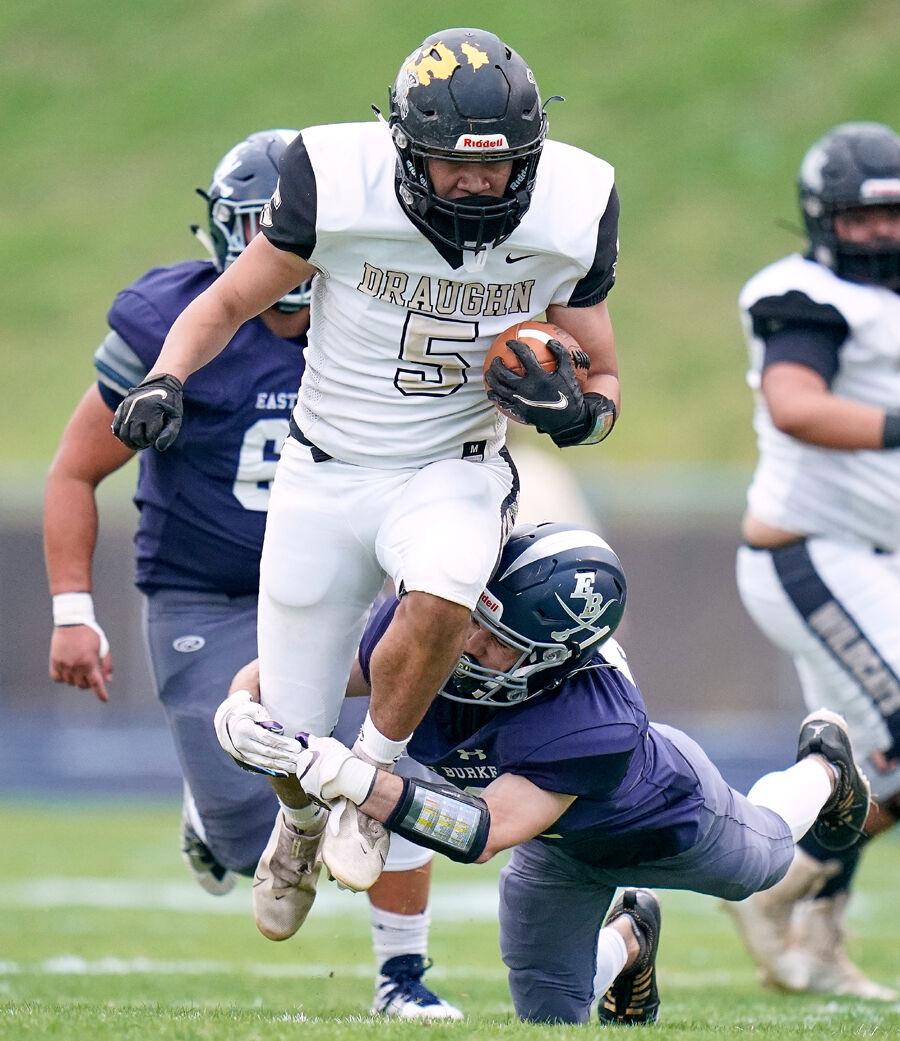 EB (4-3) followed with a 10-play drive from its own 27-yard line, ending with Blane Fulbright punching in a 1-yard touchdown run for a 7-0 edge after Alexis Hernandez' extra-point kick. Draughn countered with a six-play drive going 59 yards as Dula's first of three touchdown runs went for 37 yards.
In the second quarter, Rooks shined for the Cavaliers again, booting a 60-plus yard punt to bury the Wildcats inside their own 10-yard line.
After Draughn could only move out to the 17, Rooks captured an interception and found an open lane for a 20-yard return for a TD. Fulbright followed with a two-point conversion run, giving EB a 15-7 edge midway through the second quarter.
The teams found the end zone three more times late in the first half. A 19-yard pass by Dula to Beckett Nelson and a Hedrick conversion run tied the score at 15. That was followed by a 1-yard TD run by Fulbright and a 45-yard kickoff return by Hedrick plus the point-after by Manny Velasquez, giving the Wildcats a 22-21 halftime edge, their first of the night.
Draughn opened the third quarter with a 66-yard touchdown pass from Eli Tillery to Dula, but the Wildcats missed on a two-point conversion attempt and settled for a seven-point lead. EB took advantage, tying the score in five plays ending with Carter Crump's 10-yard end-zone visit on a quarterback keeper.
The rest of the third quarter was plagued with penalties including holding calls that wiped out long runs by both teams. (The teams finished with a combined 24 penalties for 215 yards.)
The Wildcats dominated play in the fourth, holding the Cavaliers around midfield led by the defensive efforts of Holden Curry, Zach Poteet and Donnell Wilkins.
Dula finished with a career-high 222 rushing yards (288 from scrimmage, plus five total TDs) to complete his freshman season with Draughn by averaging 110 yards per game.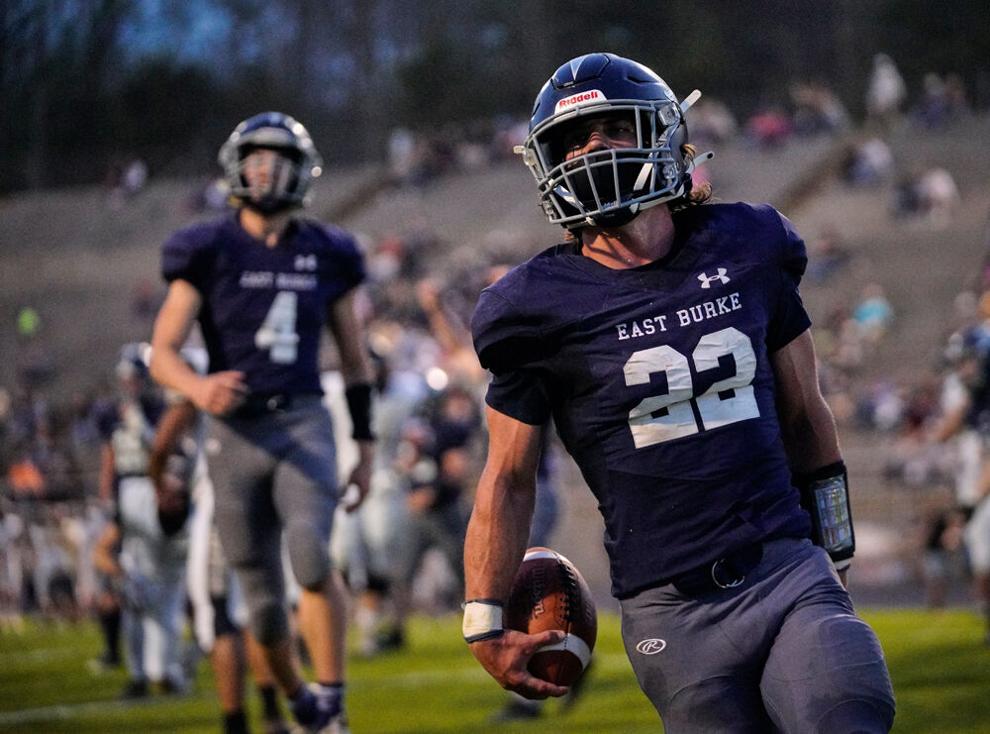 "I came out here to help my seniors out to get a win," said Dula. "We have been working hard this season. I've got faith in my team we will be even better next season."
Fulbright tallied 205 rushing yards plus the two TDs on 40 carries to finish with a county and conference-leading 164-yard average and also cross over 1,000 yards for the season. Dawson Langley added nine carries for 77 yards for the Cavs, who were outgained 368-302 in all despite running nine more plays from scrimmage and lost the turnover battle by one.
Rooks was joined by Cash Norman (eight tackles), Elijah Hess (five tackles, two sacks), Spencer Goins, Matthew Vue and Landon Langley as leading Cavalier defenders.
"I don't want this (loss) to overshadow what they have accomplished," EB first-year coach Derrick Minor said he told his players afterward. "My message to them is they are walking off the field with a winning season."