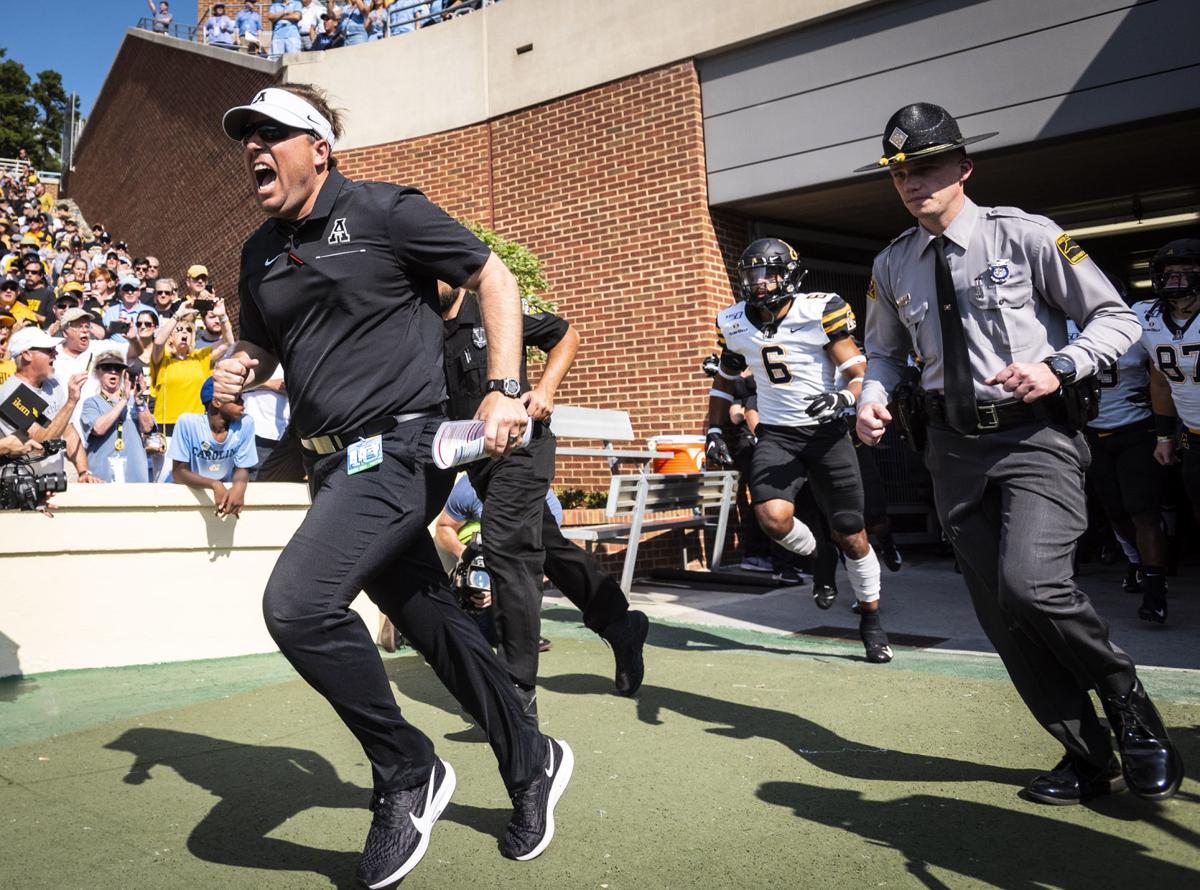 Here's what Appalachian State football coach Eli Drinkwitz had to say at his Monday press conference.
App State travels to Louisiana for a Wednesday night matchup in Lafayette. The game will be on ESPN2 at 8 p.m.
OPENING STATEMENT:
"Hey guys, thank you. Sorry about being late. Life comes at you fast, and I had to take care of some family business. But all is well with the new baby girl, and she is now at home and her mom and her are doing pretty well, so appreciate all the thoughts and prayers from the App family. Excited to play, all weekend watching the games, itching, raring and ready to go. Obviously it's going to be a tremendous matchup. They've got a strong squad. Return a team that was a 7-7 team last year but you know, it's moving in the right direction. Coach Napier, obviously, feels strongly about what he's doing. Congratulations to him on the new contract extension. You know, he's done a really good job with that program, getting it going in the right direction, playing in a conference championship game. He's been around some really good programs in the past. Being at Clemson with Coach Swinney, being at Alabama with Coach Saban. But when I look at their offense, you definitely see a strong influence from the Todd Graham offense from when he was at Arizona State. A lot of things that he did at Arizona State you can definitely see some of that fingerprint. The uniqueness, the tempo, the different formations that Coach Graham liked to have in his offense. So it's a very difficult challenge, going on the road, unique schedule but it's one that we're excited about, and I look forward to taking it on. So with that, I'll open it for questions."
On the priorities emphasized during a week with a unique schedule:
"I think the biggest thing is just practice your fundamentals. You know, stay focused on your fundamentals — blocking, tackling, catching, ball security. Then the second thing is stay focused on your accountability. Don't lose your discipline, don't lose your accountability and have urgency in everything you do. If you're urgent, then you are accountable with your actions. I think it's just that's really the approach we took. We game planned like it was a normal week, like we were playing Saturday. We had urgency to prepare. And that's how we approached it."
On combating Louisiana's physicality in the secondary:
"Like I said, they're a physical bunch. I think it's again, from the influences of the coaches that Coach Napier has been around in the past. And it all depends on how the officials are going to let the game be played. If they're going to let it be a physical matchup, then it is what it is and we've got to be physical too. For us, we're big on contact catches. Making catches in collisions, in contact. I don't know, we'll see how the game is going to be played."
On what coaches can glean from 2018 game tapes of Louisiana:
"I think it's beneficial for us. We can go back and evaluate tape of all kinds of different scenarios. We're a new staff so there's really only four games of tape on us. But there's 14-plus five on them. And we've been able to go back and study and look at them in all kind of situations, whether it's been backed up (on the goal line) two-minute, four minute, end of half, end of game. We got to see them in those situations against our football team. It's the same scheme, defensively and offensively, it's the same person calling on both sides of the ball, so yeah it's been beneficial and that's how we've used it. Obviously they've got some transitional players. They have some guys this year that they didn't have last year and so on and so forth. But the scheme is still the same and I think it gives us an advantage to see the scheme."
On how the offensive profile of App State can change week to week based off opponents:
"We're a game plan specific offense. So each week we come up with a brand new game plan based on our DNA, the who we are, but how we're going to do it's different. I think if you ask any of the defensive coordinators if they prepared for exactly what we showed them on Saturday, then they would say no. That's how we'll go about it. That's how I've been brought up. That's how I've done it my whole career being an offensive coordinator. So it's game plan specific. We watch the tape, we know who we are, what our strengths are, we play to those strengths by how we get theirs, what we feel like we have an advantage on based on either personnel or formations or motions."
On working Corey Sutton in and accounting for the chemistry between him and quarterback Zac Thomas:
"I mean, we obviously try to get the playmakers the ball. And so we try to utilize every player's strength, whether it's Darrynton, whether it's Virgil, whether it's Thomas, whether it's Keishawn Watson, whether it's Corey Sutton. I think the thing that we continually challenge our guys is whoever practices the best is going to get the balls and the opportunities in a game. So we're challenging guys to be better practice players, Corey specifically. He's been good in two games but he needs to practice better. And that's really what our emphasis is to him right now is to continue to improve and be a better practice player."
On balancing being a dad (Drinkwitz has four daughters, one of which was born last week) and a football coach:
"There's only so many hours in a day, so you've got to try to make sure everybody gets priority and everybody is counting on me to do a job. My wife is counting on me to be there, my girls are counting on me to be there for them, supporting them emotion. And that's really my No. 1 job. And this football team is counting on me to be prepared and focused and make sure my mind is in the right place. I've heard the saying, ' Be here now,' and that's what I've tried to do. Just be where my feet are, wherever I am right at that moment, be in that moment and focus on that moment. Don't be in the hospital thinking about football, and don't be at football thinking about the hospital. That's what I've tried to do, and we'll keep doing it."
On Louisiana's running attack:
"They've got a tremendous offensive line. Five returning starters. Three running backs they rotate through. A dynamic quarterback that can create with the ball, with his feet. They've got unique formations, unbalanced personnel, 12 personnel. They've always got some kind of outlet on the perimeter. They're a unique challenge for us because of all the multiplicity of what they do and the uniqueness of their formations. So we've got our hands full. We've got to be gap sound. We've got to be disciplined. We've got to pursue the football. We've got to destroy blocks. And so we've got to get moving."
On if stopping the run is top priority:
"I think anytime that a team relies on its strength, you've got to stop the run. But you can't give up big plays doing it. So it's that balancing act of stop the run but the more guys you commit to doing that, the more opportunities for big plays on the outside. Which they've got a tremendous wide receiver corp and their quarterback's throwing the ball well. So they're a complete offense."
On what's working with the App State offense right now:
"I think we've been playing complementary football. I think we're one of the only — in the country I don't know how many teams have got a defensive score and a special teams score in one of their first four games so it's not just the offense. I think we can play better offensively. We're pushing to play better. But I think it's the fact that our defense and special team has set us up for opportunities to score."
On the team's pass protection:
"I think we just got to be more sound in our scheme, and we've got to be more physical. And we can't let free rushers. You go back and watch the tape and we've got twist stunts that are getting home. We've got a guy that's going 4-I that goes backside of the tackle and we cut him loose. So that's a communication issue within the scheme and that's partly on me as the coach. Putting in too much and making sure we're not trying to do too much that our guys can't handle and it's on our players to make sure that they communicate with us and say 'Hey, this is too much. I don't understand it completely enough to operate in it.' So that's what we've spent the last week on is working on protecting the quarterback and that's a point of pride for this program and that's going to be a point of pride for our program. We're going to do a better job of it."
On the run game:
"I think anytime you've got as many returning starters as we have within the scheme. Coach Clark continuity there, so that's got to be a strength of ours. We've got a really deep running back room, a guy who can take the ball — really a lot of guys who can take the ball the length of the field whenever they touch it, so the margin for error for the defense is smaller. But we've got to continue to improve there. There's too many times that we're not on the right guys so we're still working to improve."
On senior safety Josh Thomas and his leadership:
"Yeah I think anytime there's change, it's always hard. Especially when you change a culture, or you're worried about changing a culture from somebody that's won three conference championships. And that's what human tendency is. It's to reserve and say 'I'm going to see if this works before I buy in.' And you know, Josh is one of those guys that bought in first and then tried to get everybody else to make that same kind of commitment. And he didn't wait. And as long as I'm a head football coach, I'll remember that and be dedicated and be indebted to him for that because he didn't have to. He didn't have to do that. But he made it a point to buy in and then to make sure everybody else was buying in. And I think that's why his teammates voted him in as a captain. You know, I've see it first hand. Like I said, when we were down in New Orleans, I got up to get a workout before we went and Josh got up and got a workout too because he didn't want to be a guy that didn't get a workout because his team was working out. So I think it's that level of commitment he has to being the very best player or person that he can be that rubs off on everybody else."
Be the first to know
Get local news delivered to your inbox!