BERMUDA RUN — Akshay Bhatia's professional golf life has yet to make much of a ripple.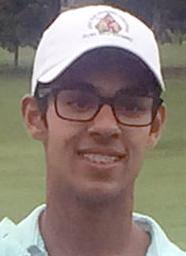 He will try to change that next month at the Wyndham Championship at Sedgefield Country Club.
As he finished up his round last week on the less glamorous SwingThought, a minitour where the dreams are big, Bhatia was practical about his future. The former Joe Cheves Junior Invitational champion at Mimosa Hills hadn't had his best day but still managed to fire a 2-under 69 to tie for fourth and win $2,175.
"I just have to keep figuring things out," said the 18-year-old who lives in Wake Forest and had one of the best amateur careers this side of Tiger Woods.
Bhatia, who moved from California to North Carolina when he was 9, home-schooled and turned down college for a chance to do what he's dreamed about doing since the eighth grade. Last fall after the Walker Cup, he turned pro at 17 and started to hit the pay-to-play mini tours. He was the first high school player to make the Walker Cup team for the United States.
He's also gotten the chance to play in five PGA Tour tournaments since turning pro but has missed the cut in each one. He also played in a Korn Ferry Tour event and made the cut and tied for 42nd.
Mark Brazil, the Wyndham tournament director, gave Bhatia a sponsor's exemption in November before the pandemic hit. That exemption comes in handy for Bhatia, who would love to play well next month in a tournament that will be low scoring and have an excellent field.
"I'm definitely excited and it kind of lets out the pressure of trying to do Monday (qualifying tournaments)," Bhatia said. "I'll have a four-day tournament so I've been playing local events to get ready and to have some momentum."
Brazil calls Bhatia "a special talent" who is going to make an impact one day on the PGA Tour. Bhatia, who is 6 feet and maybe 140 pounds, can generate serious club-head speed as a left-handed player.
"He's got a lot of promise and you don't see many kids give pro golf a shot at his age, but I truly believe he's going to be a good one out here," Brazil said.
Bhatia, the 2017 Junior PGA Championship winner, also won the 2018 Dustin Johnson World Junior championship among his many junior titles. He's not in junior golf anymore, he's playing with the big boys.
"It's been fun," he said about his life as a pro, "and I've got to meet some great guys but the PGA Tour is definitely where I want to be someday."
(336) 727-4081
@johndellWSJ