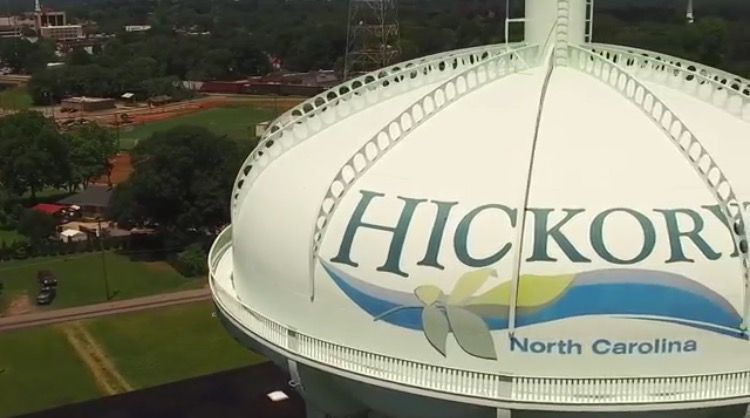 "There's something there that wasn't there before."
As Beauty and the Beast breaks box office records, those words are finding new life, and we think they work as a kind of motto for Hickory these days too.
The city has seen explosive growth in recent years — so much so that newcomers and longtime residents alike might not know about all that Hickory has to offer.
Below, in the spirit of that "tale as old as time," we invite you to learn a little more about Hickory's most unexpected attractions and "be our guest" in a city on the rise.
Speaking of box office bonanzas, did you know Hickory has…
1. One of the Biggest Movie Theaters in the State
In keeping with Hickory's affinity for the arts, the town is now home to one of the most cutting-edge cinema screens in North Carolina, thanks to the new Carmike 15 BigD.
The screen spans from wall to wall and ceiling to floor, occupying every square centimeter of available projection space. With nearly 600 high-back rocking luxury seats, purely digital projection, and 70 speakers, the theater puts Hickory in the same league as the larger cities in which these wide-format movie houses made their debut.
In fact, Hickory is one of only 30 cities in the country with a BigD screen, and one of only two in North Carolina. (The other is in Jacksonville, on the opposite side of the state.)
Okay, you won't find any apocalyptic teenage battles here — Hickory's a place for families, after all! But you can find the very buildings and landscapes that created the dystopian backdrops in 2012's epic fantasy adventure film, The Hunger Games.
That's right, the blockbuster film series was filmed right outside of Hickory, and a number of the town's residents were cast as actors in background roles.
Some of the set pieces are still standing, and a visit to "Hunger Games country" has become a popular pastime for North Carolinian film fans.
Fittingly enough, when Carmike launched its BigD screen in Hickory, The Hunger Games was its very first film.
Featuring actual airplanes that date as far back as World War II, the Hickory Aviation Museum showcases nearly a century's worth of airplane evolution.
With artifacts, memorabilia, and educational exhibits, guests can learn about the development of both passenger and military-style aircraft in the United States, as well as the role North Carolina played as the world's "first in flight."
Dedicated to the Golden Age of Aviation, the museum updates often and is located at the Hickory Regional Airport. (Yep, we have one of those too!).
When Highland Academy opened in Hickory in 1891, it had twelve students and only one classroom. But like the city itself, the school has grown over time. It became Lenoir-Rhyne College in 1923 and saw an explosion in enrollment at the end of World War II, with young students returning home from battle en masse.
In the 1960s, Lenoir-Rhyne decided it would expand its curriculum to compete with the state's larger liberal arts institutions. They've continued that mission through the present day, reaching full-fledged university status in 2008.
As Lenoir-Rhyne University, the school has invested tens of millions of dollars in expansions and improvements, adding numerous new academic programs and two additional campuses. As The Charlotte Observer observes, in addition to its longstanding reputation as a family community, Hickory is very much a "university town" now, as well. And if that wasn't enough education for you, it's home to the popular and continually growing Catawba Valley Community College too!
5. The World's Most Famous Racing Short Track
Widely known as the "Birthplace of the NASCAR Stars," the Hickory Motor Speedway is among the most legendary short tracks in the history of American slot car racing.
It is here that iconic race stars like Ned Jarrett, Junior Johnson, and Ralph Earnhardt (father of Dale Earnhardt, Sr.) became household names for racing fans. Indeed, Hickory has long been known as one of the most important cities in the NASCAR family tree.
The track still hosts events of all kinds today, with race vehicles ranging from slot cars to semi-trailer trucks!
6. Major Corporate Headquarters and IT Plants
Catawba County and the larger Hickory metro area are home to expansive facilities for some of the biggest companies in the world, including Apple, Bed Bath & Beyond, and Google, among others.
Hickory is also home to some of the biggest furniture manufacturers in the world. And true to its industrial roots, the region supplies 40% to 60% of the world's fiber optic cable product each year too.
In 2014, Transportation Insight, a globally recognized third-party logistics provider, moved its corporate headquarters to Hickory, citing the city's high quality of life and its recently revitalized downtown district. Not to mention other companies who recently renovated historic buildings and established their headquarters in Hickory, like Cornerstone United and Blue Bloodhound.
7. A Growing Nightlife Scene
Speaking of our revitalized downtown, Hickory is beginning to see new nightlife arrive in and around the old Union Square, with a wide range of bars, pubs, restaurants, live music, and other evening entertainment.
The Sails Original Music Series brings big names from the cutting-edge of today's music scene to downtown Hickory for free outdoor concerts, Grammy nominees among them. Upcoming performers include Holy Ghost Tent Revival, Caravan of Thieves, Adam Levy, and many more.
Hosted by the City of Hickory and coordinated by Bob Sinclair, the Sails Original Music Series brings together fans of every genre to enjoy good food and high spirits under the beautiful North Carolina sky.
It's thanks to events like these that real estate blog Movoto.com recently named Hickory one of the ten most exciting cities in North Carolina, citing its eclectic dining, active arts scene, and burgeoning nightlife.
Indeed, with brand-new microbreweries, live shows, and organic eateries, "Hickory after dark" may well be on the cusp of becoming a new and unexpected city tradition.
Hickory hosts two of the biggest beer festivals in the region each year. Spring brings the Hickory Hops Brewer's Festival, featuring the handcrafted beers of over 50 microbreweries.
Autumn, meanwhile, ushers in Oktoberfest, an outdoor extravaganza that involves much more than just elegant brews. The three-day outdoor festival features live music, amusement park rides, carnival games, arts and crafts vendors, food booths, and much more — fun for the whole family!
9. The Chance to Climb a Mountain and Sail a Lake in the Same Day
Perched in North Carolina's one-of-a-kind Foothills region, Hickory enjoys the best of two worlds — the mountains and the plains! In the very same day, you can take a hike up Baker's Mountain, the lush and rolling hills that accentuate so much of the skyline, and grab some fun in the sun on Lake Hickory.
Baker's Mountain Park began as an informal recreational area but eventually became a proper park, courtesy of the Catawba County Parks system. Today, it offers 6 miles of hiking trails, picnic and grilling areas, dog-walking paths, birdwatching checklists, a ranger on duty for safety, and a mountaintop gazebo with an observation platform.
Meanwhile, Lake Hickory offers everything from skiing and fishing to swimming and sailing. Private party boats and chartered cruises can turn a day at the lake into a memorable celebration, while walking paths and mountain viewing areas provide more low-key fun.
10. A Professional Baseball Team
The Hickory Crawdads are a Class A Minor League Baseball team that, for many years, was an official affiliate of the Chicago White Sox and is now affiliated with the Texas Rangers. In fact, during native North Carolinian Michael Jordan's short-lived tenure as a baseball star, the Crawdads made his shortlist of potential teams to call home.
The Crawdads are currently celebrating their 25th anniversary, a major milestone celebration for Hickory. The team continues to bring in big crowds at the L.P. Frans Stadium, with seats for more than 5,000 sports lovers.
The team's colorful mascot, Conrad the Crawdad, has served as a symbol of Hickory pride since the team's inception in 1993.
Embrace a Life Well Crafted
Since dedicating itself to a new motto, "Life. Well Crafted.," Hickory has dramatically diversified its roster of opportunities for living, working, and playing.
Like the race cars on its famous speedway, the city has blazed full speed ahead toward becoming a multi-faceted municipality full of things to do. New offerings are popping up all the time, like the exciting new Riverwalk (currently underway).
We hope you'll keep checking our site to learn about more must-add items for your Hickory to-do list.  Visit Us at